Muhlenberg Names David Donnelly as Dean of the School of Graduate Studies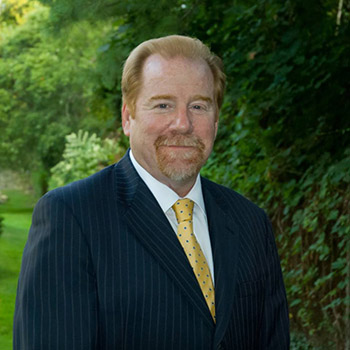 Donnelly is responsible for Muhlenberg's graduate and post-baccalaureate certificate programs. He began the role on August 2.
By: Bill Keller Tuesday, August 10, 2021 04:19 PM
Donnelly's higher education experience includes teaching and administrative appointments at the University of Houston, Sarah Lawrence College, Quinnipiac University and the College of New Rochelle. He has advised college leadership and served in key university roles, including interim chief academic officer and as dean for graduate studies and a school of communication. He has also served as an advisor for several EdTech companies.
"We are very excited to have David join Muhlenberg," says AJ Lemheney, vice president and executive director of Muhlenberg College Division of Graduate & Continuing Education. "He brings years of experience as a dean with an outstanding background developing new programs grounded in the liberal arts. David is known for his inclusive leadership style engaging both faculty and students."
Donnelly is an author who frequently publishes on the communications field, as well as the future of education, He has been published in peer-reviewed journals, contributed numerous book chapters and has presented at conferences and symposia across the nation and around the world. Donnelly has also directed and produced several documentaries aired on PBS stations around the country.
Donnelly earned a Ph.D. and master's in communication from the University of Massachusetts and a bachelor's in radio, television and film from the University of Maryland, College Park. He holds certificates in institutional research & assessment for higher education decision-making from the Baruch College School of Public Affairs, online education from the University of Wisconsin-Madison Continuing Studies and futures thinking from the Institute for the Future.
About the Muhlenberg College School of Graduate Studies
The Muhlenberg College School of Graduate Studies offers a variety of post-baccalaureate certificates and master's degrees aimed at enhancing intellectual and career development through challenging coursework grounded in the liberal arts. With a mix of graduate certificate pathways and master's degrees aligned with workforce and economic trends, the Muhlenberg College School of Graduate Studies enables students to prepare for professional work and career advancement, with a focus on leadership and innovation.
About Muhlenberg College
Founded in 1848, Muhlenberg is a highly selective, private, four-year residential, liberal arts college offering baccalaureate and graduate programs. With an enrollment of approximately 2,200 students, Muhlenberg College is dedicated to shaping creative, compassionate, collaborative leaders through rigorous academic programs in the arts, humanities, natural sciences and social sciences; selected preprofessional programs, including accounting, business, education and public health; and progressive workforce-focused post-baccalaureate certificates and master's degrees. Located in Allentown, Pennsylvania, approximately 90 miles west of New York City, Muhlenberg is a member of the Centennial Conference, competing in 22 varsity sports. Muhlenberg is affiliated with the Evangelical Lutheran Church in America.