Muhlenberg Names the Rev. Janelle Neubauer as College Chaplain
Neubauer will begin her role as leader of the College's religious life team and as a member of the student life leadership team on July 15.
By: Bill Keller Thursday, June 3, 2021 07:47 AM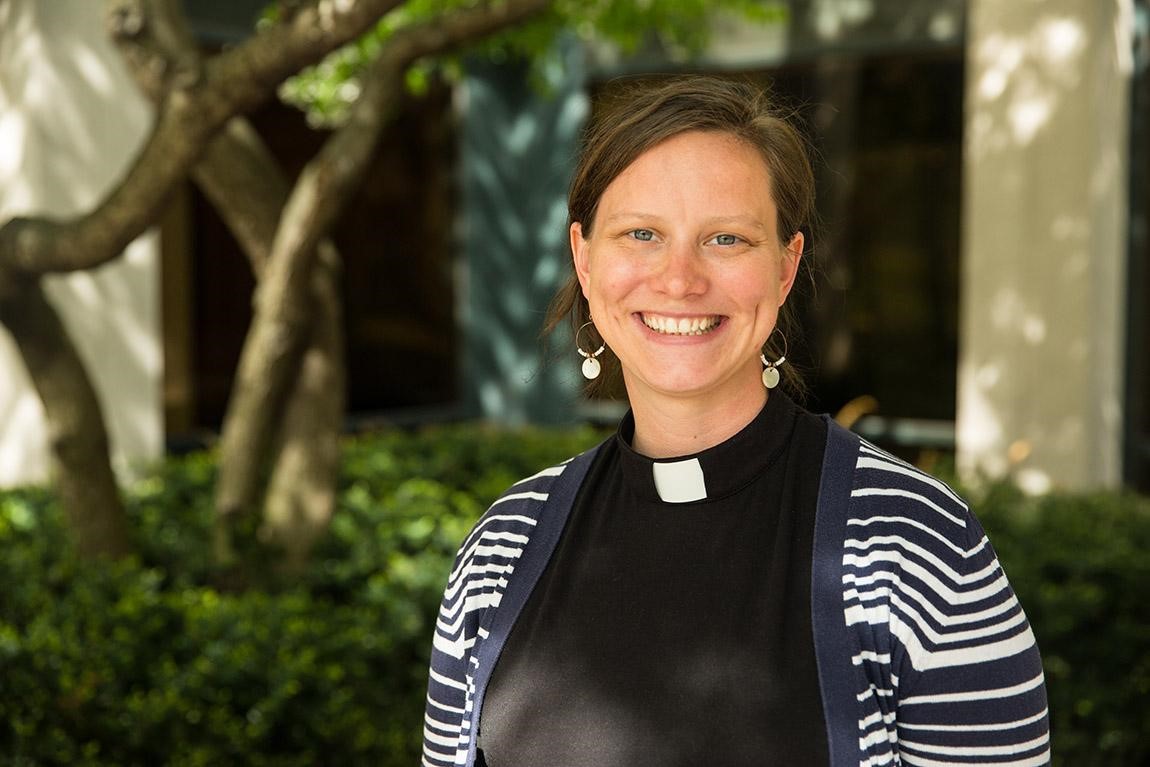 Photo by William Nunnally.
Muhlenberg has named the Rev. Janelle Suzanne Neubauer as the College's next Chaplain. In her new role, Neubauer will be responsible for cultivating religious well-being and spiritual growth for the campus community. The Chaplain both affirms the faith and traditions of the Evangelical Lutheran Church in America (ELCA), with which Muhlenberg is affiliated, and serves a broadly diverse religious and non-religious community. As a member of the dean of students' senior leadership team, she will work closely with other teams and leaders across campus to plan for and address a variety of student life priorities and issues.
"While I was originally interested in joining the work of the community because of the values and commitments of the College, especially with regards to diversity, equity and inclusion, I felt an additional pull as I witnessed the collaborative spirit of the faculty and staff," says Neubauer. "At Muhlenberg, my role will focus on offering both spiritual and relational support to the community and I am eager to do so hand-in-hand with many student, staff and faculty leaders. From working alongside the leaders of the Religious Life Team, to collaborating with the staff of the Office of Multicultural Life, to joining in conversations with the Institute for Religious and Cultural Understanding, to supporting the M.U.L.E Community Cabinet and more, I hope to participate in and build constructive and healthy relationships for the sake of students' learning and development in mind, body and soul."
Neubauer most recently served with Young Adults in Global Mission as country coordinator for Rwanda and as missionary pastor for The Lutheran Church of Rwanda. In those roles, she worked with volunteers to produce publications, lead Bible studies, hold worship services and plan retreats and group orientations. Neubauer provided pastoral care and supported the ministry of Rwanda's Kigali Parish and served as a representative of the Evangelical Lutheran Church in America, participating in synod meetings and sharing the work of her community with others around the world.
Her previous experiences include a role as program coordinator for the Tantur Ecumenical Institute in Jerusalem, Israel, where she designed and led programming, developed travel itineraries and welcomed visiting groups and individuals. She also co-pastored the multi-site congregation of All Peoples Church and provided care to the Harambee community of Milwaukee, Wisconsin, an experience that helped her live out faith in the public square.
"Janelle has worked extensively across the globe and brings deep knowledge, experience and passion for social justice, equity and diversity, inclusive dialog as well as strong interfaith leadership," said Vice President for Student Life Allison Gulati. "We are excited to welcome her to the Muhlenberg community."
When she begins her position at Muhlenberg, Neubauer will also be continuing a family legacy: Both her father and grandfather graduated from the College.
Neubauer earned her bachelor's degree in religious studies and kinesiology from the College of William & Mary and a Master of Divinity from the Lutheran School of Theology at Chicago.
Neubauer is a member of the Antiracism Transformation Team at the Lutheran School of Theology at Chicago, was the recipient of the ELCA Fund for Leaders scholarship. She is passionate about learning languages and hopes to continue learning Kinyarwanda as well as returning to studying Spanish and Arabic.