News-Writing Course Sets Journalism Path for This NBC News Producer
Cynthia Silva '19 used classroom and campus newspaper experience to pave her way.
By: Heather Mayer Irvine Monday, December 6, 2021 10:21 AM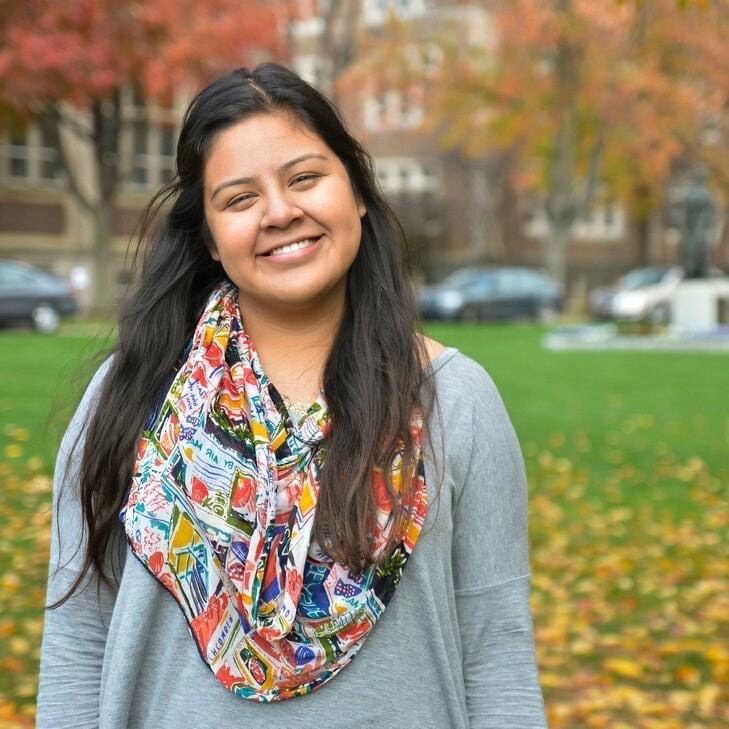 Photo courtesy of Cynthia Silva.
It wasn't until the fall semester of her senior year when Cynthia Silva '19 realized she was destined for news journalism. Despite being a media & communication major since day one of her time at Muhlenberg, it was David Erdman, adjunct professor of media & communication, and his Writing for the Media course that set Silva on her path.
Today, Silva is an associate producer for NBC News Now, and she says she wouldn't be where she is without the enthusiasm and guidance from Erdman.
"I like news and I wanted to be more involved with it," Silva says. "I thought this news-writing course would be a cool experience, and it ended up being a course that would change my life."
Silva was immediately hooked on the fundamentals of news journalism, particularly the number one rule: accuracy.
"It's a very interesting time to work in media. There's a lot of talk about 'fake news,'" she says. "News is so important and fundamental to American democracy."
After she got her feet wet in Erdman's course, he urged her to write for The Muhlenberg Weekly. While her classroom experience taught Silva the basics of journalism, it was her work at the student paper that taught real-world lessons, including the always-coming deadlines.
Silva interned with NBC News while in college, but after graduation, she accepted an associate producer position at The Dodo. Silva realized she was destined for news and made her way back to NBC News as a desk assistant reporter. This past fall she became an associate producer for the video team.
When asked what her dream job would be, Silva says, "It's this. I'm really lucky. For so long I fought to be where I am right now. I grew up in a family that didn't have connections, and if I wanted to make it I had to really fight for it."
During her junior and senior years, Silva commuted six hours a day, three days a week from Allentown to New York City for internships.
"I was willing to do these commutes. I told my bosses about the feeling I have when I step into the elevator and the doors close and you can see the NBC logo—I'm so grateful to be here," she says.
The media landscape is ever-changing, and journalists are constantly having to adapt. Silva wants to show undergraduates the same passion for the industry that Erdman showed her, and maybe inspire them along the way.
"Getting the facts right is so important," she says. "When the American public is informed it's very powerful."
She urges students to take advantage of the courses the College has to offer, write for The Muhlenberg Weekly, visit the Career Center and make connections with alumni.
"Some days are harder than others, but I would never change my career," Silva says. "There is a sense of fulfillment doing this work for the American public."