Power Chords
Juliette Reilly '16 makes music to help fans cope with the mental health challenges of being a teen.
By: Brittany Risher Englert Thursday, July 22, 2021 10:18 AM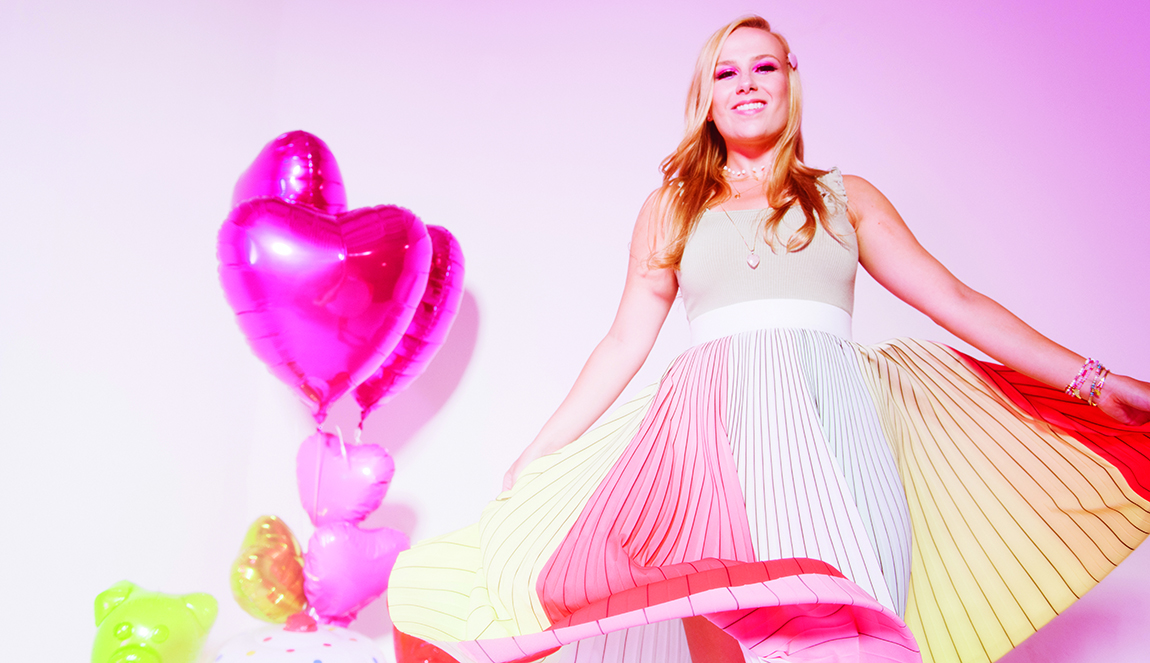 Juliette Reilly '16. Photo by Libby Danforth
Juliette Reilly '16, a music major with creative writing and English minors, is on a mission with her music. Around age 9, when she saw her aunt perform on Broadway—in shows like Cats and Phantom of the Opera—she knew she wanted to be a singer. With time, her goal shifted from Broadway to writing, and during her sophomore year in college, she composed her first anti-bullying song. Today she writes and sings what she calls "Indie Pop-timism" to help fans cope with the mental health challenges of being a teen. The singer's fan base now includes 200,000 people across social media platforms.
Muhlenberg Magazine What inspired you to write and sing songs about teen bullying?
Juliette Reilly '16 I was bullied in high school. The first song I wrote that did well on YouTube was basically a letter to my younger self and my little sister, who was in middle school, called "Hero." It was produced by fellow alumni Mike Emmerich '15 and David Goodheart '13. I had fans send in videos of themselves holding up signs and singing along for the video, and that's when I learned how big an impact writing songs could have on a young audience.
MM What's been the most meaningful message you've received from a fan?
JR I've had people direct-message me or send letters saying that my songs have saved their lives, or send photos of them getting tattoos of my lyrics. A lot of my fans struggle with mental health, and for my music to make that much of a difference in someone's life means the world to me. It's why I do what I do.
MM Tell us about your work with Project Semicolon.
JR In addition to my own battles with mental health, I've had many friends and family who struggle with it and who have had even more traumatic experiences. Hearing their stories and now those of my fans, I realized that many more people deal with it than we think and that it's critical to raise awareness.
Project Semicolon is a teen suicide prevention nonprofit organization dedicated to solidarity against depression, addiction and other mental health issues. I have written original music for them and performed with them and was featured in their book. They have been a great resource for me to share with my audience as well.
MM What are you proudest of so far in your career?
JR The fact that I've stayed true to my message: to inspire and empower teens, in particular teenage girls, to be their own heroes. This has led me to incredible places like Nashville, Tennessee, where I moved after college to further connect and grow as a songwriter. It's very easy to get caught up in what the next trend is, and it's good to be aware, but it's infinitely more important to stay true to what's most important to you.
MM What's next for you?
JR I'm releasing a new project this year called Emotional Influencer, which consists of two EPs highlighting the contrast of who we are on the inside versus what we portray on social media. I also recently started a project for TV/film music that's landed some 2021 ads and major network placements, including MTV's Teen Mom, CBS's General Hospital and the new Hulu series Kung Fu. I'm writing original music for a national anti-bullying play called Speak Life that's currently in more than 300 schools.