Three Student Researchers Are Co-Authors of Recently Published Mindfulness Study
Professor of Psychology Mark Sciutto was also a co-author on "Effects of a School-Based Mindfulness Program for Young Children," a study conducted in partnership with the Allentown nonprofit Shanthi Project, which administers school-based mindfulness programs in the Lehigh Valley and New Jersey.
By: Meghan Kita Thursday, June 24, 2021 08:38 AM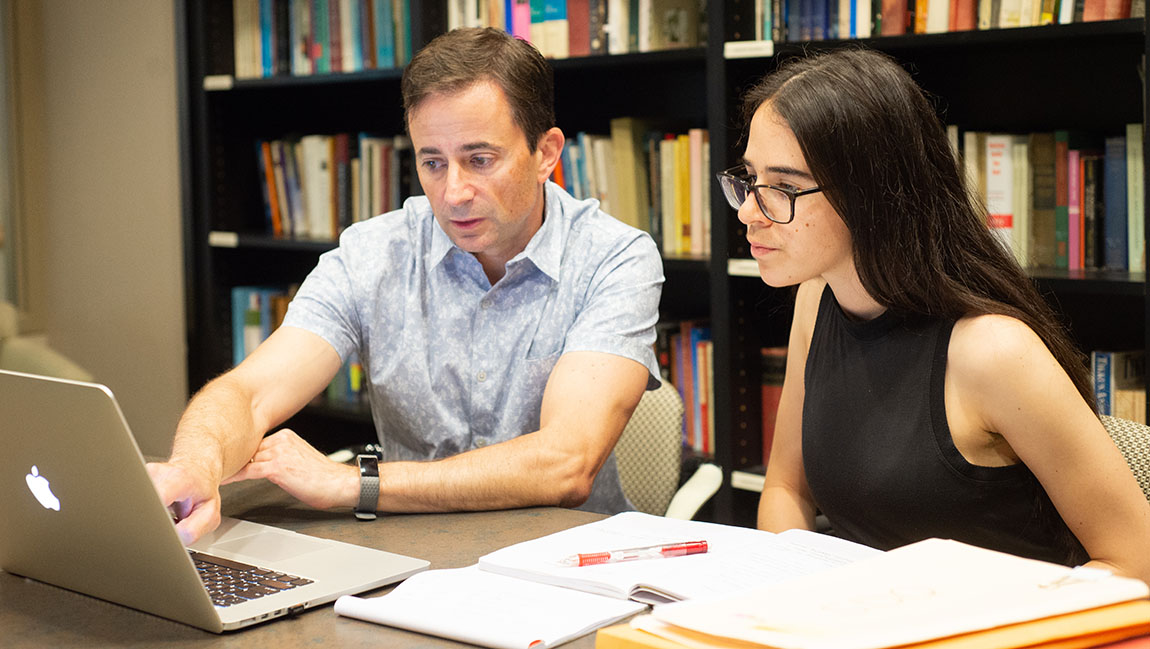 Professor of Psychology Mark Sciutto and Tovia Marinstein '20 look over data related to Shanthi Project's Mindfulness in the Classroom initiative in the summer of 2019.
On April 15, the paper "Effects of a School-Based Mindfulness Program for Young Children" was published in the Journal of Child and Family Studies. Sciutto, Tovia Marinstein '20, Brooke Bailey '20 and Sarah Cehelyk '22 co-authored the paper along with Shanthi Project's founder Denise Veres.
"This project arose out of multiple years of collaborative work with Shanthi Project. At every step of the process, students have played an integral role in shaping the questions, methodology, analysis and dissemination of this research," Sciutto says. "Community-engaged research, when mutually beneficial like this, can be truly transformative for all parties involved."
The study and the publication are among the products of several years of collaboration that have integrated teaching and research. In Spring 2019, students in Sciutto's course Mindfulness Intervention Research Seminar, including Marinstein and Bailey, consulted with partners from Shanthi Project on projects that informed the design of the study. Marinstein and Bailey then joined Sciutto's research group and worked with Shanthi to collect data on the outcomes of the school-based program at Bethlehem's Marvine Elementary School in Fall 2019. Then, Cehelyk joined the research team as it began the process of analyzing the data and writing up the results.
The study found that teacher ratings of prosocial behavior improved after a 16-session mindfulness program, that program outcomes differed by grade but not across child sex and race/ethnicity and that teacher and student engagement in the mindfulness program was associated with more positive outcomes.
"This work with Shanthi Project provides an incredibly valuable environment for students to understand how the skills they are learning can inform important work in the community," Sciutto says. "At the same time, they encounter the range of factors that complicate the delivery of school-based programs and the importance of aligning community needs with research goals."
Sciutto's research group is currently exploring the ways in which classroom teachers' engagement in the program might promote better outcomes.