Student Voting at Muhlenberg Among Top in the Nation
A new report finds college-student voting increased sharply nationwide in 2020. BergVotes leaders say lots of outreach plus a slew of important issues helped drive high Muhlenberg turnout.
By: Kristine Yahna Todaro Tuesday, November 2, 2021 03:08 PM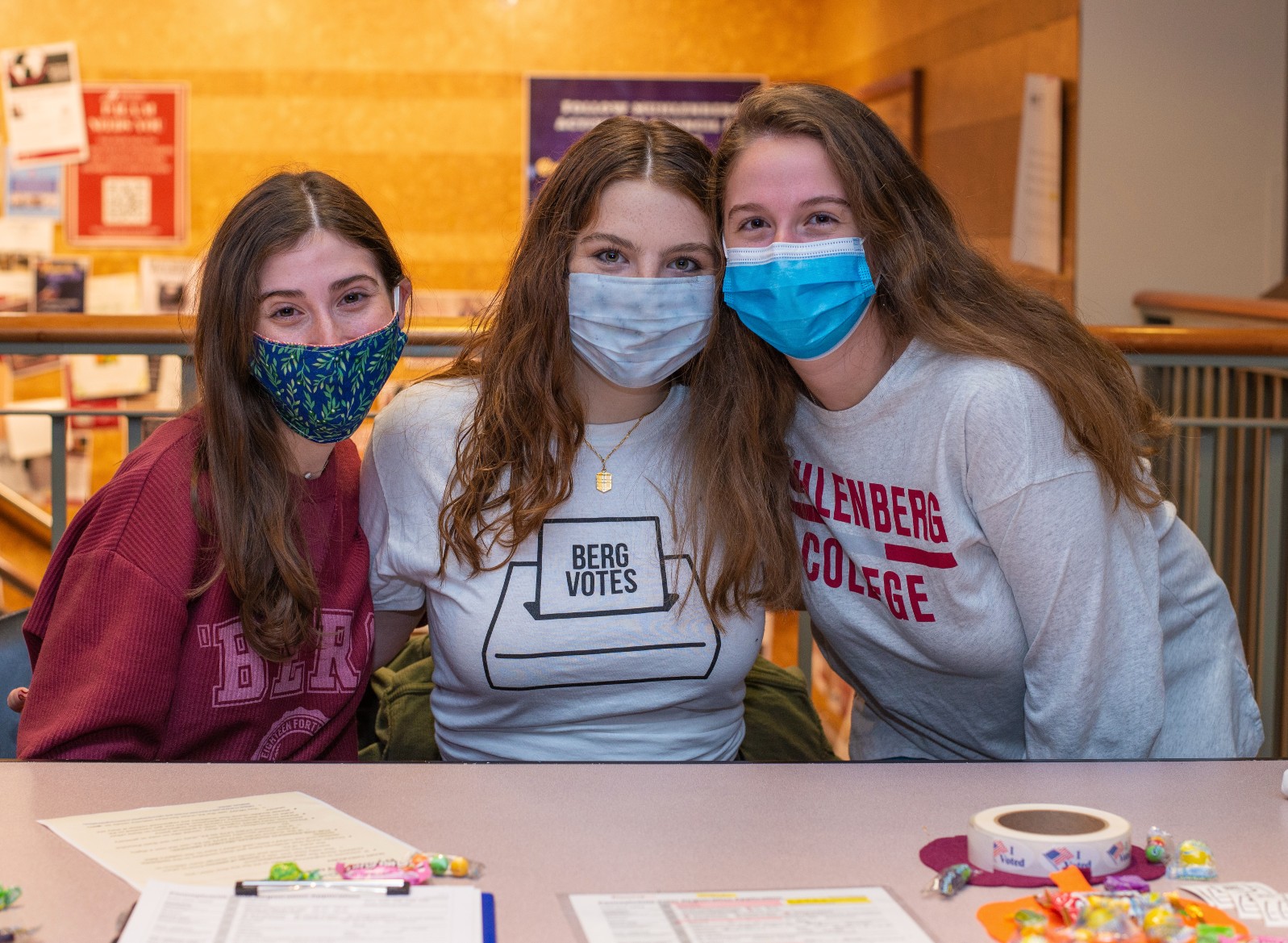 Members of BergVotes Ashley Paseltiner '23, President Ryan Abrams '23 and Vice President Cydney Wilson '23 (left to right) assist at the polls in Muhlenberg's Seegers Union during the November 2021 municipal elections.
Voting rates at Muhlenberg are one of the highest in the country, according to a new report from the Institute for Democracy & Higher Education (IDHE), creators of the National Study of Learning, Voting and Engagement (NSLVE.)
The student voting rate at Muhlenberg rose to 82.6% in last year's presidential election, far exceeding the 2020 national college-student voting rate of 69% for private institutions and 66% for all institutions.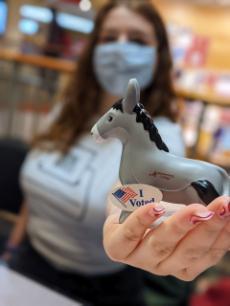 The College's 2020 student-voting rate is a 19.4 percentage point increase from the 2016 rate of 63.2%. In addition, Muhlenberg had a 91.6% registration rate for the most recent presidential election, up from 82.7% in 2016.
"We are so proud of the work of BergVotes, the Office of Community Engagement (OCE) voter promoters and all of the students at the College who made sure they were registered and figured out a way to vote in 2020," says Beth Halpern, director of community engagement and advisor for BergVotes, a nonpartisan student organization focused on increasing voter registration and turnout. "It was not always easy, and students' dedication to ensuring their voices were heard was noteworthy."
Nationwide, the NSLVE study's authors report a record-breaking set of findings—especially among those 18 to 21 years old, many of whom were first-time voters. The national college-student voter turnout jumped to 66% in 2020, a 14 percentage point increase, from a 52% turnout in the 2016 election. The rate outpaces that of all Americans, which jumped 6 percentage points from 61% to 67%, according to the U.S. Census Bureau.
The COVID pandemic meant Muhlenberg's BergVotes members faced profound challenges in encouraging students, both on- and off-campus, to register and vote during the most recent presidential election cycle.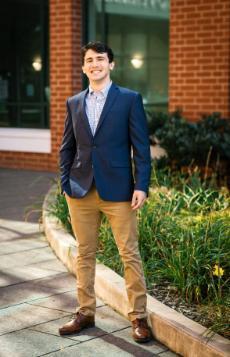 "I think we are seeing an increase in student voting not only due to the important issues younger generations face such as climate change but also due to the growing political divide in the United States," says Kyle Ropski '22 (pictured left), who served as president of BergVotes through December 2020. "Heightened political tensions and polarized issues may not be around forever, but the need to vote will always remain. It just further solidifies the need for non-partisan groups like BergVotes on college campuses. By putting an emphasis on voter registration and education alone, groups like BergVotes can ensure college-students have the opportunity to get their vote counted as its top priority."
Ropski added, "The coronavirus pandemic and the tentative living plans for many students added a whole new element of confusion to an already hectic election year. I am incredibly proud of the work that has been done by BergVotes and the OCE. They proved themselves to be adaptable and hardworking and they never failed to go above and beyond to assist students as well as community members. The outstanding results in the NSLVE report reflect those efforts. I look forward to the continued positive impact BergVotes and the OCE will have in the protection and support of the keystone of our democracy."
Due to the COVID pandemic, BergVotes Vice President Cydney Wilson, who also held that role during the presidential election, was the only member of the student organization's executive board living on campus in the fall of 2020. "We had to work hard to maintain connections with each other and with all of our club members and ensure we were registering students both at home and on campus. We frequently held virtual 'office hours' and had a table to register students twice a week on campus leading up to the election. We also made use of social media to remind students to register and encourage them to reach out to us with any questions."
Wilson says she believes the rise in voting levels can be largely attributed to the desire of young students to make a difference, both in their communities and the country at large. She says, "Following a wide array of strong emotions due to the pandemic and the resurgence of the Black Lives Matter movement, students were looking for a way to make sure their voices were heard. Hopefully, students continue to keep this same energy and enthusiasm going into future elections."
IDHE's National Study of Learning, Voting and Engagement (NSLVE, pronounced n-solve) is the nation's largest study of college and university student voting. Institutions must opt-in to the study, and at this time, nearly 1,200 campuses of all types—community colleges, research universities, minority-serving and women's colleges, state universities, and private institutions—participate. The dataset reflects all 50 states and the District of Columbia and includes 49 of the nation's 50 flagship schools. IDHE uses de-identified student records to ensure student privacy. The 2020 dataset is robust with 8,880,700 voting-eligible students representing 1,051 colleges and universities.