'Call Me By Any Other Name… Just as Sweet' Opens Oct. 21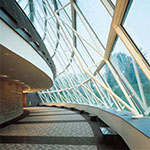 World premiere queer adaptation at Muhlenberg Theatre & Dance turns classic Romeo and Juliet tale inside-out
By: Clarissa Shirley '22 Friday, October 1, 2021 10:28 AM

Theatre artist Nigel Semaj has always been interested in making space in classical stories for voices that have traditionally been left out — in particular, the voices of queer people and people of color. This fall, Semaj brings this transgressive storytelling approach to a queer deconstruction of "Romeo and Juliet," premiering this month at Muhlenberg College Theatre & Dance.
Semaj's transformative new adaptation of the Shakespeare classic, "Call Me By Any Other Name… Just As Sweet" runs Oct. 21-24. Cast member Amira Jackson '24 says it turns the familiar tale inside-out.
"During Shakespeare's time, the only people on stage were white men," says Jackson, a sophomore who plays the role of Lady Capulet. "This production is the complete opposite. A lot of people of color, Black women, Black non-binary people, Black queer people, trans people."
Semaj says that the play starts with Shakespeare's story of star-crossed lovers, maintaining much of the original text — but reimagining and transforming the characters and introducing new dramatic moments that usually take place out of sight. Semaj is particularly interested in the role of fate in the story — how fate determines who we love and who gets to love.
"Nigel is taking a monumental show, and making it into something that is the complete opposite of what it was intended to be. It's so powerful," Jackson says. "We are all working to create a more inclusive world and theater industry. I'm glad to be a part of a show that brings that to life."
Semaj and their collaborators, including co-authors Jack Saleeby and Brayden Stallman '23, draw inspiration from sources such as Dante's Inferno, Plato Symposium, drag ball culture, and the movie "Call Me By Your Name."
Semaj says they were particularly drawn to the story of the star-crossed lovers, thwarted by fate and the will of the immortals — a trope at least as old as Greek mythology.
"Plato theorizes that the reason people wander the earth looking for their soulmate is because we are looking for our other half," Semaj says. "That's why we do everything we can to feel close, and to mush our bodies back together. I think Romeo and Juliet are those people for each other, which is why it's so unbearable for them to think about living without each other."
Semaj says this unbearable quest becomes even more excruciating for people who are queer, who are attempting to live their lives and make connections in a space that has historically excluded them.
"As queer people, for decades we have been told who and how we are allowed to love," Semaj says. "For a long time there has been the idea of queerness that has been feared. Even now there are still outside forces that seek to destroy queerness."
Semaj is a New York City-based director, movement director, choreographer and educator from Washington, D.C. They hold a Master of Fine Arts degree in theater, focusing in directing and new work development, from the New School in New York City. Semaj's work in education and theater incorporates anti-racist and restorative justice techniques.
Semaj's work for the stage has included an all-female adaptation of Shakespeare's "Titus Andronicus" titled "10,000 Moor," and a queer retelling of the Hercules myth.
This play will feature original choreography by Semaj that is inspired by drag ball culture. In addition, Muhlenberg junior Brayden Stallman has been collaborating with Semaj to create new text for the play, which has queer storytelling and aesthetics at its core.
"There is a history within queer culture that isn't depicted in mainstream art media," Stallman says. "The dance within the production is informed by the history of queer dance and performance. These aesthetics are often tokenized and exploited in mainstream media, which is produced primarily for white, straight audiences."
The production team has also been looking for ways to reinvent the intimacy of the Romeo and Juliet story for the COVID-19 era. Semaj has been working with the cast and intimacy and fight director Eli Lynn to reimagine what physical intimacy and violence looks like for actors inside this new normal.
"If I can believe that it is snowing on stage or that Peter Pan is flying, then we can do different things with intimacy as well," Semaj says. "It doesn't always have to be a kiss."
Performances of "Call Me By Any Other Name… Just As Sweet" are Oct. 21-24: Thursday through Saturday at 8 p.m. and Sunday at 2 p.m. Tickets are $15 regular admission, $8 for youth, and $8 for Muhlenberg and LVAIC students, faculty and staff. Tickets are available online or by phone at 484-664-3333. More information is available here.
Performances are in the Empie Theatre in The Center of the Arts for Theatre & Dance, Muhlenberg College, 2400 West Chew St, Allentown. Masks are required for all audience members.
About the Muhlenberg College Theatre & Dance Department
Muhlenberg offers Bachelor of Arts degrees in theatre and dance. The Princeton Review ranked Muhlenberg's theatre program in the top twelve in the nation for eight years in a row, and Fiske Guide to Colleges lists both the theatre and dance programs among the top small college programs in the United States. Muhlenberg is one of only eight colleges to be listed in Fiske for both theatre and dance.
About Muhlenberg College
Founded in 1848, Muhlenberg is a highly selective, private, four-year residential, liberal arts college offering baccalaureate and graduate programs. With an enrollment of approximately 2,200 students, Muhlenberg College is dedicated to shaping creative, compassionate, collaborative leaders through rigorous academic programs in the arts, humanities, natural sciences and social sciences; selected preprofessional programs, including accounting, business, education and public health; and progressive workforce-focused post-baccalaureate certificates and master's degrees. Located in Allentown, Pennsylvania, approximately 90 miles west of New York City, Muhlenberg is a member of the Centennial Conference, competing in 22 varsity sports. Muhlenberg is affiliated with the Evangelical Lutheran Church in America.