A Theatre Community on Cayuga Lake
Arianna Tilley '22 is immersing herself in the arts in Ithaca, New York.
By: Grace Oddo '22 Tuesday, August 10, 2021 10:18 AM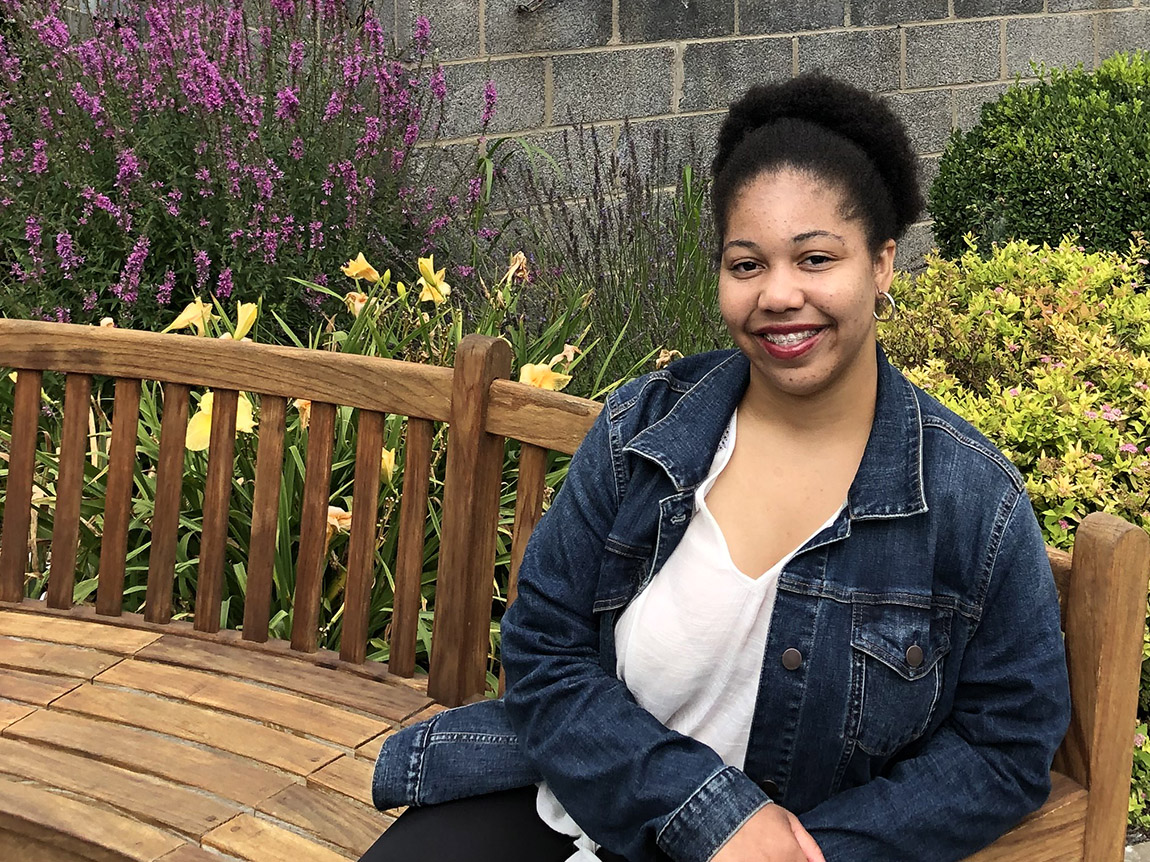 Photo courtesy of Arianna Tilley.
Theatre is alive and well in The Finger Lakes.
Ithaca, New York is a small town with vibrancy and charm that is felt everywhere—from the funky shops in Ithaca Commons to the southern shores of Cayuga Lake. It also is home to several theatres, including the State Theatre of Ithaca, the Kitchen Theatre Company and The Hangar Theatre.
Each summer, The Hangar hosts a program called Lab Company ("LabCo" for short), an intensive training program for college theatre students and young professionals. LabCo offers programs for aspiring actors, choreographers, directors and playwrights. The programs were virtual last year due to COVID-19, but this summer the nationally recognized program is fully in-person.
When Arianna Tilley '22 heard about this opportunity through an email from the Muhlenberg Theatre and Dance Department, she jumped at the chance. A theatre and dance double major, Tilley had been missing in-person artistic collaboration and was excited at the prospect of doing an intensive.
"I'm so excited that I got one summer where all I got to do was theatre." she says.
Although she originally applied for the choreography track, she was accepted into the directing program. From there, she packed up her life in northern Virginia and made arrangements to move to Ithaca, New York. As she settled in, she read plays in preparation for the workshops. She watched several versions of Sweeney Todd, one of the Hangar Theater's summer mainstage shows that she would be assistant-directing. She thought of an endless list of questions to ask. "It was a very quick turnaround," she recalls. "The next week, we jumped right into it."
LabCo is called an "intensive" for a reason. The program began on June 7, and Tilley describes each day as nothing short of busy. Workshops are led by Hangar staff and industry professionals. Some of her favorites included an on-camera acting workshop with Michael Cassara and Aaron Serotsky, an intimacy directing workshop and—most notably—a Hamilton dance workshop with Damon J. Gillespie, a Broadway alum and star of NBC television show Rise.
Each directing student has the opportunity to assistant direct multiple shows—a mainstage show, an experimental piece and a children's show. The Hangar's Mainstage production this summer is Sweeney Todd, directed by Sanaz Ghajar. The Sondheim musical, starring Nik Walker and Donna Lynne Champlin, opened on July 22 and ran through August 7. As one of the assistant directors, Tilley and her partner Kate Semmens had many important responsibilities. "It was really an all-hands-on-deck process," she says. "I kept track of actors' blocking, managed the props and tracked set changes. Working with Sanaz was wonderful."
In a world starved of in-person theatre, hearing the applause on opening night made Tilley very emotional. "Hearing and seeing the standing ovations took me somewhere else," Tilley says. "To realize that I worked on that and now everyone gets to see what I helped to build—it's a beautiful thing."
Each director also gets the opportunity to direct a devised in collaboration with the other LabCo directors called After Dark in Eden. For her excerpt, she chose an excerpt from Hans Christian Andersen's The Nightingale, a children's fairytale. Tilley explains that her piece's theme is community, particularly the global community that is becoming increasingly threatened due to climate change. "I am adapting the story to fit a deeper narrative about humanity's abuse of nature," she says. "Hopefully it gave the audience something important to think about." She, along with a small cast of LabCo actors, rehearsed for weeks in preparation for the outdoor performance on July 31, 2021.
With the summer soon coming to an end, Tilley is both reflective and grateful for her summer spent on stage. A rising senior, she looks forward to using the skills and lessons learned at the Hangar at Muhlenberg and beyond. The productions and workshops have been fulfilling, but she says that she will miss her fellow students most of all. To Tilley, they're not just friends. They're a supportive community, one that Tilley loved being a part of.
"We're all one big theatrical family," she says. "If I needed any more reassurance regarding what I wanted to do after college, this was it."