Theatre & Dance — Back on Stage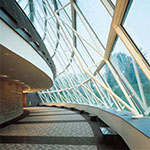 Theatre & Dance Department announces an eclectic new season of live performances for 2021-22.
Monday, August 9, 2021 03:59 PM
The Muhlenberg College Department of Theatre & Dance has announced its lineup of departmental performances for the 2021-22 academic year. Department faculty anticipate that all of the shows will be rehearsed in person and performed for a live audience.
The lineup features two dance concerts, a world-premiere Shakespeare adaptation, a recently premiered musical and a multidisciplinary performance festival to take place throughout the spring semester.
Showtimes and ticket information will be available by early September. Additional information can be found at muhlenberg.edu/seeashow. The 2021-22 season lineup is as follows:


En el tiempo de las mariposas
(In the Time of the Butterflies)
by Caridad Svich, based on the novel by Julia Alvarez
a Staged Reading directed by Leticia Robles-Moreno, assistant professor of theater
Based on the true story of Dominican freedom activists the Mirabal Sisters, this powerful play unveils the women behind the myth, and embraces their legacy for Latina feminist empowerment. (Rights pending.)
Sept. 30 – Oct. 3, 2021


Call Me By Any Other Name… Just as Sweet
A World Premiere Queer Deconstruction of Shakespeare's Romeo & Juliet
directed by Nigel Semaj, visiting assistant professor for theater
Nigel Semaj's explorative new adaptation steps outside of the Romeo and Juliet story to examine the role of fate and the politically and emotionally charged question of who gets to love — while recentering the narrative and staking a claim for Queer storytelling.
Oct. 21-24, 2021


Reset: New Dances
Faculty Mentor: Megan Flynn, assistant professor of dance
Megan Flynn will lead a group of student choreographers in creating an evening of world-premiere dance pieces, all centered around the theme of fresh starts and new beginnings.
Nov. 18-20, 2021


The Saint Plays
by Erik Ehn
Artistic Director: James Peck, professor of theatre
directed by Peck and student directors
Inspired by the lives of Biblical characters and Catholic saints, Ehn's richly allusive, ecstatic, hallucinogenic performance poems cleave to hope and beauty in the aftermath of loss — in his words, Big Cheap Theatre, Big Cheap Mysticism.
Dec. 1-5, 2021


Performance Festival
Muhlenberg students and faculty will create a series of five thematically connected works in theatre, music and dance, presented throughout the spring semester. The department will solicit project proposals during the fall semester.
January – May, 2022


Miss You Like Hell
book & lyrics by Quiara Alegría Hudes
music & lyrics by Erin McKeown
directed by Jamie McKittrick, visiting assistant professor for theater
An intense, rambunctious new musical by Pulitzer Prize winner Quiara Alegría Hudes ("In the Heights," "Water by the Spoonful") and acclaimed singer/songwriter Erin McKeown, "Miss You Like Hell" brings audiences along on a desperate, joyous, uniquely American road trip. (Rights pending.)
Feb. 17-20, 2022


In Motion
Dynamic Dance Works by Faculty & Guest Artists
Artistic Directors: Heidi Cruz Austin, visiting assistant professor for dance, and Karen Dearborn, professor of dance and Dance Program chair
Dance faculty and acclaimed guest choreographers will set dance works in a variety of styles on the dancers of the Muhlenberg Dance Program.
March 31 – April 2, 2022
About the Muhlenberg College Theatre & Dance Department
Muhlenberg offers Bachelor of Arts degrees in theater and dance. The Princeton Review ranked Muhlenberg's theater program in the top twelve in the nation for eight years in a row, and Fiske Guide to Colleges lists both the theater and dance programs among the top small college programs in the United States. Muhlenberg is one of only eight colleges to be listed in Fiske for both theater and dance.
About Muhlenberg College
Founded in 1848, Muhlenberg is a highly selective, private, four-year residential, liberal arts college offering baccalaureate and graduate programs. With an enrollment of approximately 2,200 students, Muhlenberg College is dedicated to shaping creative, compassionate, collaborative leaders through rigorous academic programs in the arts, humanities, natural sciences and social sciences; selected preprofessional programs, including accounting, business, education and public health; and progressive workforce-focused post-baccalaureate certificates and master's degrees. Located in Allentown, Pennsylvania, approximately 90 miles west of New York City, Muhlenberg is a member of the Centennial Conference, competing in 22 varsity sports. Muhlenberg is affiliated with the Evangelical Lutheran Church in America.