'En El Tiempo de las Mariposas' Opens Theatre & Dance Departmental Season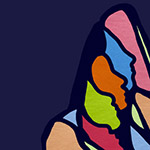 True story of the Mirabal sisters, Dominican freedom fighters, marks return to in-person performance
By: Clarissa Shirley '22 Tuesday, September 21, 2021 00:26 AM

The Mirabal sisters (L-R): Alejandra Cepeda Bátiz as Patria, Maria Isabel Castillo as Mate, Alaila Florian as Minerva. Photo by Maddi Whiting.
The true story of the Mirabal sisters, political activists who became freedom fighters in the Dominican Republic's struggle against oppression, will open the performance season for Muhlenberg College's Theatre & Dance Department.
A staged reading of "En el tiempo de las mariposas (In the Time of the Butterflies)" will signal the return of live theater at Muhlenberg, following an entirely virtual season in spring of 2021. Directed by Leticia Robles-Moreno, the show runs Sept. 30 through Oct 3.
Robles-Moreno acknowledged the significance of this story within her own life; she says that her family was inspired by the Mirabal sisters' story during her childhood in Peru.
"To have this wonderful cast of Latina women bringing life to these voices," Robles-Moreno says. "It brings me hope."
Alaila Florian, a Muhlenberg senior who plays Minerva, one of the sisters, says she feels honored to represent the kind of Latina women that she reveres in her own life.
"Whenever we see Latina women portrayed, it's always the same stereotypical perspectives: overly sensual, the angry Latina who can barely speak English," Florian says. "It's tiring.
"The Mirabal sisters are so headstrong, hopeful, selfless — everything I've wanted to be since I learned about them when I was 14," she says. "It is truly an honor to be able to portray women I've looked up to for so long, and be part of the journey to keep their work and their memory alive."
Written by Caridad Svich and based on the novel by Julia Alverez, "En el tiempo de las mariposas" is a compelling story of Latina feminist empowerment, Robles-Moreno says. The play is about sisters who become revolutionaries and create a circuit of resistance against the dictatorship of Rafael Trujillo in the Dominican Republic, from the 1940s to the 1960s. All performances will include Spanish subtitles.
"The play is about how a woman can realize the power that she has," Robles-Moreno says. "It's about a sisterhood that reminds her that she is never alone, and that can empower someone to risk everything for the freedom they and their people deserve."
The piece will be performed in the format of a staged reading. Robles-Moreno says that this choice will help bring the Mirabal sisters' story to life in a transformative way.
"Staged reading is a theater genre that doesn't require a set or costumes," she says. "It is stripped down to the performers simply bringing the text to life. It is important that as we return to live theater we acknowledge that theater is not about the beautiful and immense production details; instead we are inviting the audience to be in communion with the words."
All tickets for "En el tiempo de las mariposas (In the Time of the Butterflies)" are $5. Performances are Sept. 30 through Oct 3, Thursday through Saturday at 8 p.m., and Sunday at 5 and 8 p.m.
Tickets can be purchased online or by phone at 484-664-3333. Performances are in the Studio Theatre in Trexler Pavilion for Theatre & Dance, Muhlenberg College, 2400 West Chew St, Allentown. Masks are required for all audience members.
About the Muhlenberg College Theatre & Dance Department
Muhlenberg offers Bachelor of Arts degrees in theatre and dance. The Princeton Review ranked Muhlenberg's theatre program in the top twelve in the nation for eight years in a row, and Fiske Guide to Colleges lists both the theatre and dance programs among the top small college programs in the United States. Muhlenberg is one of only eight colleges to be listed in Fiske for both theatre and dance.
About Muhlenberg College
Founded in 1848, Muhlenberg is a highly selective, private, four-year residential, liberal arts college offering baccalaureate and graduate programs. With an enrollment of approximately 2,200 students, Muhlenberg College is dedicated to shaping creative, compassionate, collaborative leaders through rigorous academic programs in the arts, humanities, natural sciences and social sciences; selected preprofessional programs, including accounting, business, education and public health; and progressive workforce-focused post-baccalaureate certificates and master's degrees. Located in Allentown, Pennsylvania, approximately 90 miles west of New York City, Muhlenberg is a member of the Centennial Conference, competing in 22 varsity sports. Muhlenberg is affiliated with the Evangelical Lutheran Church in America.