Touching the Past
Associate Professor of Religion Studies Jessica Cooperman emphasizes the importance of primary documents to tell history and focus on the future.
By: April Johnston Monday, July 12, 2021 10:09 AM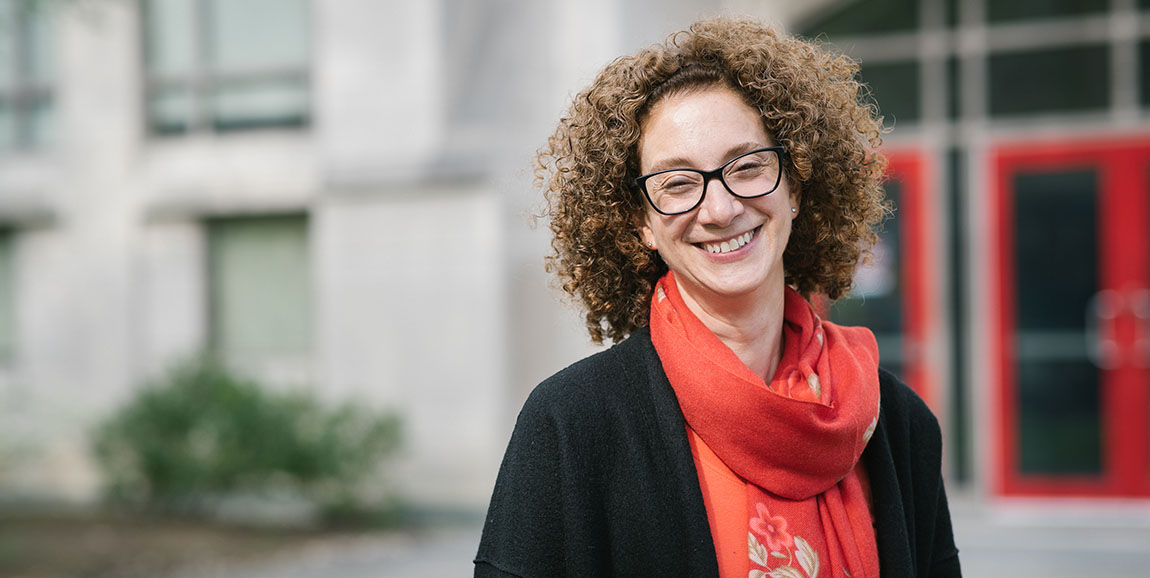 Associate Professor of Religion Studies and Director of Jewish Studies Jessica Cooperman. Photos by Marco Calderon
Sitting in the reading room of the Center for Jewish History in New York City, Jessica Cooperman gently took hold of a decades-old document. It was a memo, distributed by the U.S. occupation forces in post-World War II Germany, announcing Rosh Hashanah services—the first since the country's liberation and a tangible sign of hope for the Jewish community.
As Cooperman scanned the words, they began to blur. It was not the first time she shed tears while working in an archive.
"There's something so moving about holding a letter, a book or a diary that was written a century ago, having that tactile experience and feeling that intense personal connection," she says. "I wish I could take students with me to the archives."
Because she can't take her students with her, Cooperman, an associate professor of religion studies and director of the Jewish Studies Program at Muhlenberg College, insists on something analogous. No matter what she's teaching about—religion in America, American Jewish culture or the Holocaust—Cooperman requires her students to read primary documents.
For many, particularly those accustomed to reading textbooks that slice the past into manageable bites, the experience of reading a firsthand account of history is unfamiliar and exhilarating—precisely why Cooperman assigns it.
"I want to free students from the idea that history comes in prepackaged form," she says. "I want them to feel like history, culture and ideas are something with which they can engage."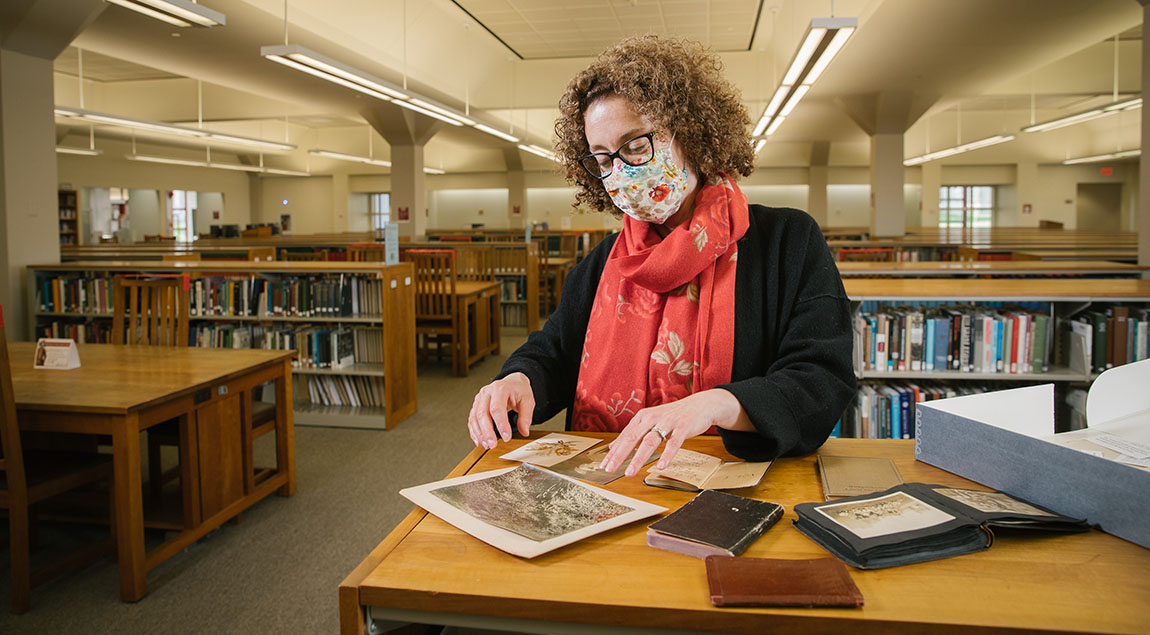 Though Cooperman was raised in a Jewish household on Long Island, she wasn't immediately drawn to Jewish or religious studies. Instead, she majored in philosophy at the University of Pennsylvania. But she soon found that grappling with big ideas alone was not fully satisfying. She wanted to ground those ideas in space and time.
Studying history was her way of doing just that. After living, working and traveling in the United Kingdom and India, Cooperman ended up at the Hebrew University of Jerusalem. There, she dug into centuries-old texts and took a collection of Jewish history courses that were a just-right blend of the universal and specific. She realized that the Jewish experience could be used as a unique lens to view the world's—and particularly America's—most crucial and complex issues, including immigration, race and religious freedom.
"Of course, we can study Jewish history for its own sake, but it also allows us to appreciate the dynamics of a Western society," Cooperman says. "It has this intersection."
She returned to the United States to earn graduate degrees in history and Judaic studies at New York University, a 15-minute walk from the American Jewish Historical Society, which is housed at the Center for Jewish History.
Cooperman's interests focus on modern American Judaism and the intersection of religion and state. Her first book, Making Judaism Safe for America: World War I and the Origins of American Religious Pluralism, investigates the way military policy changed the country's views on religion.
At the start of World War I, the War Department (now the Department of Defense) commissioned the YMCA to provide soldiers with welfare services—the social and religious activities that dominated non-combat life. But the Protestant-centered services couldn't meet the needs of the country's growing number of Jewish soldiers. So, leveraging its power, the newly formed Jewish Welfare Board advocated for Jewish soldiers, ensuring accommodations like time to pray on Saturdays and distribution of Yiddish newspapers. The equal footing Jewish—and, in turn, Catholic—soldiers found in the military eventually translated to civilian life.
"It was an engine of change in American views on religion and religious pluralism," Cooperman says. "We continue to live with the legacy of those changes today."
Cooperman's current research further investigates that kind of interfaith understanding, focusing on Christian-Jewish relations after World War II.
During the 2019-2020 academic year, Cooperman received a fellowship from the Center for Jewish History and Fordham University for research on Jewish-Christian relations. And this past spring semester, she honed those ideas and delved into others as a fellow at the Katz Center for Advanced Judaic Studies at the University of Pennsylvania.
The fellowship allowed her to spend time with some of the country's foremost experts in Jewish studies—"all the people who wrote all the papers," as she laughingly describes it—and has only strengthened her belief that Jewish history can play an important role in America's present.
The issues that have permeated Jewish culture—race, immigration, assimilation—are the same issues the U.S. is grappling with on a broader scale today. And Cooperman posits that perhaps looking back on those struggles is a strategy for moving forward.
"Our present moment is so fraught," Cooperman says. "But if we're able to step back and look at immigration debates from the 1920s, it can help us understand the complexity of the contemporary moment."