Emily Ledesma '20 Is Awarded Prestigious Teaching Fellowship
The Pennsylvania Woodrow Wilson (WW) Teaching Fellows program prepares recent graduates for STEM education careers.
By: Grace Oddo '22 Wednesday, November 3, 2021 09:01 AM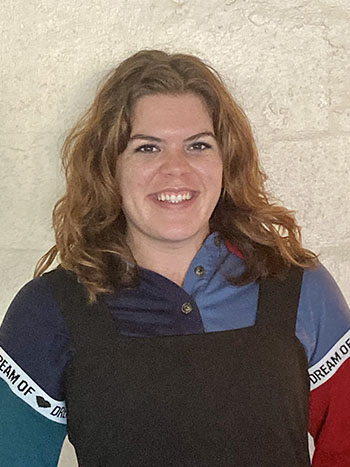 Emily Ledesma '20, a mathematics major, is part of the Institute for Citizens and Scholars' 2021 class of Pennsylvania Woodrow Wilson (WW) Teaching Fellows. According to the Institute's press release, the program "recruits both recent graduates and career changers with strong backgrounds in science, technology, engineering and math—the STEM fields—and prepares them specifically to teach in high-need secondary schools in Pennsylvania. Each WW Pennsylvania Teaching Fellow receives $32,000 to complete a specially designed, cutting-edge master's degree program based on a yearlong classroom experience. In return, Fellows commit to teach for three years in high-need Pennsylvania schools."
Ledesma, a native of Catasauqua, Pennsylvania, is student-teaching at the George Washington Carver High School of Engineering and Science in Philadelphia.
"I am so spoiled at Carver," Ledesma says. "The kids are so much fun."
Ledesma graduated from Muhlenberg College in 2020 with a degree in mathematics. She was planning on completing her student teaching through the School of Continuing Studies, but her plans kept getting pushed back due to the pandemic. It wasn't until she heard about the WW Scholars opportunity through a former professor that she decided to rethink her plans.
"I never expected to go back and get my master's degree," she says. "This program is great, because I can get through my student teaching, get my certification and get a master's degree."
Forty individuals belong to the program's third cohort. They attend Duquesne University, West Chester University and The University of Pennsylvania.