Muhlenberg Inducts Students to National Health Preprofessional Honor Society
The College welcomed 26 new members to the Pennsylvania Nu chapter of Alpha Epsilon Delta at a ceremony held on Sunday, April 3.
Monday, April 11, 2022 04:53 PM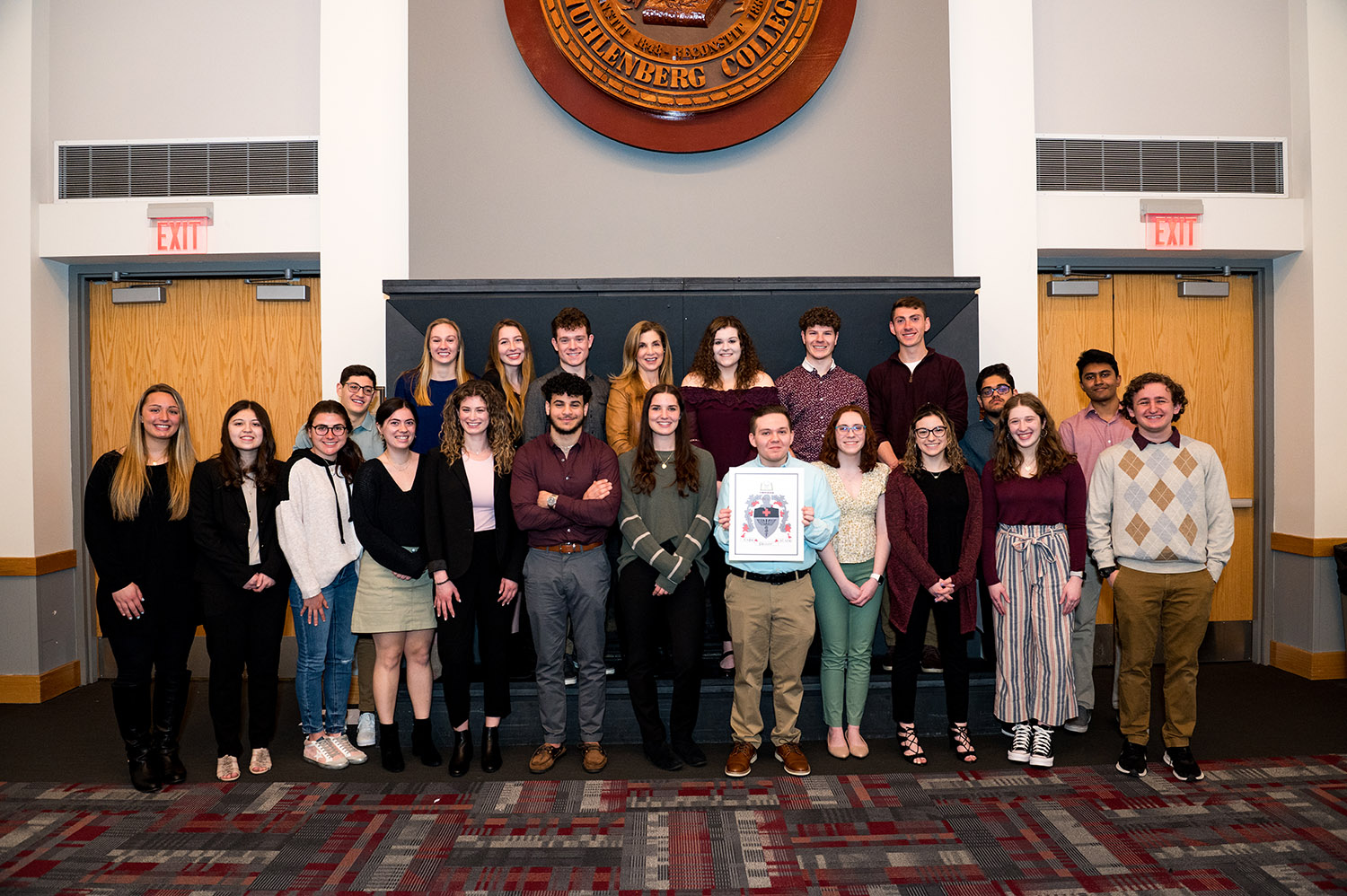 Photo by Meg Keller. Image taken prior to mask requirement reinstatement.
Alpha Epsilon Delta (AED) is a national honor society and service organization dedicated to the encouragement and recognition of excellence in pre-professional health scholarship. Membership is based on each student's scholastic achievement, and applications are open to all students who have completed at least three semesters of a preprofessional health program.
Susan Medalie '10, a family medicine and obstetrics physician, addressed the AED class of 2022 during the ceremony. Medalie graduated from Muhlenberg with a major in neuroscience. She earned her medical degree from West Virginia School of Osteopathic Medicine and completed her residency in family practice from Good Samaritan Hospital of Pennsylvania. Beginning in May, she will be the Director of Family Medicine Obstetrics for Lehigh Valley Health Network's Schuylkill Rural Family Medicine Residency in Pottsville, Pennsylvania.
Alpha Epsilon Delta Leadership
President: Paige Jones '22
Vice President: Natalie David '22
Secretary: Danny Monzo '22
Treasurer: Cece Peden '22
Scalpel Reporter: Trevor Virno '22
Historian: Ray Shah '23
Health Professions Advisor: Cailín M. Cordon-Waldman P'16, P'18
2022 AED Inductees:
Madison Amdur '22
Gianna Anzalone '24
Catherine Barrish '24
Taylor Canfield '24
Jacob Forstein '24
Jason Ivey '23
Aamir Khan '24
Gabrielle Klausner '24
Jacob Kunsman '24
Evan Lipman '24
Samantha Lipson '24
Abanoub Marzouk '24
Sohaib Nauman '24
Long Nguyen '23
Anthony Panuccio '24
Emma Prehl '24
Nicole Randazza '24
John Sankari '24
Lizabeth Sant'Angelo '24
Maya Schlesinger '24
Nicole Steiner '24
Lily Stephens '24
Jacqueline Szlagiewicz '24
Arielle Touitou '24
Lauren Washco '24
Felicia Wong '24