Living Writers Brings World-Renowned Authors to Muhlenberg College
The event series runs through the Fall 2022 semester and includes public readings, conversations with the authors and book signings.
Thursday, September 8, 2022 11:30 AM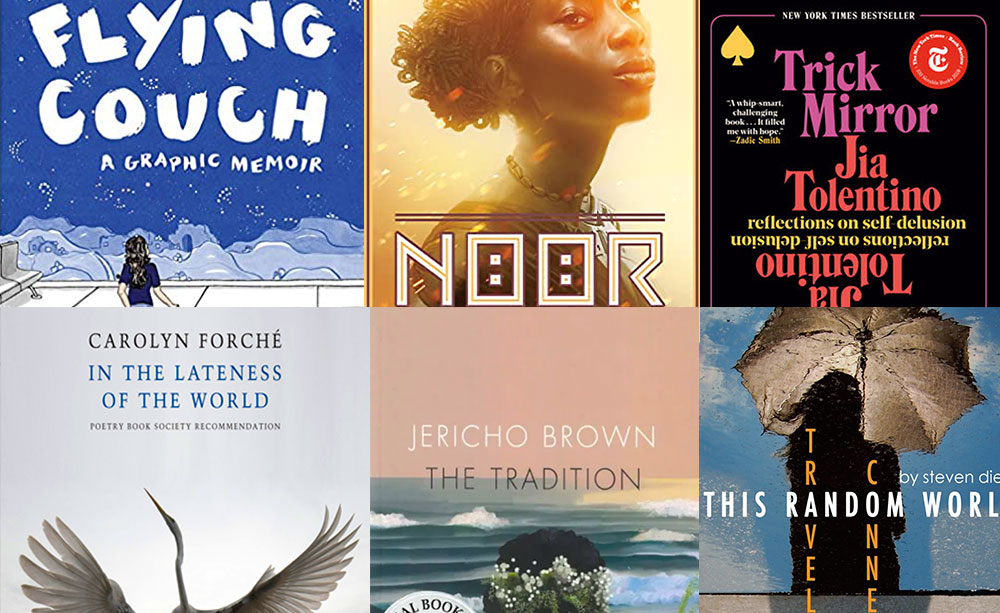 Living Writers is a semester-long course and speaker series that brings both burgeoning and established authors to campus. In addition to interacting with students, each author holds a public reading and book signing, both of which are open to the public.
Students enrolled in the course read recent works from the selected authors and then interact with the writers directly as they visit campus for a day. Writers attend classes, have lunch with students and then give a public reading of their work in the evening.
The events are free and open to the public. For more information on the series, visit the English & Creative Writing program website.
---
2022 Living Writers Schedule
Amy Kurzweil, graphic memoirist and cartoonist
Monday, September 12 from 7-8:15 p.m.
Miller Forum, Moyer Hall
Flying Couch public reading, book sales and signing
Amy Kurzweil is a cartoonist and writer. She received her BA from Stanford University and MFA from The New School. Kurzweil is the author of the graphic memoir Flying Couch (Catapult, 2016), named a 2016 New York Times Editor's Choice and a Kirkus Best Memoir of 2016. Her comics appear regularly in the New Yorker, The Believer, Journal of Alta California and elsewhere. Her prose has appeared in Longreads, Literary Hub, The Toast, Hobart, Shenandoah and other publications.
Steven Dietz, playwright and screenwriter
Sunday, October 2 from 7-9 p.m.
Recital Hall, Baker Center for the Arts
This Random World public reading
Monday, October 3 from 7-8:30 p.m.
Miller Forum, Moyer Hall
This Random World conversation, book sales and signing 7:00 - 8:30 p.m.
Steven Dietz is an American playwright, screenwriter, theatre director and teacher. Dietz has long been one of America's most prolific and widely produced playwrights. In 2019, Dietz was again named one of the 20 most-produced playwrights in America.
Though several of his plays have been seen Off-Broadway (including "Fiction", "Lonely Planet", "God's Country"), the vast majority of Dietz's plays are produced in American regional theaters. Dietz's widely produced play, "Shooting Star" has been adapted for the upcoming film, "What Happens Later," to be directed by Meg Ryan. The movie is scheduled to star Meg Ryan and David Duchovny.
Jericho Brown, poet
Monday, October 24 from 7-8:15 p.m.
Miller Forum, Moyer Hall
The Tradition public reading, book sales and signing
Jericho Brown is author of The Tradition, for which he won the Pulitzer Prize. He is the recipient of fellowships from the Guggenheim Foundation, the Radcliffe Institute for Advanced Study at Harvard, and the National Endowment for the Arts, and he is the winner of the Whiting Award. Brown's first book, Please, won the American Book Award. His second book, The New Testament, won the Anisfield-Wolf Book Award. His third collection, The Tradition won the Paterson Poetry Prize and was a finalist for the National Book Award and the National Book Critics Circle Award. His poems have appeared in The Bennington Review, Buzzfeed, Fence, jubilat, The New Republic, The New York Times, The New Yorker, The Paris Review, TIME magazine and several volumes of The Best American Poetry.
Nnedi Okorafor, science fiction writer
Monday, November 7 from 7-8:15 p.m.
Miller Forum, Moyer Hall
NOOR conversation, book sales and signing
Nnedi Okorafor is a Nigerian-American writer of science fiction and fantasy for both children and adults. She is best known for her Binti series and her novels Who Fears Death, Zahrah the Windseeker, Akata Witch, Akata Warrior, Lagoon and Remote Control. She has also written for comics and film.
Her writing is "Africanfuturism" and "Africanjujuism," which is heavily influenced by her dual Nigerian and American heritage. She is the recipient of multiple awards, including the Hugo Award, Nebula Award, Eisner Award and World Fantasy Award. She is considered to be among the third generation of Nigerian writers.
Carolyn Forche, poet
Monday, November 21 from 7-8:15 p.m.
Miller Forum, Moyer Hall
In the Lateness of the World public reading, book sales and signing
Carolyn Forché is an American poet, nonfiction writer, editor, professor, translator and human rights advocate. She describes herself as a "poet who is politically engaged" and that her poetry should be read as "poetry of witness." She has five collections of poetry and three nonfiction books, and she was a finalist for the 2021 Pulitzer Prize as well as the 2019 National Book Award, among other awards.
Jia Tolentino, nonfiction writer
Monday, December 5 from 7-8:15 p.m.
Miller Forum, Moyer Hall
Trick Mirror public reading, book sales and signing
Jia Tolentino is a staff writer at the New Yorker and the author of the essay collection Trick Mirror. Formerly, she was the deputy editor at Jezebel and a contributing editor at the Hairpin. She grew up in Texas and received her undergraduate degree at the University of Virginia and her MFA in fiction from the University of Michigan. In 2020, she received a Whiting Award as well as the Jeannette Haien Ballard Prize. Her work has also appeared in the New York Times Magazine and Pitchfork, among other places.