One Student's Job Shadow Experience With a Local Therapist
Justin Billich '24 had the opportunity to shadow Henry Gursky '71.
By: Grace Oddo '22 Friday, March 11, 2022 03:26 PM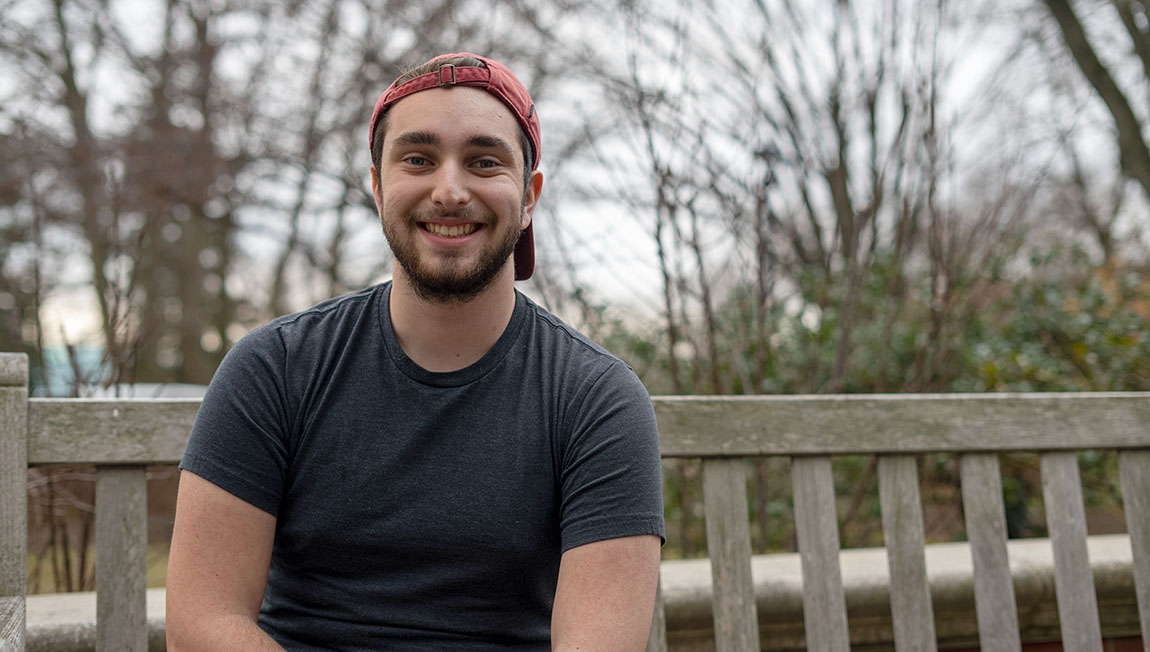 Justin Billich '24. Photo by Anaya Battle '22
Justin Billich '24, a psychology major and music minor, shadowed Henry Gursky '71, a psychologist who owns and operates his own practice in Allentown. This opportunity was through the Career Center's Shadow Program, which allows students to network with and shadow Muhlenberg alumni in their fields of interest. Here's what Billich had to say about his experience:
Why were you interested in shadowing?
I was interested in shadowing a psychotherapist in particular due to my experience with psychotherapy as a kid. Since I know the impact that therapy can have on people, especially children and adolescents who are still acclimating to the world, I want to be able to make that some positive impact on younger people dealing with mental health issues.
What did your shadow experience entail?
[Gursky] was able to break down the clerical and interactive aspects of being a private practice psychotherapist. We were able to sit in on clinical sessions given the client's consent and afterwards he explained the different methods of psychotherapy used throughout the session, including ACT (Acceptance and Commitment Therapy), CBT (Cognitive Behavioral Therapy) and Mindfulness.
What was the highlight of your shadow experience?
The highlight of my shadow experience had to be the mutual understanding between me and the fellow student shadows and [Gurksy]. When asked how he deals with hearing such difficult stories from clients, he told us that he has a group of therapists that he speaks to regularly. It goes to show that nobody is invulnerable to being vulnerable.
How did this experience shape your understanding of what you want to do after Muhlenberg?
This experience definitely highlighted the impact therapy can have on people, but more so the impact that it can have on the therapist. Seeing it firsthand, being a therapist is not an easy occupation by any means. I feel that as I continue through my undergraduate studies that I will find my place in the field of psychology, whether that's within the discipline of clinical psychology or more within research or music therapy. I've been trying to navigate how to incorporate my passions of music and public policy within psychology, but that's the beauty of this field—there are so many interdisciplinary opportunities.