In Solidarity, the Mutual Aid Project Takes Action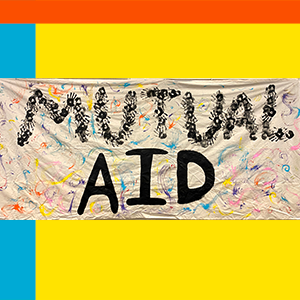 Collective welcomes Muhlenberg Community to engage in projects based around community needs
By: Clarissa Shirley '22 Friday, March 11, 2022 01:22 PM
Starting with a sculptural exhibition in Seegers Union entitled "This Is Not a Test," the Mutual Aid Collective has set out to find productive and creative ways to provide support to the Muhlenberg community.
"We start by seeing which needs in the community are not being met," a spokesperson for the Mutual Aid Collective says. "As a group, we are passionate about creating equity on campus, as we aim to aid the institution while simultaneously critiquing the institution. We want to make Muhlenberg easier for everybody to exist in."
"This Is Not a Test," the group's first project, transformed a room in Seegers Union into a practical and interactive art exhibit. Bags containing rapid COVID tests and KN95 masks lined the walls and ceiling, and the group welcomed visitors to take what they needed.
The collective's next action, taking place March 25 from 2 to 4 p.m., will be a labyrinthine sculptural installation, highlighting accessibility issues on campus.
"We wanted to demonstrate the labyrinth of structural and institutional barriers that can dissuade or deplete a student's ability to receive the care that they need," a spokesperson said. "Things like documentation, meetings, waiting periods, and emails that can cause students to give up, get tired or just lose their way."
Mutual aid refers to the voluntary exchange of resources and services between community members to provide support for those who need it, often addressing the needs that an institution has left unmet. The Mutual Aid coalition is working to meet the needs of students, faculty, and staff by redistributing funds that were originally intended for a theatrical performance.
"What began as a musical theatre project about the philosophical concept of Mutual Aid has since transformed into a collective, engaged in the actual practice of mutual aid," a spokesperson said. "We envision this as a decentralized collective process — open to any members of the Muhlenberg community."
The Mutual Aid Project is a part of the Muhlenberg Theatre & Dance Department's Assembly Festival. The collective meets every other Wednesday, 7 to 9 p.m. in Room CA-166, Baker Center for the Arts. Remaining meetings are March 23, April 6 and April 20. Anyone interested in hearing more can join the mailing list at mutualaidatmuhlenberg@gmail.com.
"We introduce ourselves at every meeting and it's been really cool to see all of the different majors that are in attendance — ranging from political science to chemistry," a spokesperson said. "It highlights that you can be creative no matter what you do. And we think that you can also care about your community no matter what you do."
The Mutual Aid Collective encourages community members to come to their meetings, even if they don't necessarily agree with what the group has done so far.
"Be respectful, but show up and disagree. Dissent can breed really cool things and be generative for all of us."
About the Muhlenberg College Theatre & Dance Department
Muhlenberg offers Bachelor of Arts degrees in theatre and dance. The Princeton Review ranked Muhlenberg's theatre program in the top twelve in the nation for eight years in a row, and Fiske Guide to Colleges lists both the theatre and dance programs among the top small college programs in the United States. Muhlenberg is one of only eight colleges to be listed in Fiske for both theatre and dance.
About Muhlenberg College
Founded in 1848, Muhlenberg is a highly selective, private, four-year residential, liberal arts college offering baccalaureate and graduate programs. With an enrollment of approximately 2,200 students, Muhlenberg College is dedicated to shaping creative, compassionate, collaborative leaders through rigorous academic programs in the arts, humanities, natural sciences and social sciences; selected preprofessional programs, including accounting, business, education and public health; and progressive workforce-focused post-baccalaureate certificates and master's degrees. Located in Allentown, Pennsylvania, approximately 90 miles west of New York City, Muhlenberg is a member of the Centennial Conference, competing in 22 varsity sports. Muhlenberg is affiliated with the Evangelical Lutheran Church in America.