Two Biology Alumni Are First Authors on Recently Published Papers
Brooke Torjman '19 and Elizabeth Long '21 both conducted research with Professor of Biology Erika Iyengar as undergraduates.
By: Meghan Kita Thursday, March 10, 2022 02:24 PM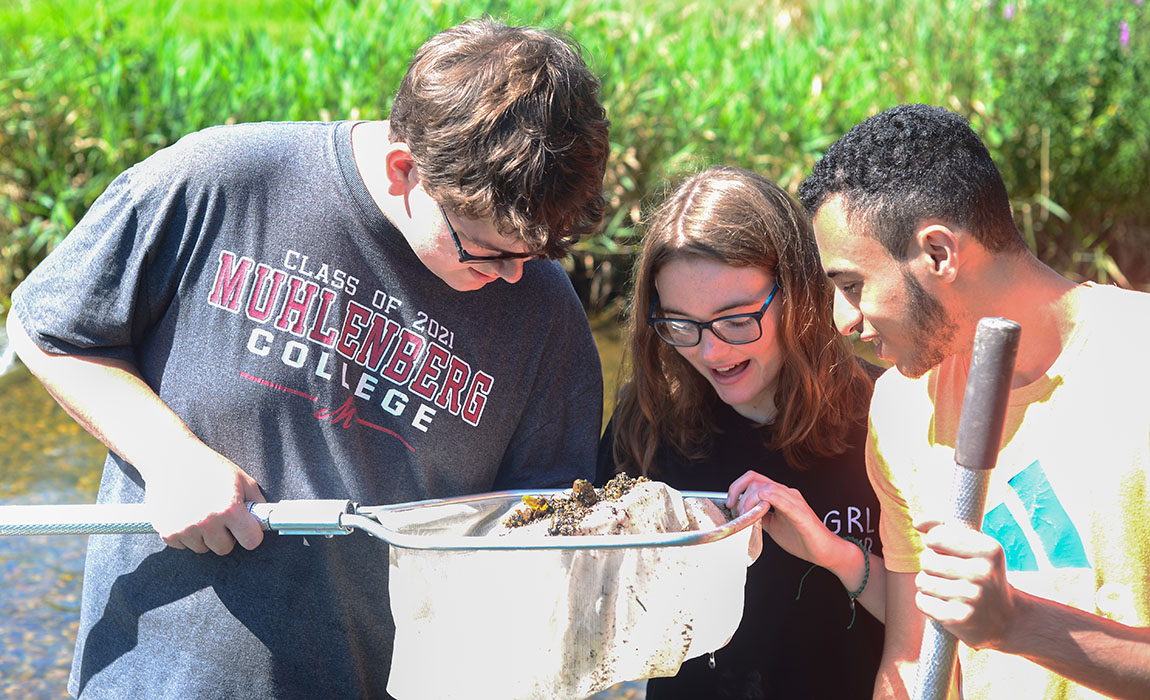 Austin Hoffman '21, Elizabeth Long '21 and Bahaa Abdellatif '21 conduct field research in summer 2019. Photo by Kate Ekanem '21
In the summer of 2017, Brooke Torjman '19 researched hermit crabs at Friday Harbor Labs in Washington state. Starting in the summer of 2019, Elizabeth Long '21 researched freshwater aquatic isopods at Graver Arboretum, about 20 miles from campus. Within the last six months, both of them saw the research they conducted as Muhlenberg students published, with their own names in the lead-author position on their respective papers.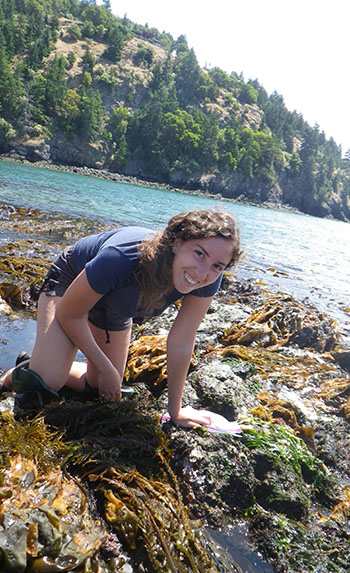 "Getting first-author journal publications is an important step in the process of becoming an academic," says Torjman (pictured), who is currently a Ph.D student at Texas A&M University in the Ecology and Evolutionary Biology Program. "This research was the starting point for me figuring out what I wanted to do career-wise."
The second author on both papers was Professor of Biology Erika Iyengar, a marine ecologist who also conducts freshwater fieldwork in the Lehigh Valley. She sometimes offers a summer Field Marine Biology course in Maine, but she's also taken eight students (including Torjman) to Friday Harbor Labs, one of the top marine ecology research stations in the world. Torjman says working alongside the grad students, postdocs and professors there set her on her current path.
"There were a lot of people who looked like me—female grad students doing awesome research, getting to be out in the field, which I love," she says. "I think STEM is still very much a boys' club. Getting to see female scientists out there was just incredible."
Torjman's research was published in The Journal of the Marine Biological Association of the United Kingdom in January. Long's research was published in Hydrobiologia in October. Both alumni are working on two additional papers each based on their research in collaboration with Iyengar that they're hoping to submit to journals in the future. And, both say their research experiences at Muhlenberg helped them get to where they are today.
Long, who started as a marine science instructor at the Catalina Island Marine Institute in California this January, says that she draws upon the skills she built as a researcher in her current role: "I am a more confident scientist and have a greater love and appreciation for the scientific world … Being a researcher also taught me quite a bit about communicating science to those who do not have as strong of a background in it, which is incredibly important when working with children," she says. "Researching at Muhlenberg, and working with [Iyengar] in particular, was one of the most transformative things that I did in college."