enACT in Action
A group of Muhlenberg students made it their mission to revitalize a sustainability student organization on campus.
By: Grace Oddo '22 Friday, April 22, 2022 07:28 AM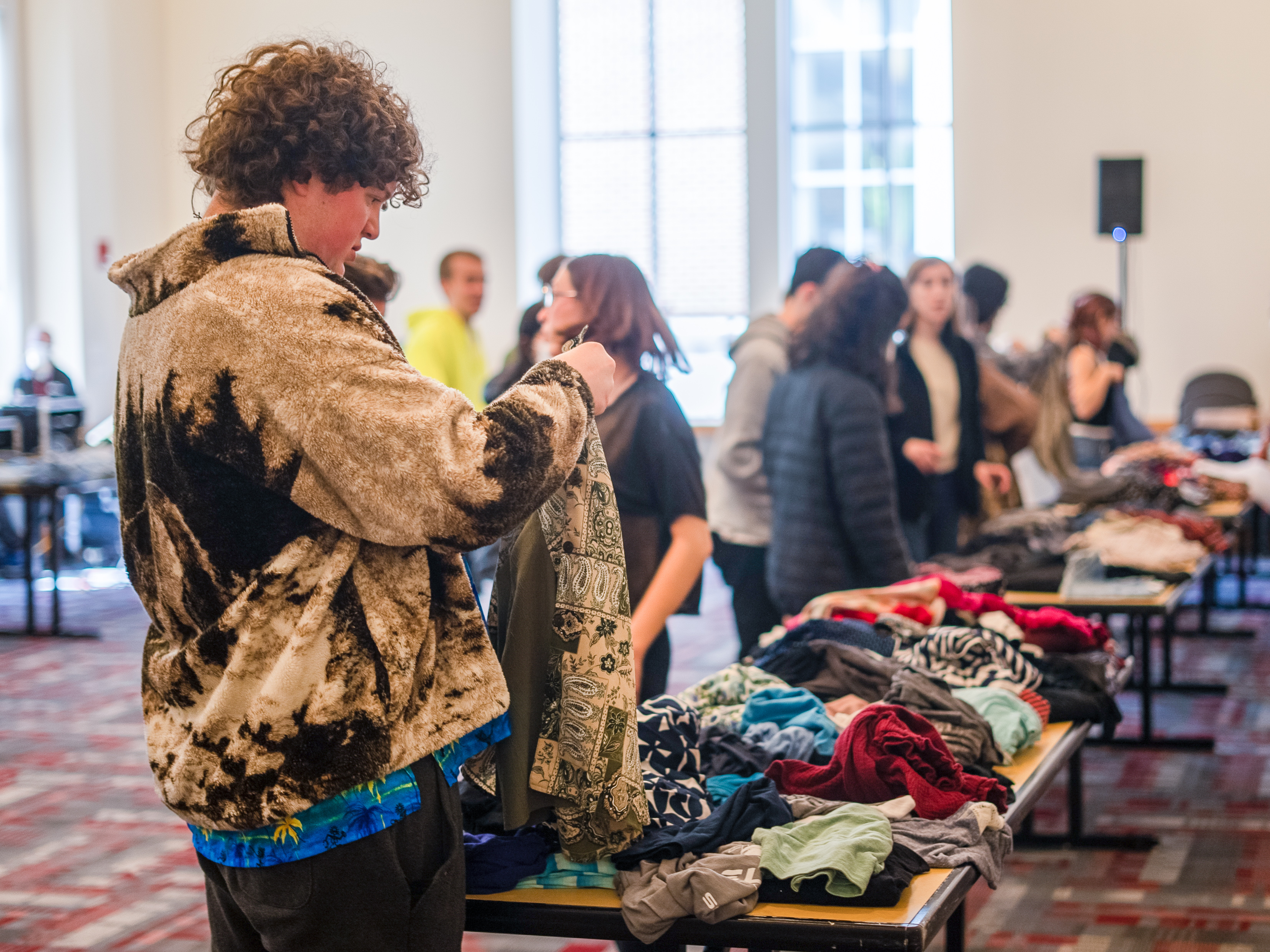 Students at enACT's second clothing swap of the semester on April 2. Photos by Anaya Battle '22
Next to her breakfast plate in the Wood Dining Commons, Maddie Davidson '25 has a notebook. Inside this notebook are lists of ideas; she says she has a very "scattered, spontaneous brain."
Some of these notes are visions for the future of enACT (or the Environmental Action Team) at Muhlenberg. One idea is to call the group's future residential space the "House of the Rising Sun." Another is an idea for a future event the group could co-sponsor with the Outdoors Club.
"We already have half of next year's events planned out," says Serena Hertzog '23, who sits across from Davidson at the table. "We're very excited for what's next."
Hertzog and Davidson, along with Jessica Rosen '25 and Harli Strauss-Cohn '24, revitalized enACT, a student-run organization that promotes sustainability initiatives both on campus. After falling inactive during the start of the pandemic, the group formally relaunched at the beginning of this semester.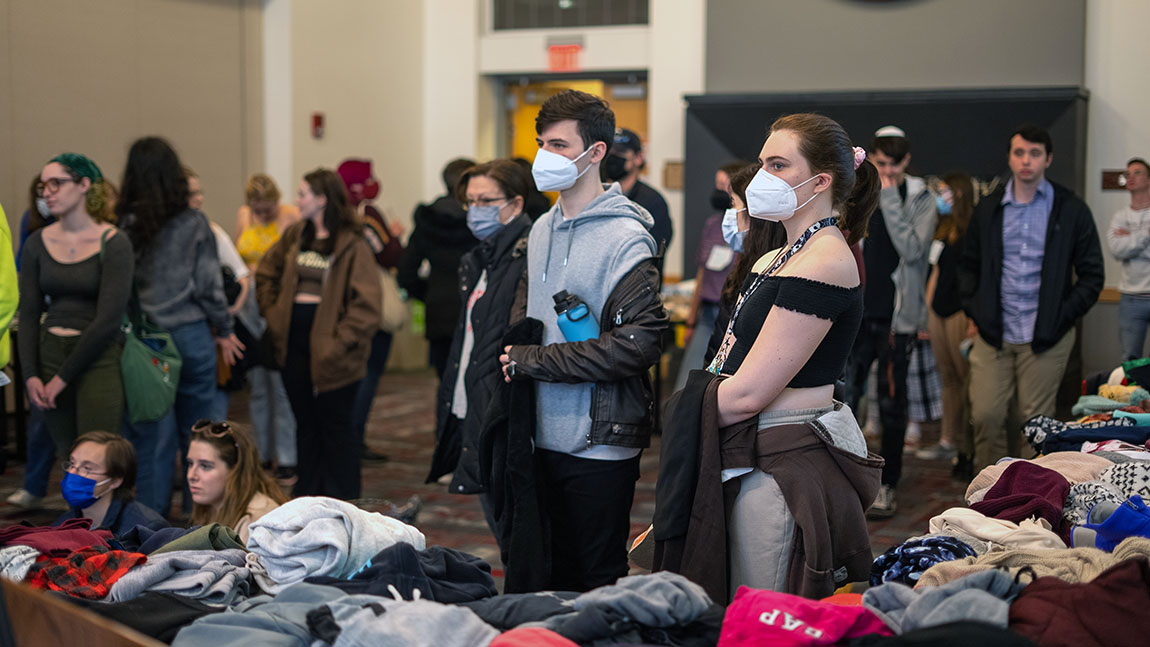 Students listen to a capella performances at the enACT clothing swap.
Davidson felt something was missing during the student activities fair at the beginning of the school year: "I noticed there were so many clubs with specific missions," she says, mentioning that the Garden Club, the Outdoors Club and Plant-Based Advocates grabbed her attention. "But I remember thinking: Where can I go to educate? Where can I go to be educated [about sustainability]?"
Davidson met Rosen in class, and the pair got to know Hertzog and Strauss-Cohn through mutual friends. They soon met with Rich Niesenbaum, professor of biology and director of the Sustainability Studies Program, who informed them about enACT and encouraged them to bring it back to life.
"He wanted students who are passionate about sustainability to take a leadership role in the revitalization of enACT," Davidson says.
Together, the four students put their heads together to envision what the new enACT would look like and how it would fit into the campus community. Over winter break, the group met, planned events and launched the group's Instagram account. Rosen, a media & communication major, had a lot of fun getting the account up and running.
"Like any organization, enACT needs to have a brand. It was a lot of fun creating the color scheme and our logo," she says. "When you're doing anything on social media, you have to do it purposefully."
Their first event was a clothing swap held on January 23 in Seegers Union. For nearly three hours, Muhlenberg students were able to sort through tables of used clothing that their peers had donated. Members of the enACT executive team (which now includes Treasurer Amanda Clark '22 as well) were nearby, answering students' questions and encouraging them to sign up for the mailing list. All clothes left over from the swap were donated. The event was so successful the group hosted another on April 2.
"What's cool about it is that with a clothing swap, nothing costs money," Hertzog says. "It's a recycling system. Decoupling exchanging items for money is a really cool thing to do."
Part of enACT's mission is to "inspire collaboration between campus clubs." enACT has collaborated with other student organizations to sponsor events that emphasize the intersectionality of sustainability practices. For example, students were able to pot and take home their own succulents in an event co-sponsored by enACT and the Muhlenberg Activities Council on March 25. On April 8, students attended an Earth Shabbat with Hillel and enACT where they enjoyed locally-sourced food and engaged in discussions about sustainability practices and faith. enACT's culminating event of the semester takes place today, on Earth Day. Student groups such as WMUH, Best Buddies, Plant-Based Advocates, Mental Health Peer Advocates and Comunidad Latina will be part of the celebration, and all Muhlenberg a capella groups, along with the Perkulators and Copacetic Rhythms student dance groups, will perform.
"Sustainability can be seen everywhere, and we want to emphasize that by collaborating with groups that you might not expect," Rosen says.