Football Travels to Texas for Season Opener Against Defending National Champs
Two of the top football programs in Division III will face each other in a rare non-conference regular-season meeting when Muhlenberg travels to Belton, Texas, to take on defending national champion Mary Hardin-Baylor in its season-opening game.
Friday, August 12, 2022 00:50 PM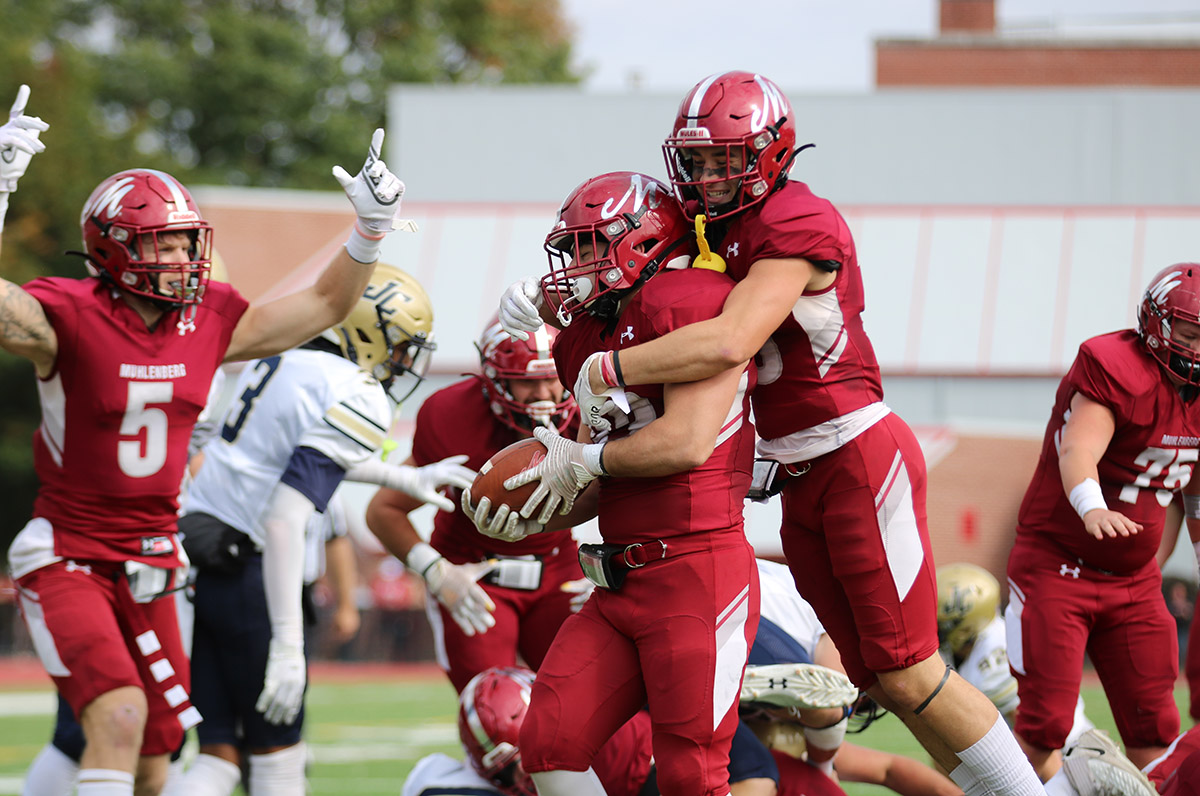 The contest will take place on Saturday, September 3 at 6 p.m. CST/7 p.m. EST in Crusader Stadium. Muhlenberg supporters are encouraged to attend in person or via livestream to cheer on the Mules.
"We're thrilled that our student athletes have this tremendous opportunity to compete on the national level, one that they have earned through their hard work, dedication and success both on the field and in the classroom," Muhlenberg President Kathleen Harring said. "I'm also grateful to our alumni and supporters for their generosity and support in making this experience possible for our Mules."
Muhlenberg and Mary Hardin-Baylor are two of only six Division III institutions that have won at least eight games every season since 2012. They are also two of only three programs (Wisconsin-Whitewater is the other) to have advanced to the NCAA quarterfinals each of the last three postseasons.
The Crusaders won their third national championship in the last five seasons in 2021, upending defending national champion North Central, 57-24, in the title game. The Mules reached the quarterfinals before falling to 13-time national champion Mount Union in overtime.
Both teams were ranked in the top 10 in the final 2021 D3football.com poll, Mary Hardin-Baylor at No. 1 and Muhlenberg at No. 7. The Crusaders top the 2022 preseason poll, while the Mules check in at No. 11.
Mary Hardin-Baylor will be just the latest in a series of nationally prominent programs faced by the Mules, who are 35-5 over the last three seasons, winning or sharing the Centennial Conference title all three times. With the addition of Mary Hardin-Baylor, Muhlenberg will have faced every team to win the Division III national championship since 2015, in addition to other recent NCAA quarterfinalists Johns Hopkins, Salisbury and Delaware Valley.
"Coaches, players, fans, we all want to see the best teams play each other," Muhlenberg head coach Nate Milne told the website Tru to the Cru. "And we'll take that opportunity. I think it will help us in recruiting, where we can say, 'We'll go on the road and play the No. 1 team in the country. It doesn't bother us.' It's what you want if you're a college football player. You don't come to Muhlenberg or Mary Hardin-Baylor to win 100 to nothing. They want to play the best, especially in an environment like Crusader Stadium, at night, in Texas."
Muhlenberg football has traveled as far as California for a game, playing at Cal Lutheran in 2001, and in 2018 drove to Kentucky to face the highly regarded Thomas More team.
"You want to challenge yourself," Milne said. "Each team, Muhlenberg and Mary Hardin-Baylor, will make tremendous strides after this first game towards what will ultimately be how they're remembered at the end of the season."