Athletes Find Support and Camaraderie in New Student Group
Head in the Game, which launched in 2021, recognizes that student-athletes from all sports face challenges with things like time management, perfectionism and performance anxiety and provides a space for bonding, venting and learning how to cope.
By: Meghan Kita Thursday, December 8, 2022 01:50 PM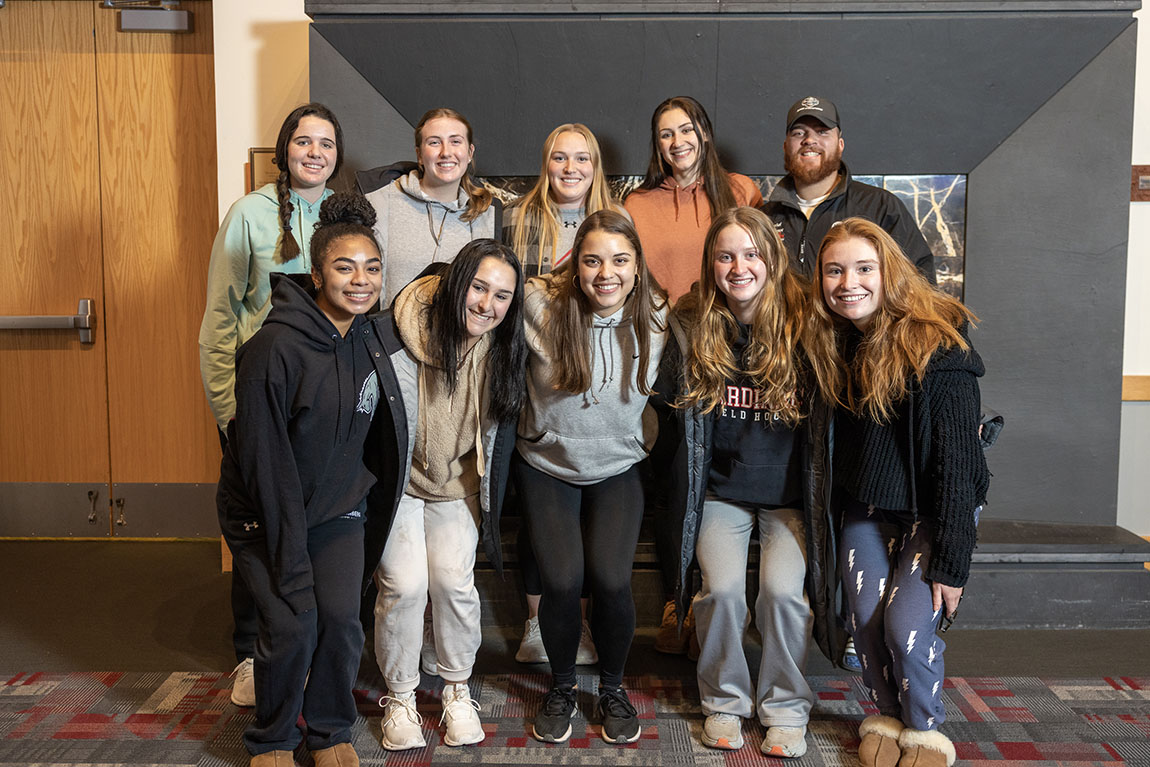 Head in the Game's executive board, back row, from left, Dani Roban '25, Kaitlyn Buurman '25, Raya Kunes '24, Sara Peretti '23 and Grady Boruchin '23, front row, from left, Kaya Mahy '25, Jamie Carfagna '25, Caleya Tereska '23, Mikayla DeMichele '25 and Emily Gaffney '23. Photos by Marco Calderon
Caleya Tereska '23 started attending meetings of Head in the Game, a mental health support group for student-athletes, just as it was launching. It was the spring of 2021, and there was a clear need for this kind of resource, even if it was only available over Zoom.
"Trying to learn [online] was very difficult for me," says Tereska, a biology major who's now vice president of Head in the Game. "A lot was going on with COVID. I didn't have my volleyball season, and playing a sport is one of the main ways I cope with stress … Head in the Game has provided me nothing but support and a place where I'm free to express my emotions."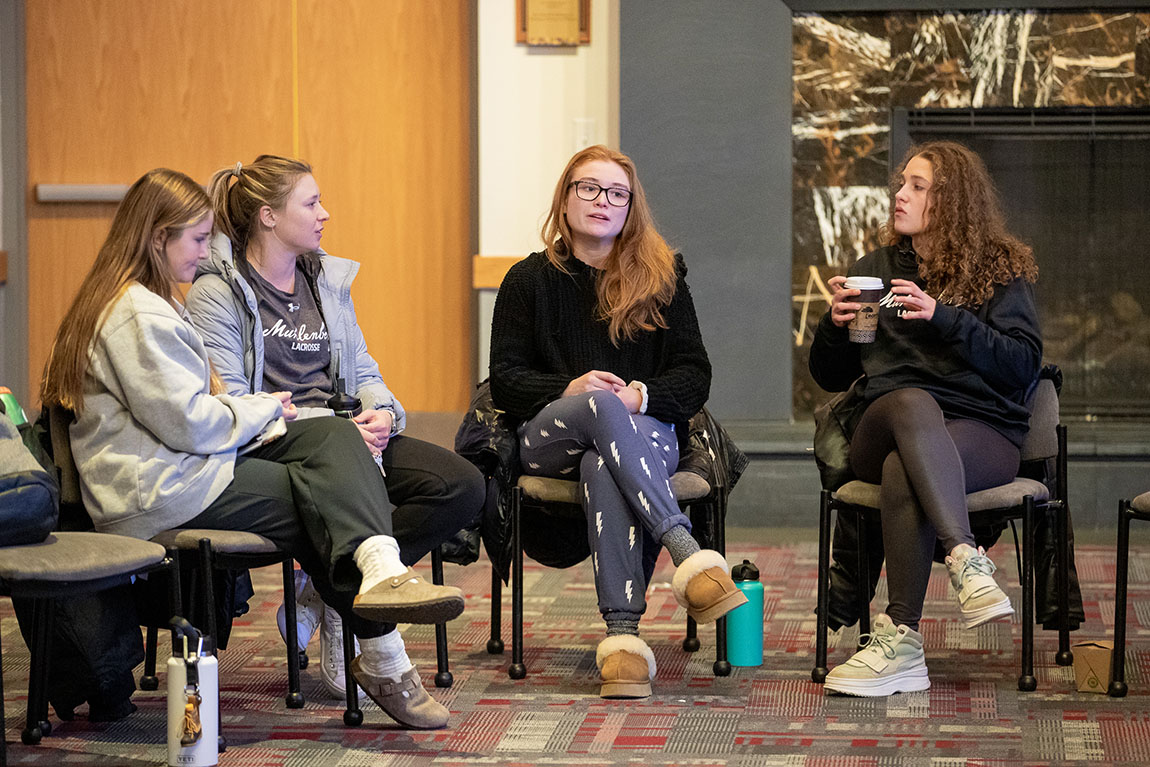 Joel Hark '22 (golf) and Natalie Smith '22 (softball) founded Head in the Game because student-athletes from all sports face similar stressors, including time management challenges, performance anxiety and relationship issues with teammates and coaches.
"It's a constant grind," says Sara Peretti '23, a biology major who's also a captain on the basketball team and the current president of Head in the Game. "It's so important for us to come together and relate to each other. We can get so caught up in practice mode or game mode — we want to win — that we don't really have the time to decompress. If we can block off an hour a week for whoever wants to come and talk about it, then we will talk about it."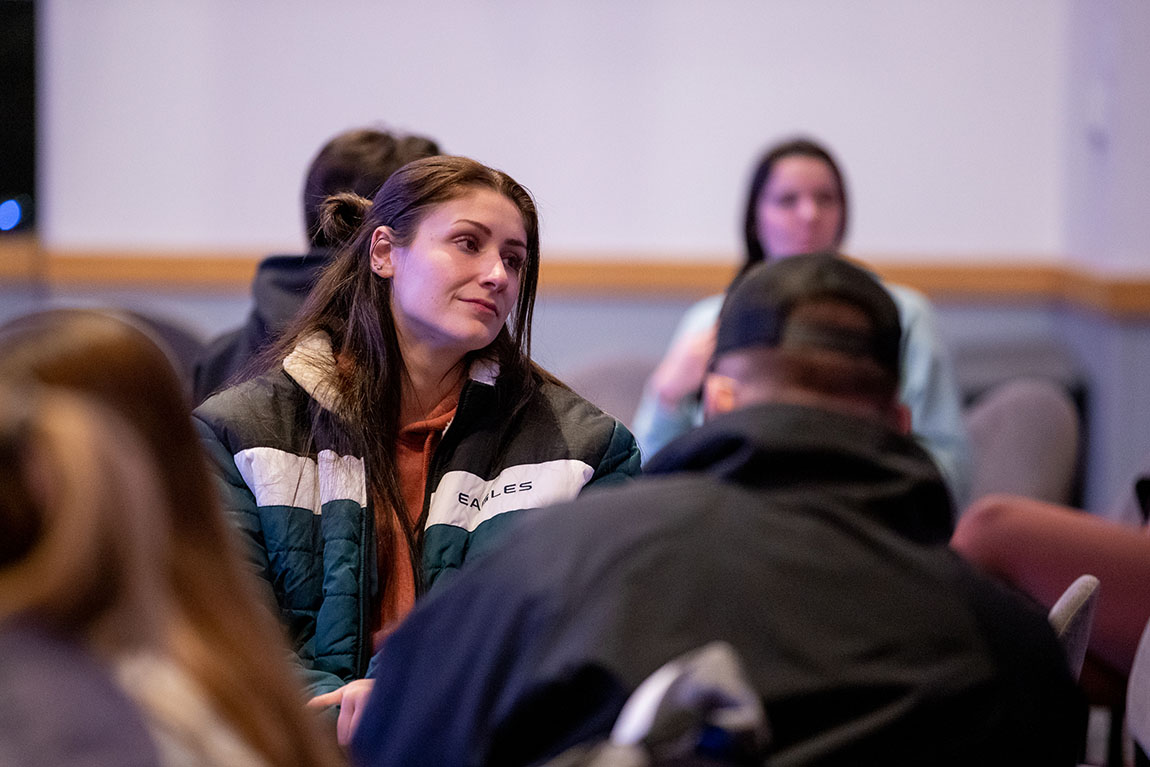 Head in the Game President Sara Peretti '23
Anyone who identifies as an athlete, whether they're on a roster or not, is welcome at the group's weekly meetings (more than 100 students are on the Head in the Game email list), which begin with a group meditation and a large group discussion. What happens after that varies each week. Activities this semester have included smaller group discussions, a walk to the rose garden at Cedar Beach Park and coloring while watching sports on TV. The group also partners with other student organizations: This semester brought a collaboration with Voices of Strength, a peer education group focused on healthy relationships.
Kaitlyn Buurman '25, Head in the Game's secretary, is also serving as the first mental health intern for the Department of Athletics and MALT (the Muhlenberg Athletic Leadership Team). In that role, the biology major and softball player has set up opportunities for coaches and parents to meet with Head in the Game members, learn about the group's work and have a dialogue with student-athletes.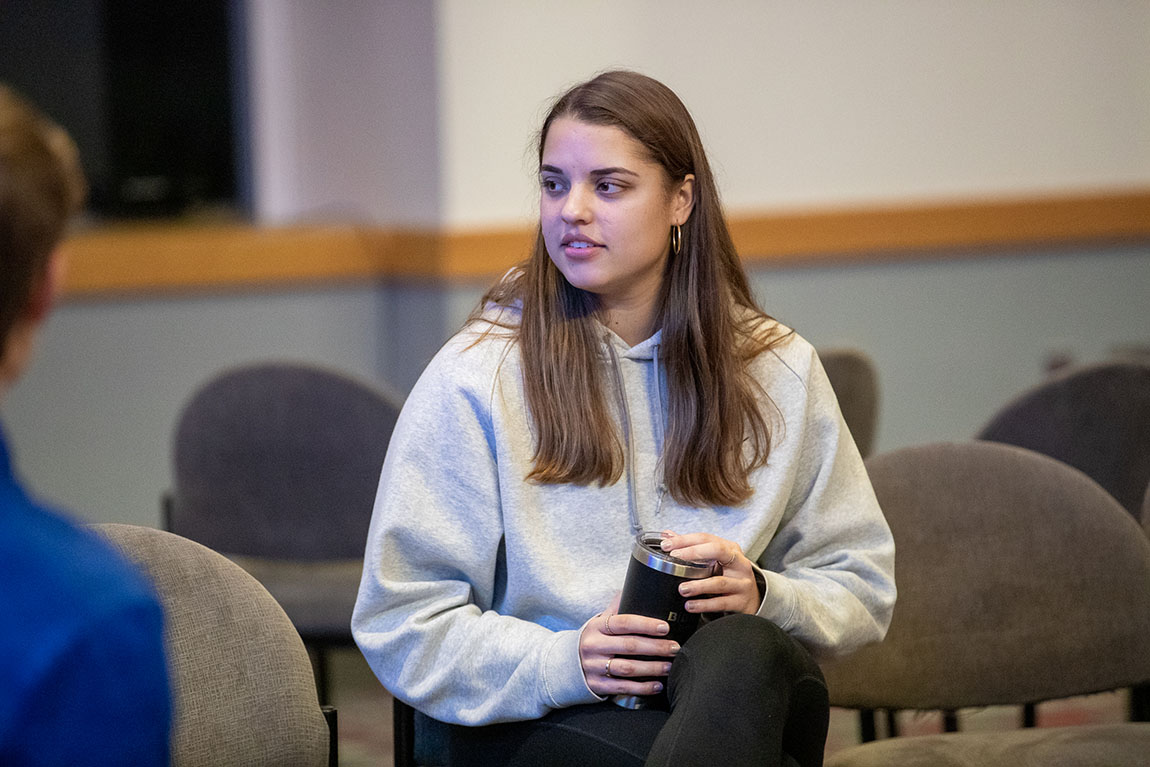 Head in the Game Vice President Caleya Tereska '23
Buurman has heard from her coach and internship advisor Sarah Leavenworth, who also advises Head in the Game, that peer institutions have reached out to learn more and potentially set up their own Head in the Game chapters.
"It's exciting to hear about other schools wanting to do this," Buurman says. "We're ahead of the curve when it comes to this kind of resource."