Dean Jane Hudak to Retire From School of Continuing Studies
Hudak has served the College for 23 years.
By: Heather Mayer Irvine Tuesday, May 31, 2022 09:30 AM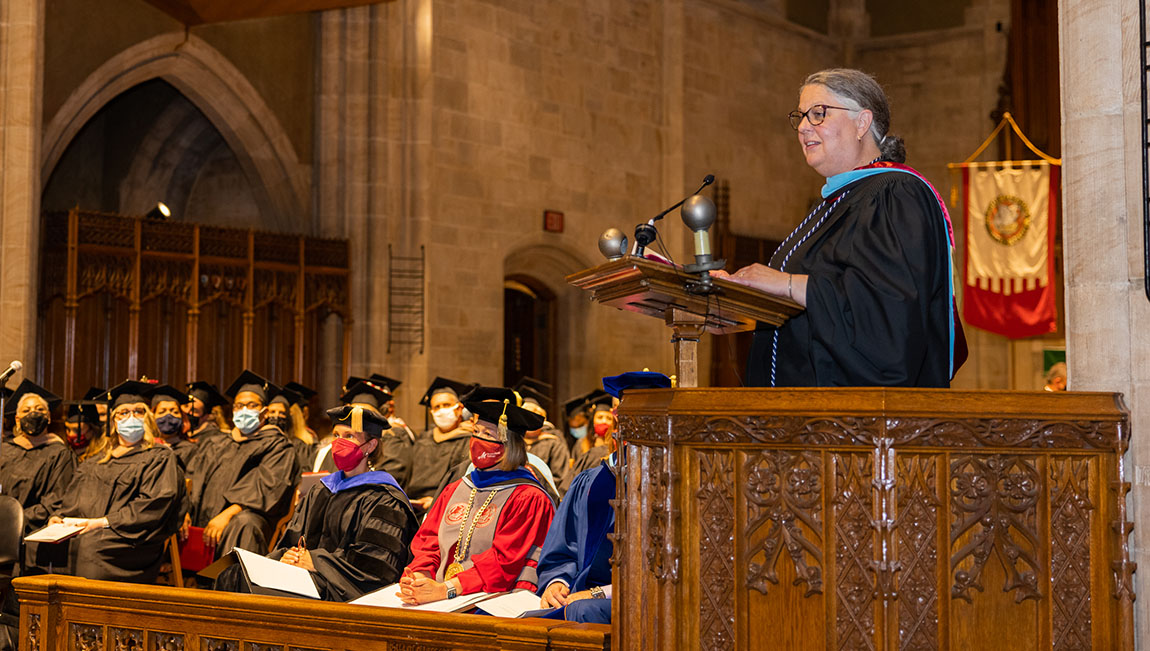 Dean of Continuing Studies Jane Hudak at the October 2021 Commencement for students from the Schools of Graduate and Continuing Studies. Photo by Marco Calderon
Jane Hudak, who will retire next month as dean of the ​​Muhlenberg College School of Continuing Studies, can truly relate to her students. After all, she registered for graduate classes at age 33, "with a baby on her hip," trying to navigate a world that didn't yet embrace the non-traditional student.
Hudak was a first-generation college student from Bethlehem, where her father was a steelworker. She worked in a local grocery store after high school, and when former classmates turned up with their degrees, she thought, "They're not any smarter than I am. I can figure this out too."
At 26, she enrolled in Northampton Community College, where she earned her associate's degree. She went on to earn her bachelor's and master's degrees from Kutztown University. It was there she met the then-dean of students at Muhlenberg College, Rudy Ehrenberg, who was a guest lecturer for one of her graduate courses.
In 1996, Hudak served as an intern for Ehrenberg as part of her student affairs master's requirement. Ehrenberg introduced Hudak to Samuel Laposata, the then-dean of what was called the Evening College at Muhlenberg. His office was still open at 8 p.m., and the school offered night and weekend classes.
"I thought, 'Oh my gosh, this is how it's supposed to be. I want to be a part of this,'" Hudak says.
In 1998, Laposata hired Hudak as an academic advisor, and in 2007, after moving up the ranks, she became dean of the then-Wescoe School, encouraging others like her to pursue their degrees.
"A lot of times, especially with first-generation college students, you don't know the variety of career paths that are available. Your world is very small," she says. "Information [about educational opportunities] is really powerful."
One of the ways Hudak has made her mark in continuing education is through her work with the Yellow Ribbon Program. The Yellow Ribbon Program, which launched in 2008, partners with colleges like Muhlenberg to provide tuition assistance for veterans under the GI Bill.
"Veterans stepped up and served our country," she says. "It's important that we support them when they come back and want to learn something new, find a civilian job and support themselves and their families."
She has also prioritized connecting with local employers to create opportunities for her students. As a Lehigh Valley native, Hudak has close ties with the community, and she stays in tune with local workforce needs.
"What are organizations looking for in their employees?" Hudak says, noting that her programming can prepare students for those opportunities. "We also work with [PA] CareerLink, the state's unemployment office, which provides funding for people to go back to school for degrees that are high-priority in Pennsylvania."
Hudak's work hasn't gone unnoticed, earning praise from her students, her colleagues and College administration.
"Jane has been committed to Muhlenberg and particularly to supporting our adult learners and ensuring that a Muhlenberg College degree is available and accessible to a very diverse student body," says President Kathleen Harring. "Her kindness and generosity is part of what makes Muhlenberg such a special community."
She has received the Muhlenberg College Manager of the Year Peer Recognition Award and is an alumni honorary inductee of the TAU Chapter of the Chi Sigma Alpha Student Affairs International Honor Society at Kutztown University. But the honors she's most proud of, she says, come from her graduating students: the PhT ("Putting Him/Her Through") Student Recognition Award, which she's won five times.
"At graduation, students can award someone who's supported them while they were going to college," she says. "It's easy to quit school as an adult; there are so many other priorities. Anybody who has done it has a cheerleader, and when a student gives me that award, I am very proud. They felt like I was their cheerleader."
To people who are considering going back to school for their degrees, Hudak empathizes with the daunting task ahead. But still, she urges them to move forward.
"People say, 'I'm going to be 40.' But you're going to be 40 regardless. Wouldn't you rather be 40 with a degree?" Hudak says. "It might take a while, but if you don't stop, you're going to finish."