Creativity in Bloom
Jennie Love '00 is founder and owner of Love 'n Fresh Flowers, a regenerative flower farm and floral design business in Philadelphia.
By: Meghan Kita Thursday, June 23, 2022 10:48 AM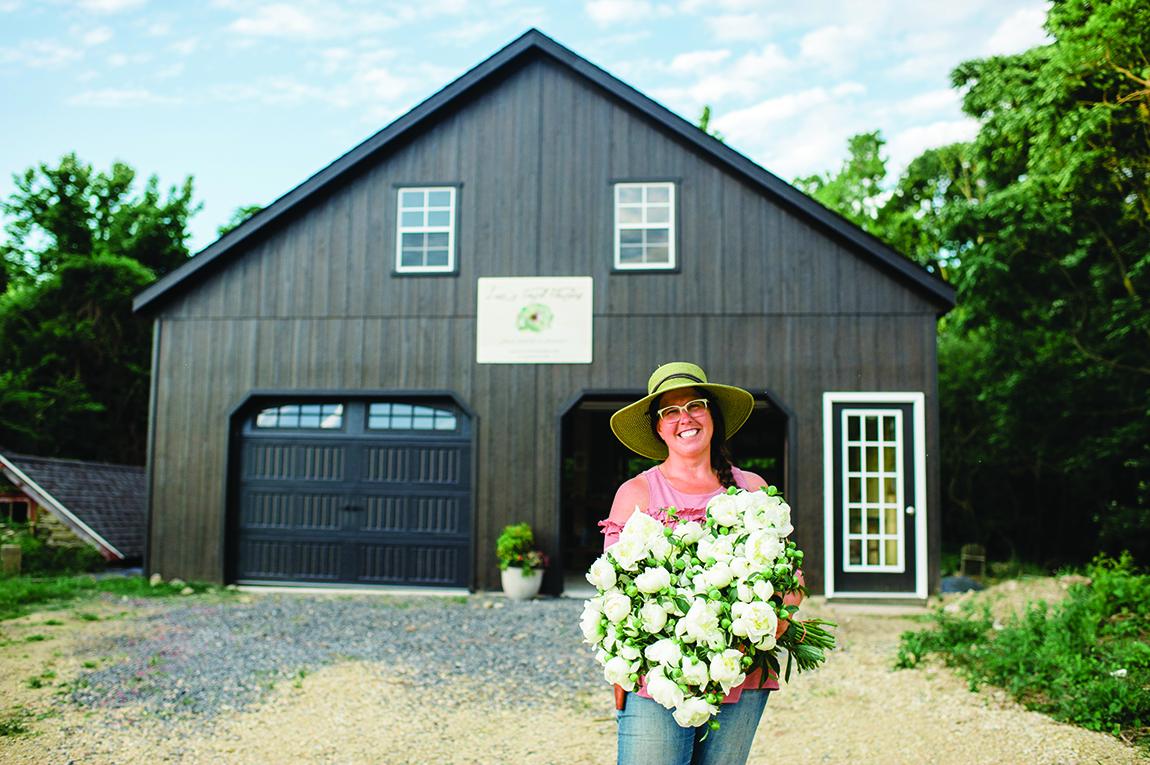 Jennie Love '00 at her regenerative flower farm in Philadelphia. Photo by Regina Miller/Origin Photo
In 2008, Jennie Love '00 quit an unfulfilling marketing job in Philadelphia to enroll in the professional gardener and floral design training programs at nearby Longwood Gardens. During that time, she read Amy Stewart's Flower Confidential, which detailed the exploitation of laborers and ecosystems that supported the global floral industry. The book also noted that it was once common for florists to grow their own flowers. That inspired her to start Love 'n Fresh Flowers, a regenerative flower farm and floral design business in Philadelphia. Love has been named one of the top U.S. floral designers by Martha Stewart Weddings, and her podcast, No-Till Flowers, averages 10,000 downloads per episode, putting it in the top five percent of all podcasts.
What does it mean to be a "regenerative" farmer?
Jennie Love '00 Regenerative farming works to heal and replenish rather than deplete. By not tilling the soil, the vast web of life below our feet is allowed to thrive. I also work to support every life at my farm, including birds, insects, amphibians, reptiles and mammals. To do this, I use as many native plants as possible, farm among the trees rather than removing them, establish diverse hedgerows of shrubs where birds can shelter and let the grass grow tall so it too provides shelter and food. What's wonderful about this approach to farming is that it heals deep wounds on many levels. It echoes the wisdom of Indigenous peoples. The many visitors to my farm often remark on how alive and joyful the space feels. That is the result of farming inside of nature, instead of having an outsider mindset that only sees the farm as an economic enterprise.
Your farm will host 20 workshops this year—how does that factor into your business?
JL The floral design training I received was very traditional. I quickly developed my own style and more sustainable techniques. I taught my first floral design workshop in 2010 because I wanted to encourage others to forego the stuffy, rigid rules of traditional floristry and to use seasonal, locally-grown flowers in an elevated style. Workshops have been the perfect avenue for bringing people onto the farm to learn about how to grow flowers regeneratively and how to arrange them using sustainable techniques.
How did you become a podcaster?
JL I was interviewed for another farming podcast in the summer of 2020. After we recorded, the host, Jesse Frost, encouraged me to try it and offered to be the producer of my show's first season. The community that has galvanized around it has been incredible to witness. With climate change causing daily chaos in the lives and livelihoods of farmers, there can be a very real sense of inevitable disaster and hopelessness. The podcast has been an opportunity to bring some hope with concrete action plans for ecosystem regeneration and a sense of connectedness through the sound of my voice and my guests' voices.
Love will host a tour of her farm and a talk for Muhlenberg alumni on July 16. To learn more and register, click here.