Essayist and Journalist Jia Tolentino Visits Campus
The staff writer for "The New Yorker" and author of the acclaimed essay collection "Trick Mirror: Reflections on Self-Delusion" was the sixth and final guest in this year's Living Writers course and reading series.
By: Meghan Kita Tuesday, December 6, 2022 04:39 PM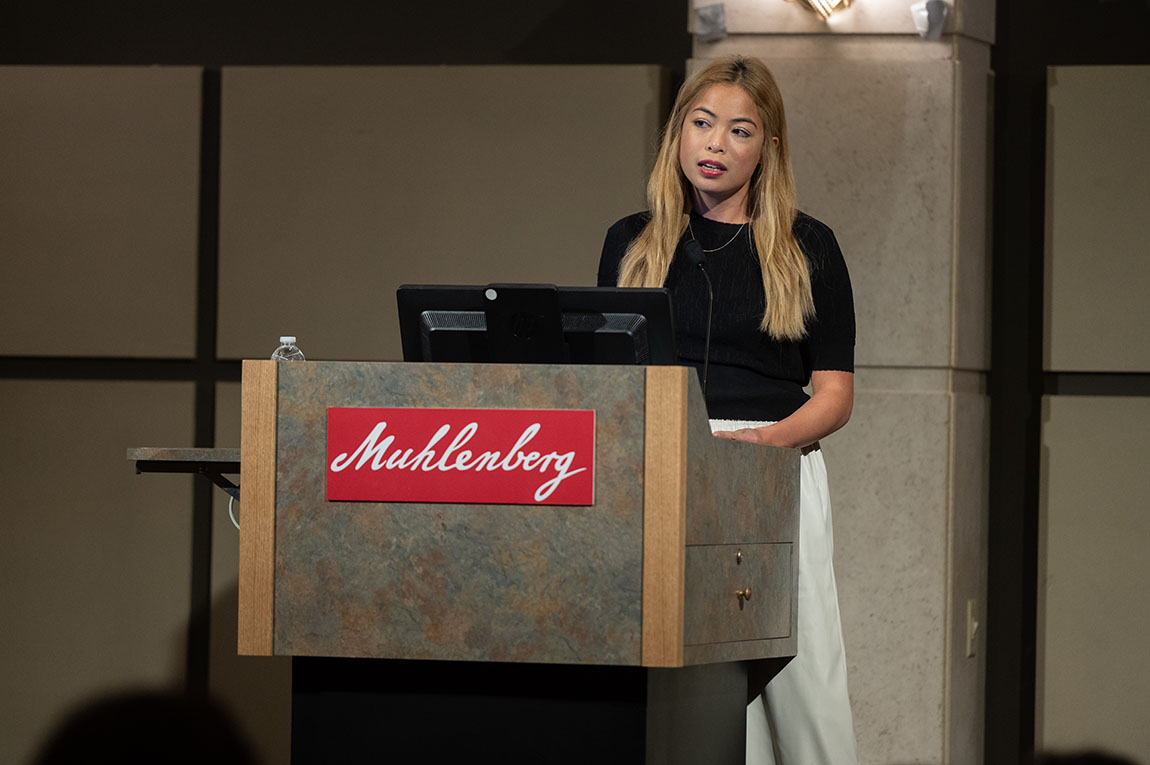 Essayist and journalist Jia Tolentino spoke on campus as part of the 2022 Living Writers course and reading series. Photos by Meg Keller and Tom Amico
On Monday night, students, faculty, staff and community members gathered in Moyer Hall's Miller Forum for the final event in this year's Living Writers course and reading series. The guest author was Jia Tolentino, whose 2019 essay collection Trick Mirror: Reflections on Self-Delusion was a New York Times bestseller that was named among the best books of the year by The New York Times Book Review, The Washington Post, NPR and former president Barack Obama.
So many outlets have described Tolentino by saying "she's been called the voice of the millennial generation" that it's impossible to know where that moniker originated. Her essays bring together cultural observations, deep research and personal experience and are delivered with both wit and self-awareness.
She began by reading an abbreviated version of one of the essays from her book, the only essay of the collection she said she could still stand to read. The essay, "Ecstasy," is about her experience growing up in Houston, attending an evangelical megachurch and its private school, and about the drugs and music that began to replace organized religion in her life.
During the Q&A, it became clear why "Ecstasy" remained her go-to for readings. An audience member asked how getting married and having a child, both of which happened since the publication of her book, had changed her worldview and what she was interested in writing about. She said it was actually 2020 that changed her worldview: the pandemic, the protests. Much of what she'd written about in Trick Mirror, which the book jacket describes as "an instant classic of the worst decade yet," felt dated and irrelevant in the wake of that chaotic year.
The audience also asked about Tolentino's writing process, how she approaches interviews and how she knows what she wants to write about. This was in addition to the questions students in the Living Writers course had the opportunity to ask Tolentino when she visited their class earlier in the day.
Muhlenberg's Living Writers series, which happens every three years, brings a wide variety of authors to campus for public readings and book signings as well as visits to the Living Writers course, in which students read the authors' work in advance of their visits. Muhlenberg is one of a small handful of colleges and universities nationwide that offer such a program. This year's series also included visits from graphic novelist Amy Kurzweil, playwright Steven Dietz, poet Jericho Brown, science fiction writer Nnedi Okorafor and poet Carolyn Forché.
The next Living Writers course and series will take place in the fall of 2025.