Student EMS Group Trains the Campus Community
This semester, the award-winning Muhlenberg College EMS expands its reach to provide CPR and first-aid training to students, faculty and staff.
By: Grace Oddo '22 Wednesday, April 27, 2022 04:11 PM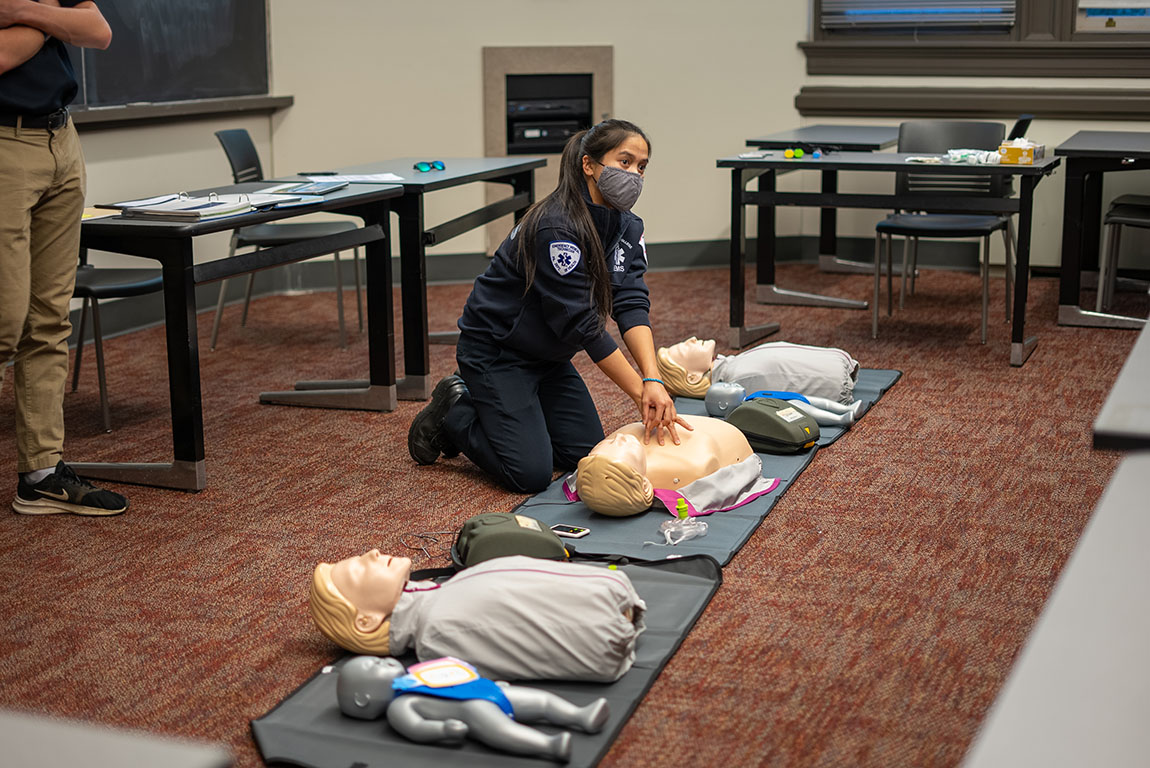 Muhlenberg College EMS alum Dalas Zeichner '19 helps with a CPR/first-aid certification session on April 21. Photos by Anaya Battle '22
At the 29th annual National Collegiate EMS [Emergency Medical Services] Foundation Conference, Lauren Washco '24 and Gabe Kanter-Goodell '25 stumbled upon a frightening situation—their crew chief, Jack Rubins '23, was on the floor groaning in pain, his leg bent at an awkward angle.
Instead of panicking, Washco and Kanter-Goodell got right to work, assessing Rubins from head to toe and preparing him for ambulance transportation. "My muscle memory completely took over," Washco recalls. "I felt more calm than anything."
The catch? Rubins was not actually hurt. He was acting as part of a scenario designed and facilitated by members of the foundation in an effort to prepare collegiate EMS personnel for all types of emergencies—even ones involving their own crew. Held in February in Pittsburgh, the conference invited college EMS organizations from all over the country and featured workshops, lectures and discussions with the students. While there, Muhlenberg College EMS (MCEMS) received a Distinguished Service Award.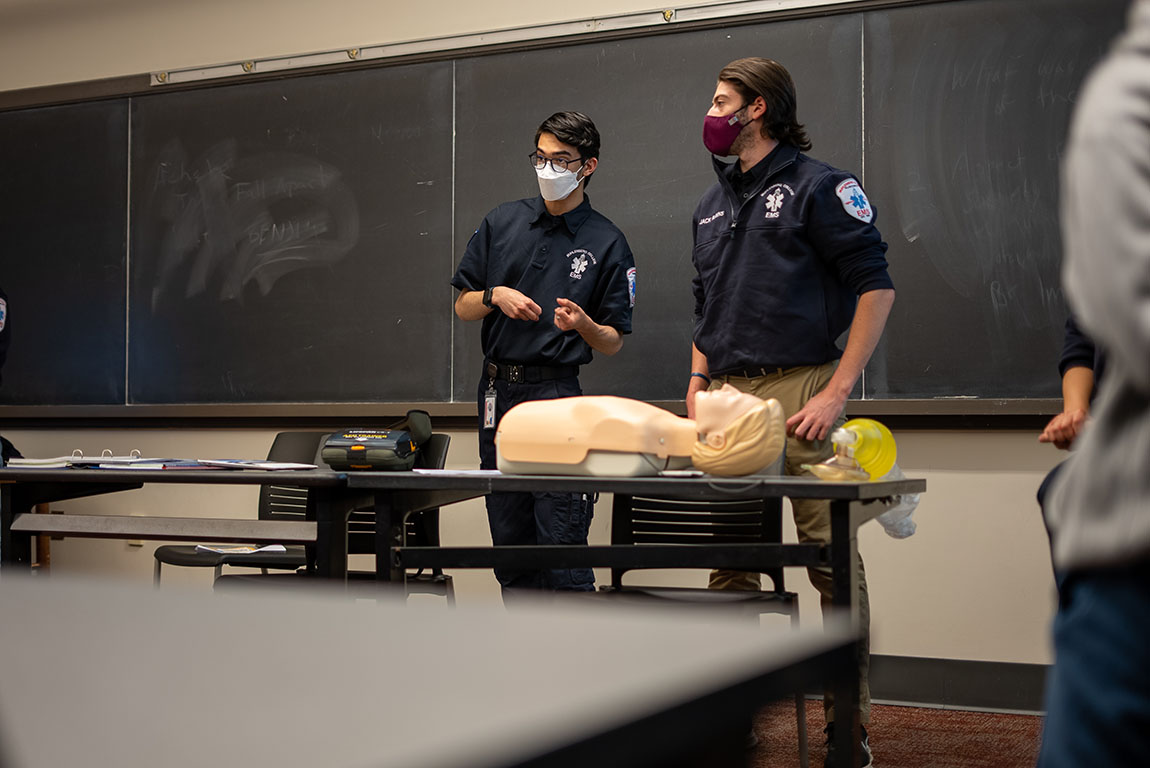 Kanter-Goodell and Rubins teaching the April 21 CPR/first-aid certification session

Attending the conference was just one way in which Muhlenberg College EMS is keeping busy this year. "This year, it's campus-wide education that we are focused on," says Nour Yousry '23, who serves as captain of the organization. "We are trying to be more engaged than ever."
This health-care education comes in the form of classes and training sessions, all hosted by MCEMS. The organization recently began an initiative to get everyone on campus CPR/first-aid certified, including faculty and staff. Their first class was co-taught by Rubins and Kanter-Goodell, who are both certified to teach CPR. Yousry and Washco are in the process of obtaining their teaching certifications.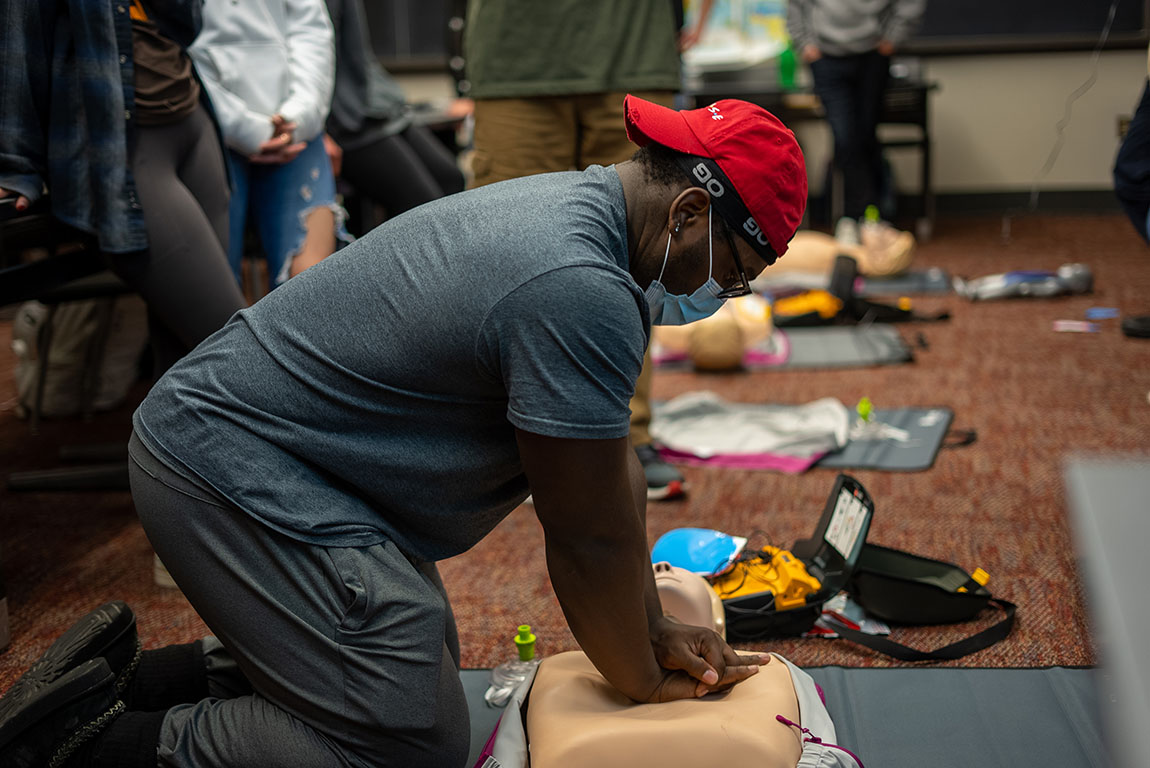 "Once we have four certified instructors, we can hopefully do one class a week," Rubins says. "The more people attend, the quicker we can get people certified."
Helping people in their time of need is the organization's first priority. MCEMS has 25 emergency medical technicians (EMTs) and 11 students in the process of training for their EMT license. Muhlenberg's Office of Campus Safety acts as the dispatcher for MCEMS, which is on call 24/7.
"It doesn't matter if you get a call the night before your midterm," Rubins says. "It's just what you do."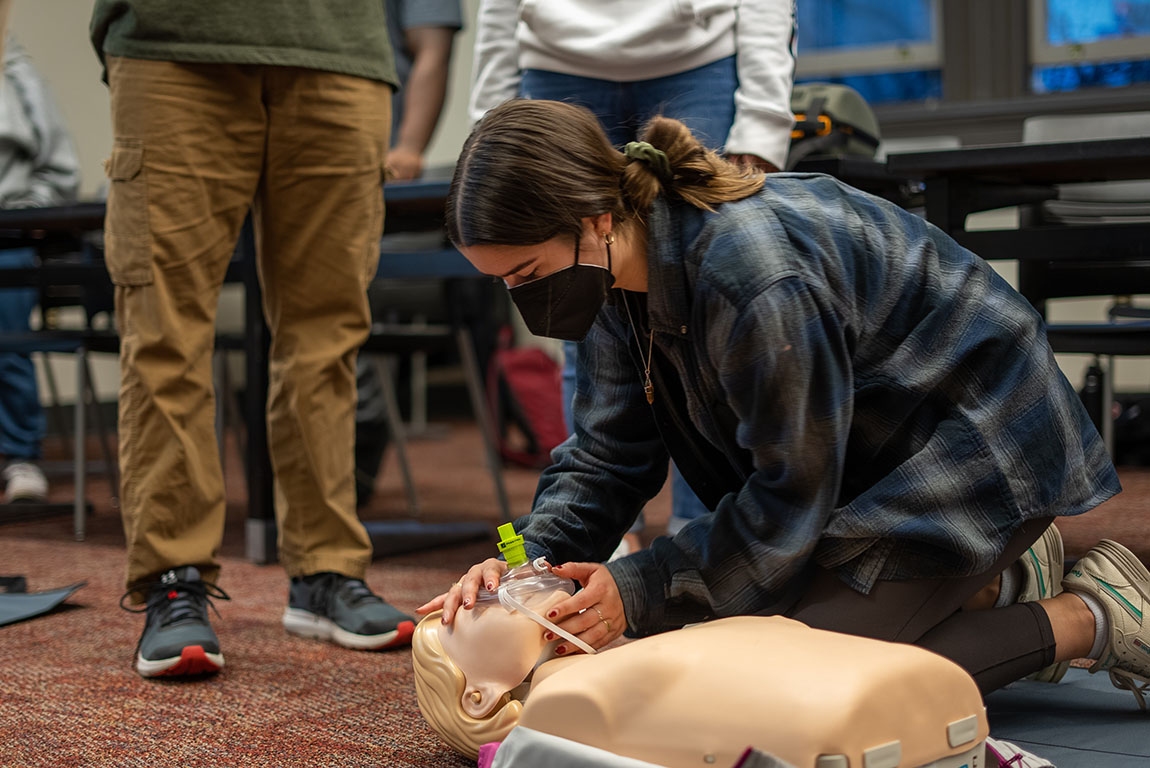 "It's really a passion," Yousry adds. "With [MCEMS], I am making time to help people that I may never cross paths with again. And that is really special."
Through this campus-wide CPR certification, MCEMS is hoping to give the Muhlenberg community the confidence and skills they need to perform potentially life-saving care in the moments before an EMT arrives on the scene.
Looking around the Wood Dining Commons, Rubins says, "If someone collapses right now, everyone is going to look for someone who knows what to do. With CPR and first-aid training, you can be that person."