Why I Study ... The Relationship Between Theatre and Ecological Ways of Thinking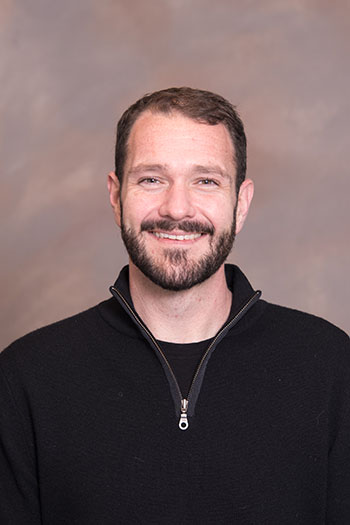 Associate Professor of Theatre Matthew Moore '04 explains how he became interested in this topic.
By: Matthew Moore '04, as told to Meghan Kita Tuesday, August 9, 2022 07:20 AM
My dissertation was about the history of tragedy. The link between tragedy and thinking ecologically begins with considering the role that theatre has played in bringing humanity to its current state of environmental crisis. While building sets, printing programs and traveling to cities all affect the environment, I'm more interested in the ideological impact of theatre, how it has shaped collective consciousness over the centuries.
Theatre happens in darkened spaces, sealed off from the natural world. It's a built environment that puts humans at the center of every story, and its mode of meaning-making is primarily speech, a human power. Scholars have made the argument that theatre has aided in creating and stabilizing the binary of the human and the natural, a lie that helps write the myth of human exceptionalism on this planet.
The first stage of my inquiry is thinking about how theatrical practice has produced an anti-ecological consciousness. The next step is considering how theatre might confront those historical realities and transform its practices. I'm interested in theatre that seeks to dismantle hierarchies that place humans at the center of meaning-making and asks us to arrive at more inclusive and systemic modes of perceiving.
Relatedly, I co-edited a book called Troubling Traditions: Canonicity, Theatre and Performance in the U.S. about how the plays that we've enshrined as important and our methods of elevating or pushing work aside have perpetuated the exclusion of particular kinds of people and stories. That project is about strategies for imagining a different way of engaging with, producing and teaching theatre that will create a social reality not governed by the inequalities of past practices.
In The Three Ecologies, philosopher Félix Guattari argues that there is a mental ecology in each individual, a social ecology that works between individuals and an ecology that's about our relationship to the environment, all intertwined. Today we're facing an environmental crisis, a new spike in racial tensions and a rise in anxiety, depression and suicide. Those three things are not separate. There's an overarching ideology, which theatre reinforces, that governs our ways of interacting with ourselves, with others and with the world. Theatre needs to confront its complicity in this flawed, anthropocentric ideology and to imagine new models of making visible our relationships to each other and to the nonhuman world that it has historically, perhaps tragically, left out.
About the Muhlenberg College Theatre & Dance Department
Muhlenberg offers Bachelor of Arts degrees in theatre and dance. The Princeton Review ranked Muhlenberg's theatre program in the top twelve in the nation for eight years in a row, and Fiske Guide to Colleges lists both the theatre and dance programs among the top small college programs in the United States. Muhlenberg is one of only eight colleges to be listed in Fiske for both theatre and dance.