Customized Care
Will Osei '10 is a practicing psychologist working to make mental health services more accessible and effective for a diverse range of patients.
By: Meghan Kita Tuesday, July 26, 2022 08:31 AM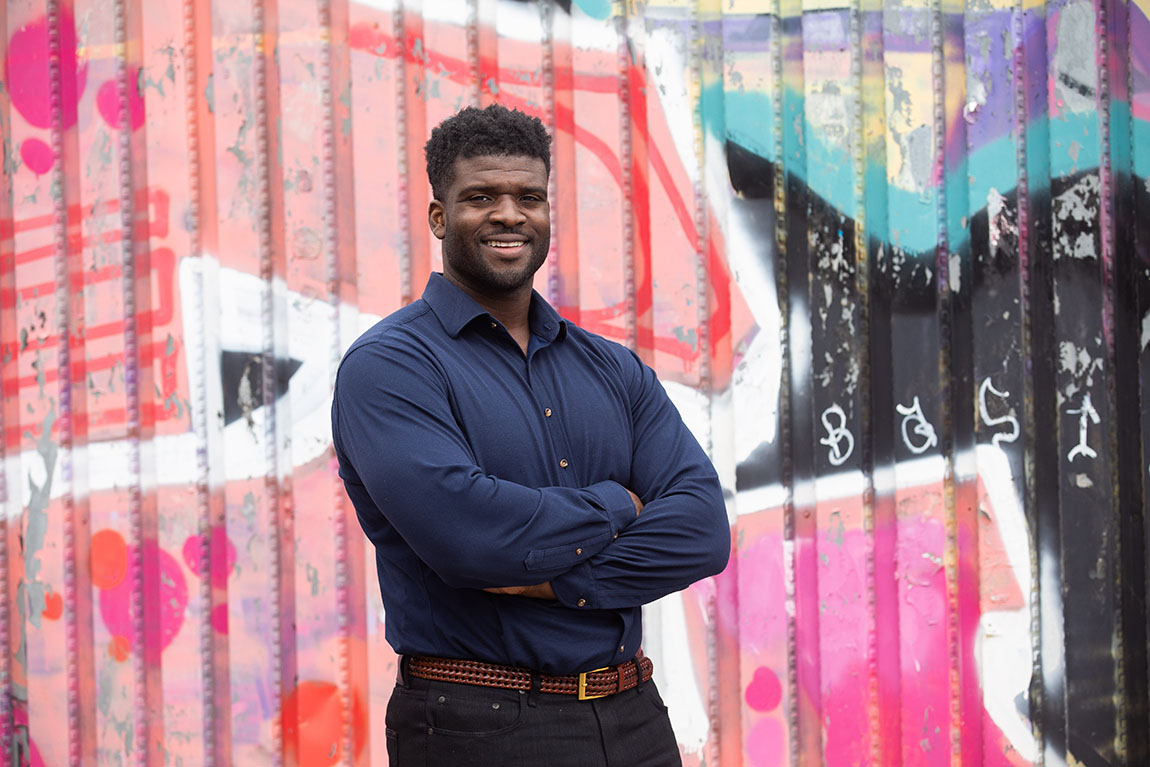 Will Osei '10. Photo by Brooke Slezak
Will Osei '10 was in Walmart, trying to talk an 80-pound woman out of buying size 3X underwear, when he realized he needed to pursue his doctorate in psychology.
At the time, he worked as part of an assertive community treatment team in Philadelphia, a team whose purpose was to keep patients with severe mental illness from being hospitalized. Osei had about 20 clients whom he'd help with job hunting, shopping and other day-to-day tasks. One of his clients was "Sarah," a petite woman with a psychotic disorder who often refused to take her medication.
During the aforementioned Walmart incident with Sarah, Osei found himself thinking, "What am I doing? I have a master's degree." Shortly after, he told the team's director he'd be moving on. The director understood, but she also pointed out, "Sarah has not been in the hospital for two years."
"It hit me in that moment: All that relationship-building, all those trips to Walmart, all those times I communicated with [Sarah] and showed her that there was somebody who cared about her, that was what kept her healthy," Osei says. "It wasn't the medication, because she did not take it. Our relationship was enough to keep her out of a psychiatric hospital, and that really stuck with me. That relationship piece, I took with me throughout my career."
Osei, who was a psychology and history double major at Muhlenberg, is now a practicing psychologist as well as the chief of care for Wire Health, a mental health startup. He earned a master's in human development from the University of Pennsylvania, and two years later, he chose the University of Akron for his doctorate because of its strength in multicultural psychology. At Akron, he joined the Promoting Resiliency and Identity Development and Empowerment research team, which ran an eight-week program centered on racial identity for Black youth in the Cleveland metro area.
"I remember working at a school in Cleveland at the same time Tamir Rice was shot and killed at the playground," Osei says. "We were talking to kids the same age who grew up in the same neighborhoods who were playing with him the week before and also discussing how race affected events like that. I still think deeply about that time and moment, being able to be there for young men after that event."
Osei moved to New York City to complete his internship year at Hofstra University's
counseling center. As he was wrapping up, he discovered the world of mental health startups. He worked for a couple after finishing with Hofstra, and for his postdoc experience, he joined Brooklyn Minds, a private practice that's heavily involved in startup culture.
He was with Brooklyn Minds in the summer of 2020 when a tech company approached the practice in need of mental health resources for its Black employees who were struggling after the death of George Floyd. Osei designed programming for the company's Black employees, and the company was so impressed with the result that leaders asked him to do the same for LGBTQ+ and Jewish employees.
"At that time, I was like, 'Oh, wow, I think this could be a company,'" Osei says.
He came up with a concept for a startup focused on providing resources to historically marginalized employees in corporate environments. Last summer, he entered an accelerator for mental health startups, which brought together founders to work alongside each other on the process of seeking funding. That's how he met Wire Health's founders, who saw alignment between Osei's company and their own. They invited him to join forces.
Wire Health is a mental health insurance product, an option for employers who want to beef up their mental health coverage, Osei says. Covered employees go through an intake appointment that determines the level of care needed (a mental health coach, a therapist or a psychiatrist) and matches the patient to an in-network provider. If that provider isn't a fit, Wire Health finds another. The idea is to improve upon the traditional model, Osei says, which is calling your health insurance company, getting the names of providers who take your insurance, being put on a waitlist and "maybe you get care and maybe you don't."
What differentiates Wire Health from competitors, Osei says, is that it finds providers who are comfortable working with anyone—some mental health startups refuse to work with individuals with more severe mental health issues for liability reasons. Wire Health also ensures it has providers who are familiar with cutting-edge treatments, such as transcranial-magnetic stimulation and ketamine infusions. Osei's role with Wire Health is to help secure a network of diverse providers who have experience dealing with racism, discrimination and other concerns specific to the historically marginalized communities that too often do not receive the mental health support they need—another differentiator for the company.
Wire Health is in the process of getting clients (its biggest yet is an insurer in Wisconsin that covers 80,000 employees) and it hopes to complete its first round of funding by the end of this year. At this point, the biggest challenge is communicating, to investors and clients, how it's different from the multitude of other mental health startups out there.
"There's a lot of buzz in the mental health space right now. It's so needed—there's been such a demand for it during the pandemic," Osei says. "The goal is building mental health care that is going to be both multicultural and extremely effective."