The Teaching Bug
Greg Pask '08, an insect neurobiologist and award-winning Middlebury College professor, reflects on how his Muhlenberg experience shaped his journey as an educator, scientist and mentor.
By: Mike Falk Wednesday, January 4, 2023 03:40 PM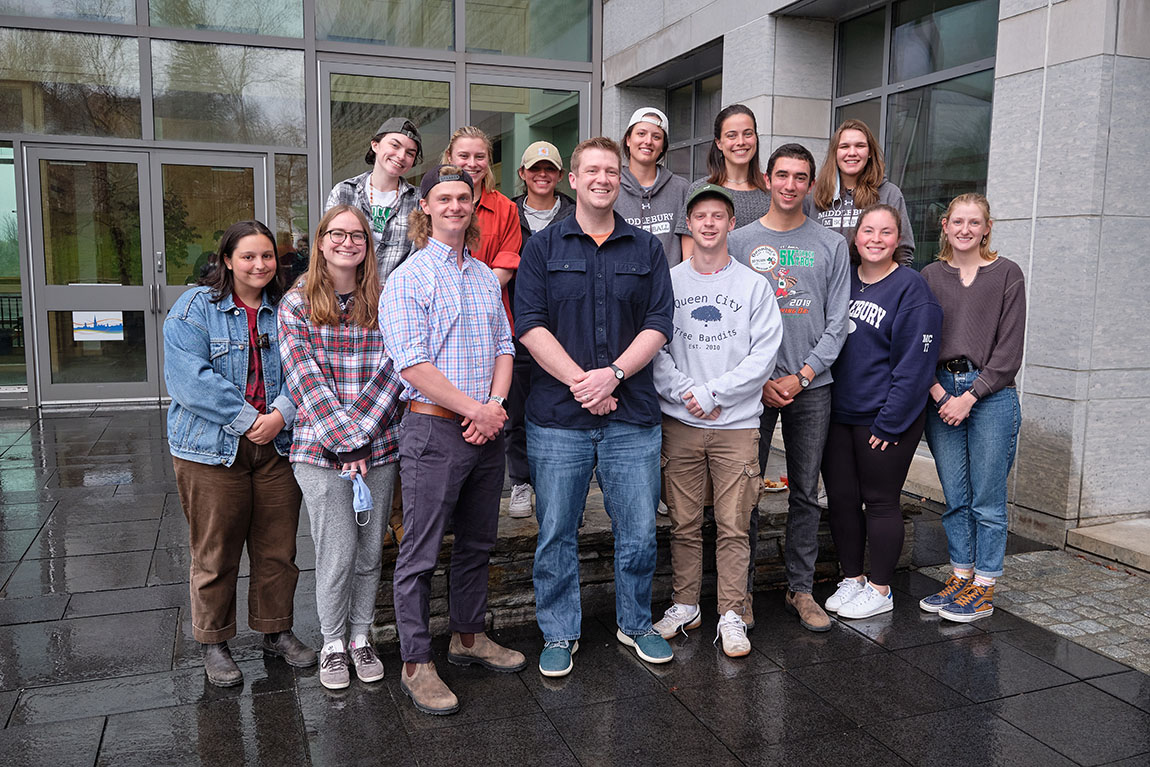 Middlebury College biology professor Greg Pask '08 with students after winning the 2022 Perkins Award for Excellence in Teaching. Photo by Brett Simison, courtesy of Middlebury College
When Greg Pask '08 informed Marten Edwards, currently professor and chair of biology at Muhlenberg, that he would be attending graduate school at Vanderbilt University, Edwards put a bug in his ear about a lab there that was doing research on mosquitoes' sense of smell.
Fourteen years later, Pask is a published insect neurobiologist whose work has earned support from the National Science Foundation and National Institutes of Health, among others, and an award-winning Middlebury College professor.
Pask, who studies the powerful sense of smell insects use to locate food, find mates and communicate with others, recently received Middlebury's Perkins Award for Excellence in Teaching.
"It was very validating and affirming in that I kind of do more nontraditional assessment practices," says Pask of winning the award. "The students have really taken to it. I think they're learning way more and they're enjoying the learning process more, which I think is one of the ultimate goals if we want to create lifelong learners."
Pask employs effort-based grading, which attempts to account for the different backgrounds students come from by rewarding their hard work.
"I had students who would put in incredible amounts of effort, and a C or B was the best that they could do," says Pask. "And I also had students who had very strong educational backgrounds, and then just didn't put in much effort to get an A on that exam. So I kind of wanted to flip the script.
"I think anybody who interacted with these individuals after college would value effort and hard work way more than a privileged background," he says.
Pask, who earned his doctorate in biological sciences from Vanderbilt in 2013 and also had teaching stops at Washington and Lee University and Bucknell University before settling in at Middlebury in 2020, also considers the biggest practical application of his insect research to be training undergraduate researchers, to teach them how science works, how to think critically and eventually "push the frontiers of the field."
"One of the biggest things in my Muhlenberg education was the ability to explore my curiosity," he notes. "There were a lot of classes that had independent projects built in, and we got to do hands-on experimentation. Career scientists, whether in academia or industry, they're not memorizing things and trying to internalize them to put back on exams. And that kind of really stuck with me of like, 'Hey, this is actually what scientists do.'"
Scientists, especially those at liberal arts institutions, also do other things, like playing basketball (Pask was a four-year Division III athlete, a fact he proudly includes on his syllabi) and reading comic books. This fall, Pask taught a first-year seminar titled Marvel Comics & Society, which explored how the iconic series uses its pages to tackle issues of race, poverty, gender, identity, science and justice, either indirectly or head-on.
"I don't think I would even be comfortable [teaching the seminar] if I didn't have a well-rounded education at Muhlenberg," he says.