From Lyricist to Leader
Inspired by her own songwriting experience, Rachelle Montilus '24 is launching a collective for student musicians and producers on campus.
By: Grace Oddo '22 Friday, March 25, 2022 09:18 AM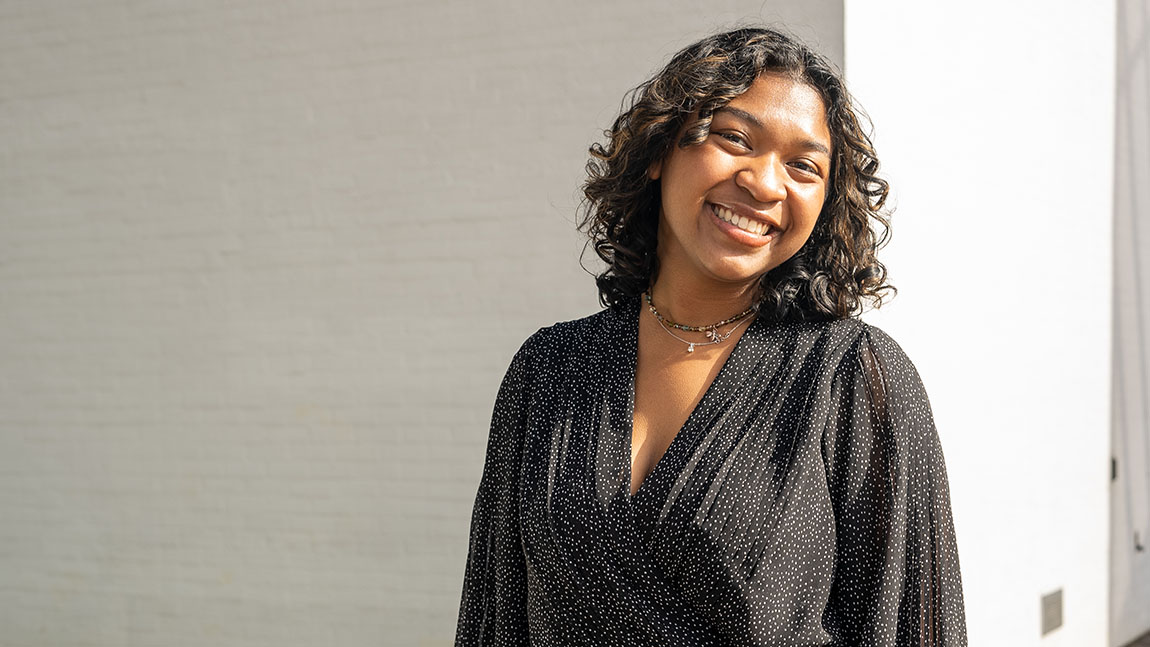 Rachelle Montilus '24. Photo by Anaya Battle '22
For Rachelle Montilus '24, music has always been a part of her life. Growing up in Union County, New Jersey, she was involved in her high school's theatre program. As a result, she loved listening to—and singing—Broadway showtunes. The creation of music, particularly songwriting, always appealed to her, but she never quite knew how to get started.
It wasn't until she was stuck in her bedroom that these aspirations came to life.
"It was just me, alone in my bedroom with my keyboard," Montilus says. Sick with COVID and bored in isolation, Montilus, a theatre major, penned a song in January 2021 called "Valentine's Day," a reflection on a recent breakup and a love letter to those who shared her experience of being single on Valentine's Day. With the help of a friend from home who owns a recording studio, Montilus was later able to get her song recorded, mixed and mastered just before students arrived back on campus the following month. It's now available on Spotify, Apple Music and YouTube.
"This was the first time that I've made something then watched it come to life," Montilus says. "I would just love to do something like this again."
Now, Montilus is working in collaboration with five other students to form a musicians' collective on campus. Dubbed A-Town Records Music Association, this student-run organization seeks to bring together student musicians and producers alike.
"There are so many resources on campus to make [music production] happen, but no student group on campus to bring it together," says Montilus. "There are so many people on this campus who love [writing and producing] music, and there needs to be a proper outlet for that." Montilus is hoping to attract students who write lyrics and/or music, play instruments and/or have experience with music production. She wants the group to be as inclusive as possible.
A-Town Records was just approved by the Student Government Association to be an official student organization. In the coming weeks, Montilus looks forward to organizing meetings, open mic nights and, when the weather warms, outdoor music festivals that showcase student-written work: "Everyone should be able to take their art and make it tangible," she says.