RJ Fellows Give Senior Symposium Presentations
Presentations and research aligned with this year's theme of "Positive Change Through Social Entrepreneurship."
By: Grace Oddo '22 Friday, April 29, 2022 09:04 AM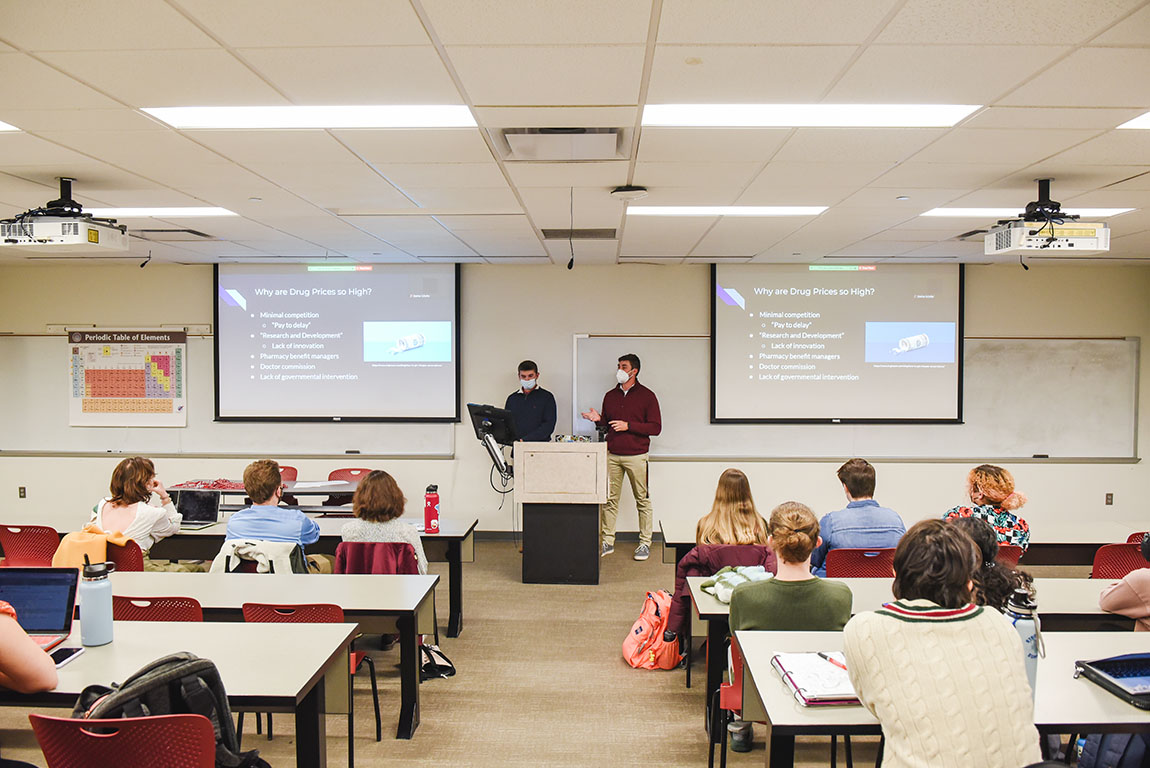 Trevor Virno '22 and Danny Monzo '22 present at the RJ Fellows senior symposium. Photos by Kristi Morris, Littlewing Photography
This month, Muhlenberg seniors in the RJ Fellows Honors Program presented to a room full of supportive friends, faculty and peers. Held in the spring of each academic year, this night gives the honors scholars a chance to share their year-long capstone projects that align with a particular theme. The theme of this year's program was "Positive Change Through Social Entrepreneurship."
Founded in 2002 by donors Rita and Joseph Scheller, the RJ Fellows Program builds a community of students who have demonstrated a passion for social change. The goal of the program is to bring together a cohort of students prepared to cultivate change in whatever career they choose to pursue. In the fall, RJ Fellows take a course related to that year's theme. In the spring, students utilize the skills they learned as they work on their capstone projects.
"Although we choose a theme, students are encouraged to bring their own interests from their academic experience here at Muhlenberg," says Rich Nisenbaum, professor of biology, director of sustainability studies and director of the RJ Fellows Program. "They are using their own expertise and passions to push for social change."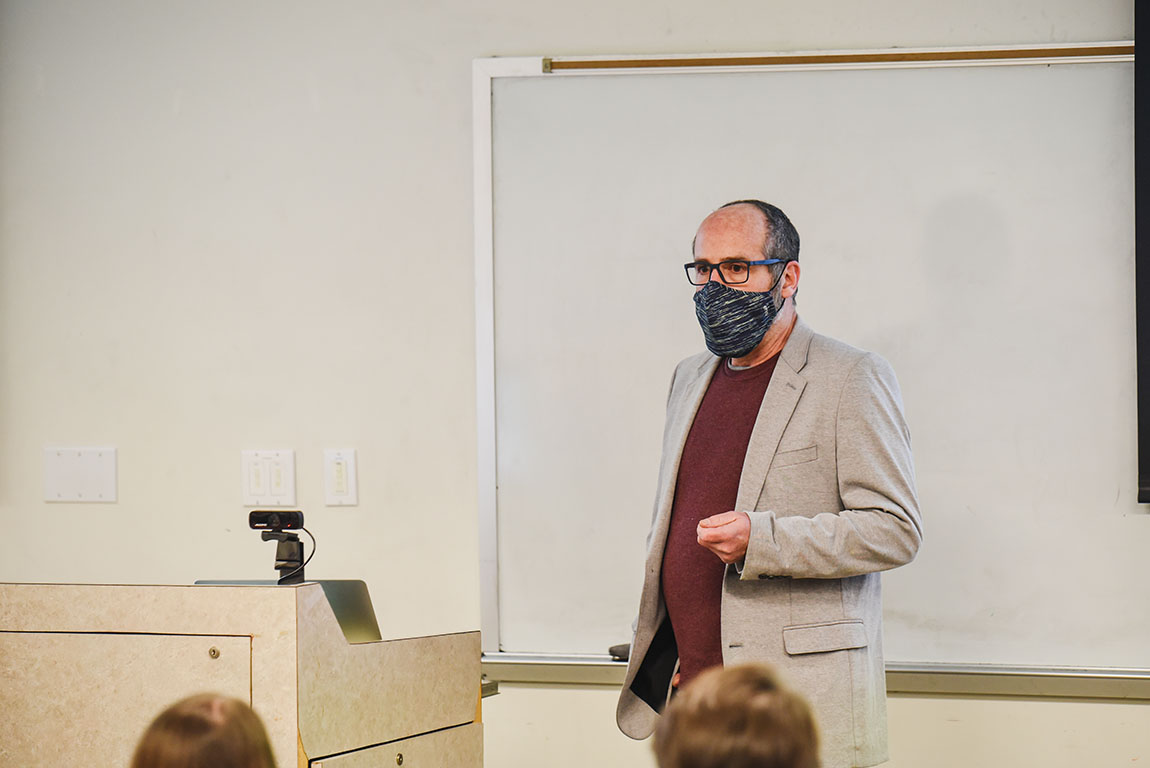 Niesenbaum speaks between student presentations.

The night consisted of presentations from seven groups. For example, Danica Schofer '22 (a dance and music double major) and Alex Bak '22 (an English major) explored dance as a form of climate activism in their presentation "Dance as Activism: Exploring Climate Justice Through Social Entrepreneurship Frameworks." Danny Monzo '22 (a neuroscience major and public health minor) and Trevor Virno '22 (a neuroscience major) explored the inflation of prescription drug prices in "Drug Price Inflation: Are Non-Profit Pharmaceutical Companies to Blame?"
Even though each presentation highlighted serious issues within society, each suggested ways to act. For example, Schofer will be presenting a choreographed piece on May 1 in the Recital Hall with climate-change themes, a way to raise awareness through dance. All proceeds from the show will go to Solar Sister, a nonprofit that supports women in Africa in the creation of clean energy businesses. Monzo and Virno suggested ways in which large pharmaceutical companies can be more transparent with their customers.
The symposium night ended with each fellow receiving a graduation cord to wear at Commencement on May 22.