A Mythological Makeover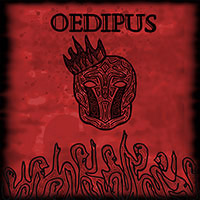 Seneca's adaptation of 'Oedipus' is more 'complex' than we think
By: Sarah Wedeking '24 Tuesday, November 8, 2022 05:17 PM
The iconic story of King Oedipus comes to Muhlenberg Theatre & Dance stages in a new light. Following playwright Seneca's reboot of the classic myth, "Oedipus" explores ideas of fate in a production that pushes the boundaries of a staged reading.
"It's one of those stories everyone knows," says Bridget Wiggan '23, who plays Oedipus. "But it's a bit of a different take on 'Oedipus' from how we've been learning it."
"Oedipus" follows King Oedipus as he attempts to avoid a fateful prophecy, in which he is destined to kill his father and marry his mother. The struggle raises questions of fate and free will.
The staged reading will take place in the Muhlenberg Recital Hall, in the Baker Center for the Arts, Nov 11-13, 2022. All tickets are five dollars.
Modern audiences know "Oedipus" mostly from the play "Oedipus Rex," written in 429 BCE by ancient Greek playwright Sophocles. He based his version on stories that were far older.
Roman playwright Seneca adapted the story in a new version — an ancient reboot written in the 1st century C.E. The current version was translated and adapted by poet Ted Hughes in 1969.
"Most people think of the play as this incestual, dirty, over-produced Greek show," says Maddi Whiting '22, the production's associate director. "But the language and characters in this adaptation are so viscerally powerful and beautiful."
"Oedipus doesn't waver," Wiggan says. "He doesn't stray from who he is, even when it comes at the ultimate cost."
Whiting says that, unlike Oedipus, the production team is straying substantially — from most people's idea of a conventional staged reading. This event will feature costumes, unconventional lighting, and original choreography by Ava Pirie '23.
"Ava brings a whole new kind of storytelling into the show," Whiting says.
While the story of Oedipus is over 2,000 years old, director Matt Moore says it still speaks to today's audiences.
"On the brink of ecological catastrophe the play tunes to the idea that despite our best intentions, we have perhaps already done the thing that damns us and the world in which we dwell," he says. "We offer this staged reading as a parable of self-discovery and a painful journey toward greater knowledge."
Performances of "Oedipus" are Nov 11-13, 2022: Friday at 8:30 pm, Saturday at 8 pm, and Sunday at 2 pm. Performances are in the Recital Hall, in the Baker Center for the Arts, Muhlenberg College. Tickets are $5. Tickets are available online at muhlenberg.edu/seeashow or by phone at 484-664-3333.
About the Muhlenberg College Theatre & Dance Department
Muhlenberg offers Bachelor of Arts degrees in theatre and dance. The Princeton Review ranked Muhlenberg's theatre program in the top twelve in the nation for eight years in a row, and Fiske Guide to Colleges lists both the theatre and dance programs among the top small college programs in the United States. Muhlenberg is one of only eight colleges to be listed in Fiske for both theatre and dance.
About Muhlenberg College
Founded in 1848, Muhlenberg is a highly selective, private, four-year residential, liberal arts college offering baccalaureate and graduate programs. With an enrollment of approximately 2,200 students, Muhlenberg College is dedicated to shaping creative, compassionate, collaborative leaders through rigorous academic programs in the arts, humanities, natural sciences and social sciences; selected preprofessional programs, including accounting, business, education and public health; and progressive workforce-focused post-baccalaureate certificates and master's degrees. Located in Allentown, Pennsylvania, approximately 90 miles west of New York City, Muhlenberg is a member of the Centennial Conference, competing in 22 varsity sports. Muhlenberg is affiliated with the Evangelical Lutheran Church in America.