Theatre & Dance Department Announces 2022-23 Performance Season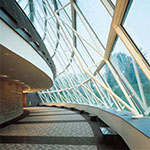 Wednesday, July 6, 2022 00:43 PM
Muhlenberg Theatre & Dance announces the 2022-23 Performance Season, which will include several dance productions, two staged readings, and four full-scale theatre productions, including Bertolt Brecht's musical The Threepenny Opera.
"We have worked hard to put together a season that reflects values of our department," says Rebecca Lustig, Director of the Co-Curricular/Production Program. "Work that puts into practice what we explore in our classrooms, studios, and shops; work that foregrounds issues of social justice; work that fosters collaboration between students and faculty and creates community; and work that provides opportunities to tell stories from a diversity of perspectives and experiences."
Tickets will go on sale in August. Showtimes, tickets, and dates in full description will be available at muhlenberg.edu/seeashow.
---
We Are Proud to Present…
a Presentation About the Herero of Namibia, Formerly Known as Southwest Africa, From the German Südwestafrika, Between the Years 1884 - 1915
Sept. 29 – Oct. 2, 2022
by Jackie Sibblies Drury
directed by Nigel Semaj
A group of actors gather to tell the little-known story of the first genocide of the 20th century. We Are Proud to Present… takes place largely in a rehearsal room that descends from collaborative to absurd as a group of idealistic actors — three black and three white — attempt to recreate the extinction of the Herero tribe at the hands of their German colonizers.
---
The Threepenny Opera
Oct. 28 – Nov. 6, 2022
by Bertolt Brecht
in collaboration with Elisabeth Hauptmann
music by Kurt Weill
directed by James Peck
musical director: Vincent Trovato
When the seemingly innocent Polly Peachum elopes with the suave but ruthless gang leader Macheath, their marriage sets off a turf war with the elder Peachums for control of London's lucrative underground. One of the most influential works in musical theatre history, this gangland satire launches a vitriolic broadside at the corruptions of capitalist modernity.
---
Oedipus
— A Staged Reading
Nov. 11-13, 2022

by Seneca
adapted by Ted Hughes
directed by Matt Moore
In perhaps the world's first reboot, first-century Roman Playwright Seneca the Younger takes on the tale of the unlucky King Oedipus, better known from Sophocles' Oedipus Rex.
---
Reset: New Dances
Dec. 1-3, 2022
Our fall student dance concert, featuring exciting new choreographic works by Muhlenberg dancers.
---
(&Medea)
— A Staged Reading
Jan. 27-29, 2023
a new play conceived by Janet Howe
written & developed by Jess Shoemaker
directed by Jamie McKittrick
(& Medea) is a poetic re-telling of the classic myth, following Medea through the most overlooked chapter of her history… the love story. Plans are tentative, but stay tuned for details about this exciting new-play development project.
---
Love + Information
Feb. 23-26, 2023
by Caryl Churchill
directed by Jessie Dean
Someone sneezes. Someone can't get a signal. Someone put an elephant on the stairs. Someone hates irrational numbers. Someone told the police. Someone's never felt like this before. In this fast-moving kaleidoscope, more than 100 characters try to make sense of what they know.
---
In Motion
March 30 – April 1, 2023
Dynamic new dance works by Muhlenberg's acclaimed dance faculty & guest artists, and featuring the talented students of Muhlenberg's Dance Program.
---
Local Girls
April 19-23, 2023
by Emma Goidel
directed by Beth Schachter
Local Girls is a play with music about searching for big-time glory in a small-time town. In the play, Diskit is a high school chemistry genius who needs some friends, while Riley is a high school burnout who needs a new screamer for her heavy metal band. A local "Battle of the Bands" contest could transform them both from high school losers to rock gods, but will that be enough to get both girls out of Tucker, Georgia?
---
Dance Emerge
April 27-30, 2023
Our spring student dance concert, featuring exciting new choreographic works by Muhlenberg dancers.
---
About the Muhlenberg College Theatre & Dance Department
Muhlenberg offers Bachelor of Arts degrees in theatre and dance. The Princeton Review ranked Muhlenberg's theatre program in the top twelve in the nation for eight years in a row, and Fiske Guide to Colleges lists both the theatre and dance programs among the top small college programs in the United States. Muhlenberg is one of only eight colleges to be listed in Fiske for both theatre and dance.
About Muhlenberg College
Founded in 1848, Muhlenberg is a highly selective, private, four-year residential, liberal arts college offering baccalaureate and graduate programs. With an enrollment of approximately 2,200 students, Muhlenberg College is dedicated to shaping creative, compassionate, collaborative leaders through rigorous academic programs in the arts, humanities, natural sciences and social sciences; selected preprofessional programs, including accounting, business, education and public health; and progressive workforce-focused post-baccalaureate certificates and master's degrees. Located in Allentown, Pennsylvania, approximately 90 miles west of New York City, Muhlenberg is a member of the Centennial Conference, competing in 22 varsity sports. Muhlenberg is affiliated with the Evangelical Lutheran Church in America.