Three Alumni Are AmeriCorps ArtistYear Fellows
Sarah Gordin '21, Isabel Kaufman '21 and Gwen Wilkie '20 are part of the 2021-2022 class.
By: Grace Oddo '22 Tuesday, February 15, 2022 09:47 AM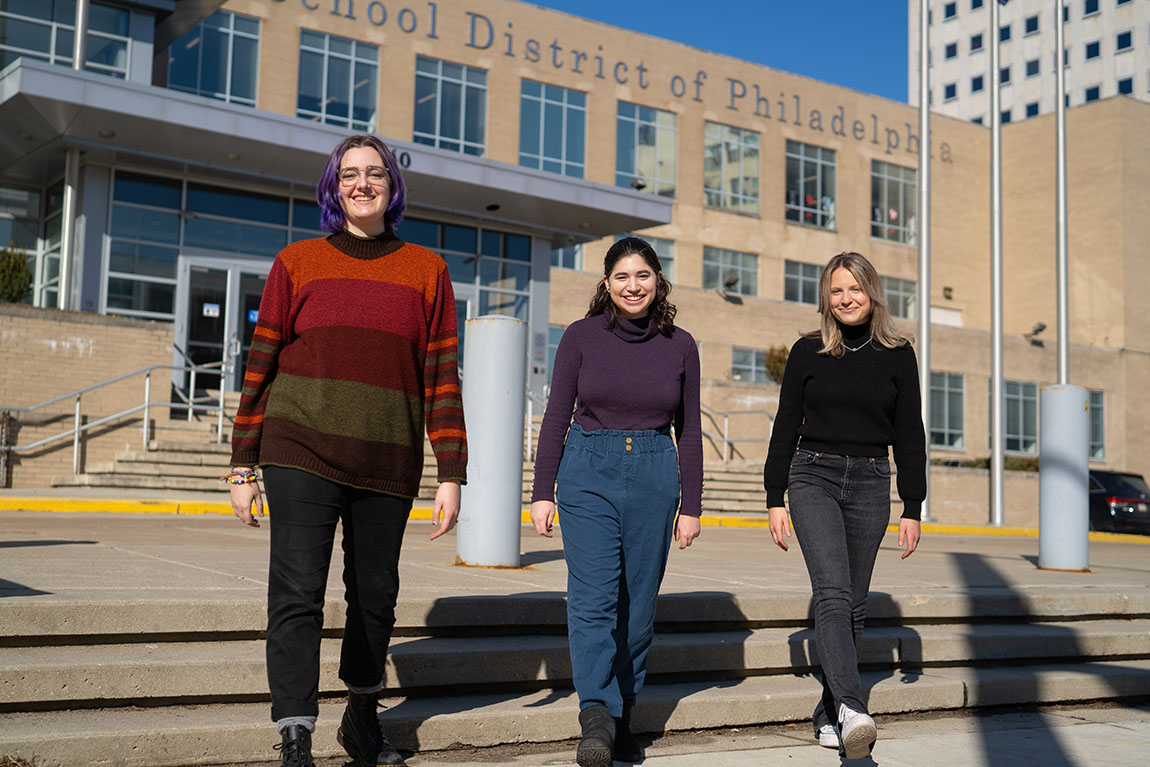 Gwen Wilkie '20, Sarah Gordin '21 and Isabel Kaufman '21 (left to right) serve as AmeriCorps ArtistYear Fellows. Photo by Margo Reed.
Three Muhlenberg alumni are part of the 2021-2022 class of AristYear fellows, a sub-organization of the AmeriCorps service agency. As a part of the fellowship, Gwen Wilkie '20, Isabel Kaufman '21 and Sarah Gordin '21 are teaching the arts in Title I Philadelphia-area schools.
"I am really enjoying it," says Gordin, who graduated from Muhlenberg with a degree in theatre. "It fit right into my post-graduation goals of being a theatre and dance teaching artist."
ArtistYear is a program dedicated to training and mentoring new generations of teaching artists who have either recently graduated college or are looking to change career paths. Although most ArtistYear fellows work in Philadelphia, some are stationed in New York City, rural North Carolina and the Denver, Colorado area. They represent all artistic disciplines (Wilkie is focusing on music; Kaufman, on visual art).
Once accepted into the program, each fellow is paired with a teacher in a Title I school. After a summer of virtual training with staff at ArtistYear, the fellow collaborates with the teacher to implement the arts into the curriculum for the following school year.
For her service year, Gordin is teaching at James Logan Elementary in north Philadelphia, a small school of about 200 students. Since beginning her position, she has collaborated with both music and art faculty to bring drama, dance and theatre into the classroom.
"I have taught a variety of classes, including improv classes with the 4th graders, classes surrounding Hispanic Heritage Month, classes focused on social and emotional learning skills and musical theatre dance classes," she says.
Wilkie is teaching music at Samuel Powel Elementary School in west Philadelphia: "I adore my students so much," they say. "The students I have met at this school challenge me more than I have ever been challenged before and have forced me to grow a lot in a little amount of time."
Kaufman, who teaches visual art at Thomas Edison High School in Philadelphia, echoes the same sentiment: "I get to see firsthand the way art acts as an outlet for many of these students," she says. "I have watched my students grow into not only artists but amazing young adults."
Programs like ArtistYear emphasize the importance of the arts in schools. There is substantial research on how arts education has positive impacts on students' academic, social and emotional development.
"Even more than that, it provides a brave space for students to explore themselves and their emotions," Wilkie says.