Sharing Memories Through Music
Will Howitt '23 debuts his song cycle "Squeeze Her Hand," a tribute to his late grandmother.
By: Grace Oddo '22 Tuesday, March 29, 2022 01:53 PM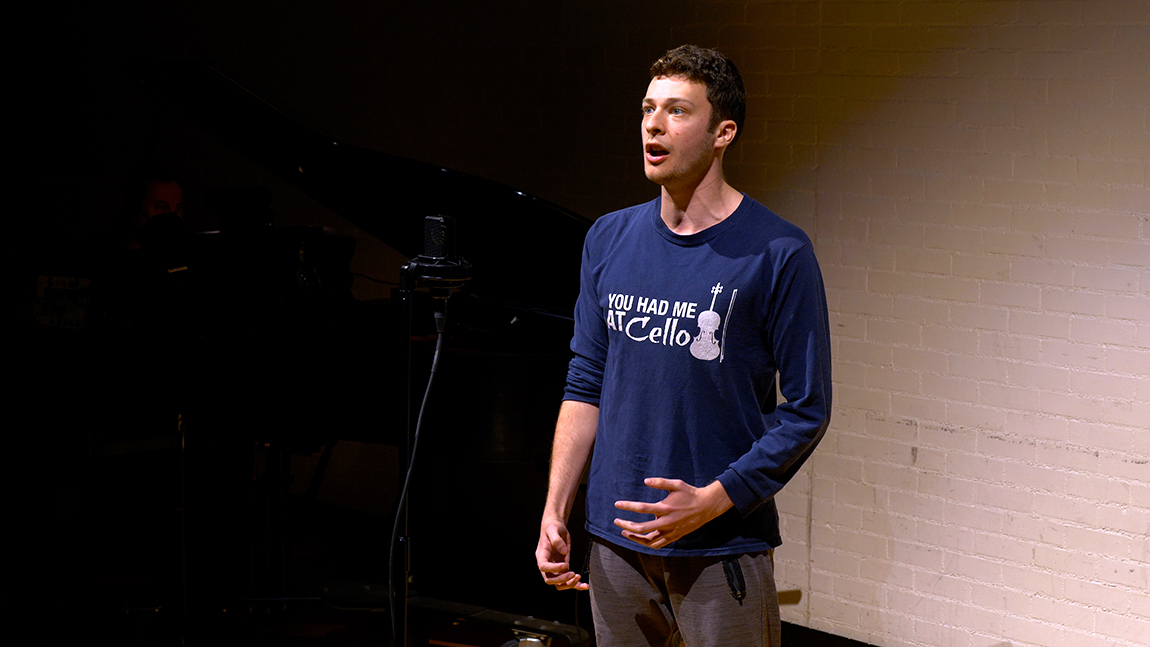 Will Howitt '23 performs his song cycle "Squeeze Her Hand."
"Tell Me About You: Reprise" starts slowly, with Will Howitt's baritone voice echoing off the walls of the Recital Hall.
"Hey, Bubbe."
Howitt repeats the line, his voice bellowing and warm.
"Hey, Bubbe. Hey, Bubbe."
Howitt waits for a response that comes in the form of a piano chord, played by Staff Accompanist Vincent Trovato. On the piano sits a framed baby picture of Howitt and an older woman with a kind face, Helen Goldberg. The same picture is displayed on a projector at the end of the performance.
"Tell Me About You: Reprise" is just one installment in Howitt's year-long passion project, a song cycle titled Squeeze Her Hand. Howitt performed the songs on campus twice, on March 4 and 5. All of the songs are written, composed and orchestrated by Howitt, with assistance from Assistant Professor of Music Andrew Ardizzoia.
The idea for Squeeze Her Hand came to Howitt in one of his darkest moments. In May 2020, his grandmother, whom he called Bubbe, died of complications from COVID-19. Howitt and his mother, father and younger sister said goodbye to Goldberg over a FaceTime call. Howitt recalls playing a four-part arrangement of "You Are My Sunshine" that he had made to her during her final moments. Although she was sedated, Bubbe's expression told Howitt all he needed to know: "It was one of the most special moments of my life," he says.
Howitt described Bubbe as not only his best friend, but everyone's. "I've never met anyone who cared about others so much," Howitt says. "She made everyone feel special and welcomed in a way that was just unprecedented. She was everyone's Bubbe."
Howitt's grandmother, too, knew that her grandson was gifted in music and theatre. She was the first person he would play his compositions for. She was always front-row at his high school shows, her face lighting up with joy every time that Howitt took the stage. And when Howitt enrolled at Muhlenberg, declaring a double major in theatre and music, Bubbe became incredibly invested in his education.
"She would always tell me that she was my number-four fan," Howitt says. "It was because she refused to make anything about her. She could never take those first three spots away from [my mom, dad and sister]."
"Squeeze Her Hand" was at first a standalone song dedicated to his Bubbe that was released onto YouTube and Howitt's social media platforms in August 2020.
"The song was something that came directly from my heart," Howitt says. "I wrote it maybe two weeks after she died. I wanted it to be an anthem. I wanted it to have a visceral effect on anyone who heard it."
Almost immediately, he received an outpouring of support from the Muhlenberg community, his family and people from his hometown in Mecutchen, New Jersey.
"People were really struck by the message in a way that I wasn't prepared for," Howitt says. "It was really a defining moment in my decision to turn this project into something bigger."
The next step for Howitt was conducting in-depth interviews with his family members about their relationships with Bubbe. Their answers would become the unique perspectives that form the foundation of the song cycle. The first song, "Camp Bubbe," tells the story of Howitt's younger sister, Sabrina, taking trips to Coney Island with her grandmother. (The role of Sabrina was sung by Amanda Berkson '23.) Later in the show, Joe Grisanzio '23 explores Howitt's father's complicated relationship with the grieving process in "Stand Close, Stand By."
In collaboration with both Ardizzoia and Adjunct Voice Professor Brian Chu, Squeeze Her Hand came to life. When Howitt arrived back on campus in August 2021, he recruited Grisanzio, Berkson and Nicole Gardner '23, who would sing the role of Howitt's mother, to join the cast. From there, it was a collaborative process between Howitt, his singers, Trovato and other behind-the-scenes helpers that helped turn Squeeze Her Hand into the fully-fledged song cycle that performed to two full-house crowds in the beginning of March.
"Will's mom came up to me after the show and told me how much of a gift this was to her," Gardner says. "Being able to honor this family was such an unforgettable experience."
"At the end of the day, all of these songs are about how much we love Bubbe," adds Berkson. "That's what I would want anyone who listens to [Squeeze Her Hand] to take away from it."