Transfer Student Finds Opportunities to Conduct Research at Muhlenberg and Present It to Mathematicians From Around the Globe
Amanda Sodl '23 and two classmates presented their research project at the Joint Mathematics Meetings in Boston, the biggest math conference in the world.
By: Keanna Peña '25 Friday, February 24, 2023 02:33 PM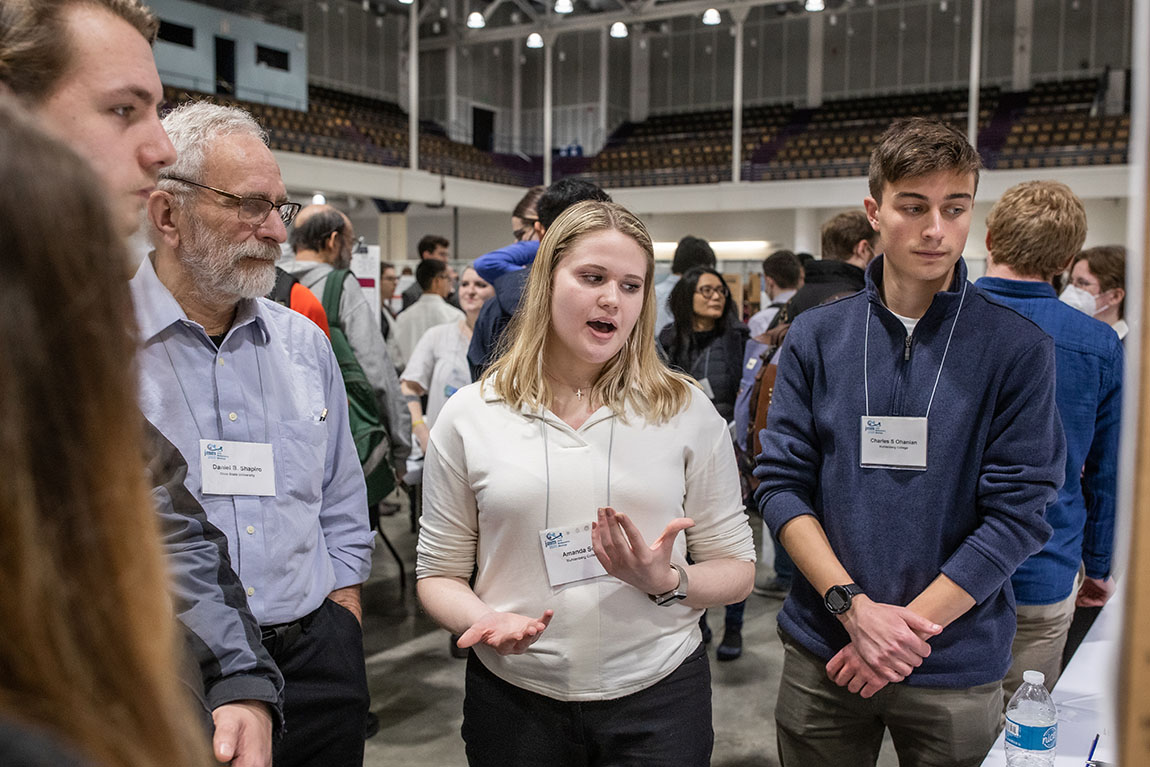 Amanda Sodl '23 (center) presenting at the Joint Mathematics Meetings in Boston in January. Photos by Sam "Jobey" Lee
In her first semester at Muhlenberg, Amanda Sodl '23 made connections in class that led to a transformative research opportunity — and the chance to present at the world's largest mathematics conference.
Sodl, then a junior who had transferred from Lehigh Carbon Community College, was taking Linear Algebra with Professor and Chair of Mathematics Byungchul Cha in the fall of 2021. Near the end of the semester, Cha approached Sodl and two classmates (Charles Ohanian '24 and Catherine Barrish '24) to ask if they would be interested in being a part of a research project he was conducting.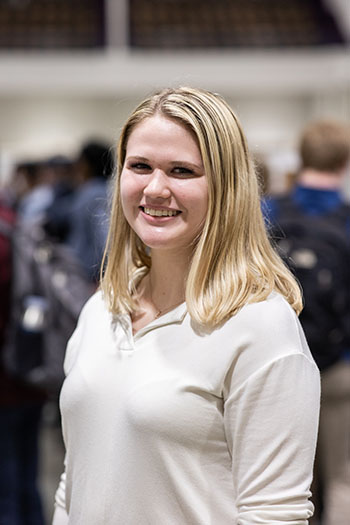 "None of us had any experience with conducting research but were curious and excited to see how it would go," says Sodl, a mathematics major.
Over winter break, Cha assigned the trio some background reading on their topic, almost Pythagorean triples, or APTs. When they returned to campus in the spring, he explained the problem they were going to work on, and they proceeded to meet three times a week until they solved it.
"Halfway through the semester, Cha told us about the Joint Mathematics Meetings (JMM), explaining that our project was moving along really well, so if we solved our problem, we could possibly go," says Sodl. "Hearing this motivated us even more to get a result and be successful."
By April 2022, the group solved their problem, a rarity when it comes to math research: "There are usually endless calculations, which, most of the time, result in nothing particularly interesting or useful," Cha says. In this case, "there were some numerical explorations pointing towards a certain plausible formula and then by some hard work — and a healthy dose of good luck, in retrospect — the students succeeded in proving the formula."
Last fall, they sent an abstract of their research to JMM and received approval.
Sodl describes being at the conference as "really inspiring and rewarding." She says, "It made me feel like the months-long journey of trying to figure out the answer to this problem was definitely worth it. I had a lot of fun talking about what I did, and it made me realize how passionate I am about research. Being able to share our results was a whole new feeling I can't even describe."
Sodl and her partners enjoyed doing research so much that last summer, they did another research project with Professor of Mathematics Michael Huber, and this semester, they are conducting research again with Cha. She intends to pursue a Ph.D. in mathematics.
"I've learned so much about the research process, such as how to conduct research, what you need to do to be successful and how to make plans and meet small goals until you get to your end result," Sodl says. "I learned how to work as part of a group and work on things on my own, as I needed to set time aside to work on the research independently so that when I met with my group, I had something to share. This [first] research project really pushed me to be more self-motivated."