Building a Website and Community Connection
Andrew White '25, a computer science and media & communications double major, built and designed an auction website to support fundraising for Allentown's Bradbury-Sullivan LGBT Community Center.
By: Sarah Wojcik Monday, May 15, 2023 08:00 AM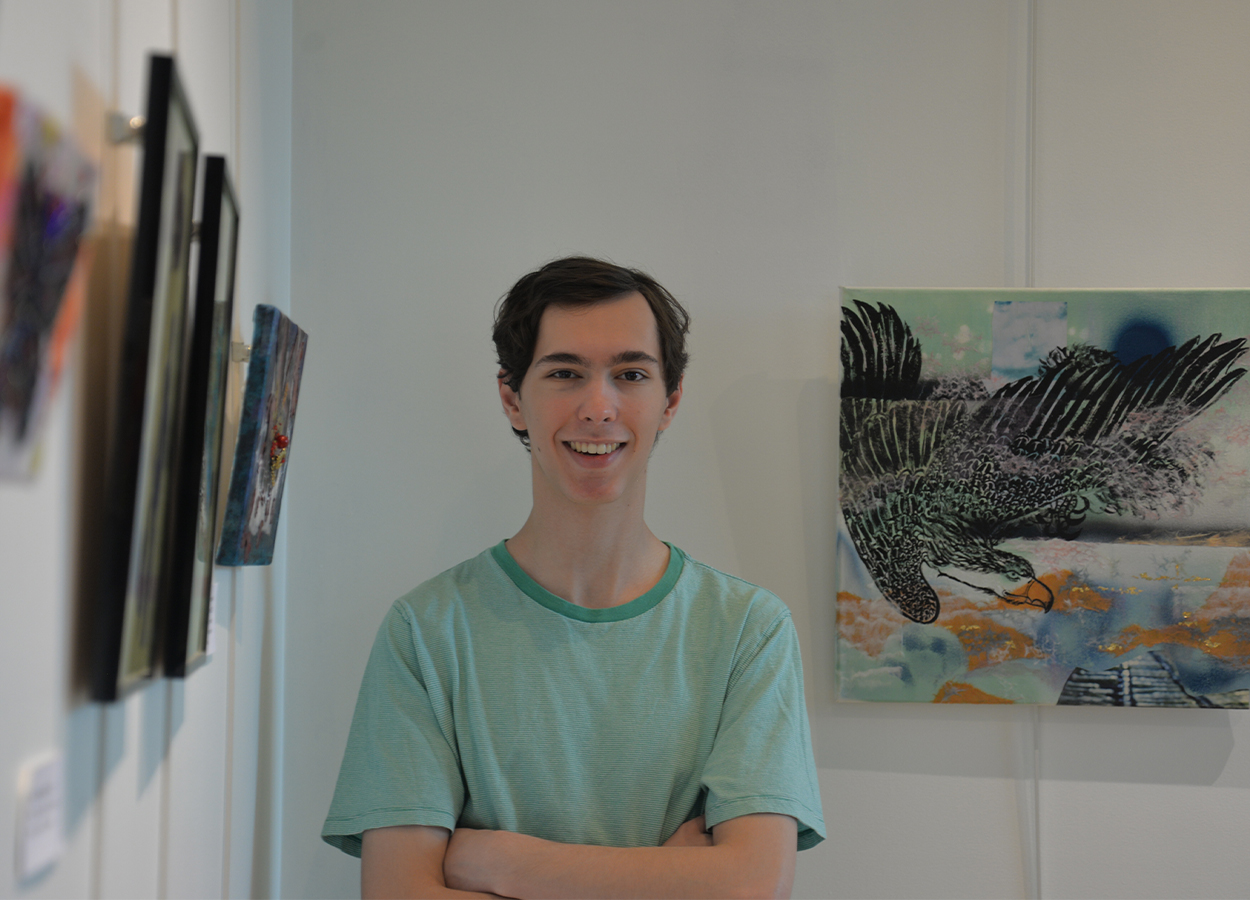 Andrew White '25 stands in one of the art galleries of Bradbury-Sullivan LGBT Center in downtown Allentown. His work on an auction website for the nonprofit's chief fundraising gala helped bring in money to support this regional inclusive space.
Andrew White '25 has had plenty of deadlines for class projects, but the computer science and media & communication double major says nothing has been quite as daunting — and rewarding — as delivering a website for a community nonprofit on a tight event deadline.
During the spring of 2023, White saw his months of hard work building a silent auction website for Allentown's Bradbury-Sullivan LGBT Community Center (which was founded by Muhlenberg alum Adrian Shanker '09) come to life during a fundraising gala. All the moments of stressful troubleshooting and exciting epiphanies came together that night, White says, in the best way possible.
"For this, it was not a grade thing — it was a life thing," he says. "So the value really came from seeing the impact it had: going to the gala and seeing people making the bids and knowing that it was going toward a good cause — that really felt good."
Muhlenberg's commitment to providing students with meaningful experiential learning opportunities that provide a lasting impact in the community can benefit students from any major. Joseph Helsing, assistant professor of computer science, has connected with the College's Office of Community Engagement to ensure students working in computer science have chances to bring their coding and web development skills outside of the confines of a classroom, making a difference in the lives of people and organizations in the region. Helsing said OCE Director Beth Halpern was invaluable in connecting students with meaningful projects.
"I think it's really important for the College as a whole," Helsing says. "The College does not exist in a vacuum. Being able to go out in the real world and solve these problems is incredibly invaluable to these students."
White was tasked with creating an auction website for the Bradbury-Sullivan Center, which will continue to be used to sell items as part of the nonprofit's annual fundraising campaigns. Website development was new to White, who took up the project in April 2022, at the tail end of his first year as a Mule.
Helsing said it wasn't long before White "took full ownership of this project."
For White, that meant the need to hone communication skills and adopt a more flexible approach to problem solving. Email correspondence about the project's progress shouldn't get bogged down in technical jargon, White learned. And no amount of preparation and research will prevent something from going awry on the website. White had to learn how to effectively and methodically troubleshoot every bump in the road.
Liz Keiser, visual communications manager for Bradbury-Sullivan LGBT Community Center, says White's help was invaluable.
"Working at a nonprofit, everyone is passionate, but everyone is also wearing seven different hats," Keiser says. "Having Andrew was amazing because we had someone who was dedicating their time to this project and allowed us to explore options we would not have been able to without him."