Career Center, Muhlenberg Students in the News
Two recent news articles feature Muhlenberg's Career Center. One looks at how the team assists new grads as they prepare to enter a promising but fluctuating job market; the other shares how the team uses data to best serve all students throughout their College experience.
By: Kristine Yahna Todaro Tuesday, April 25, 2023 04:39 PM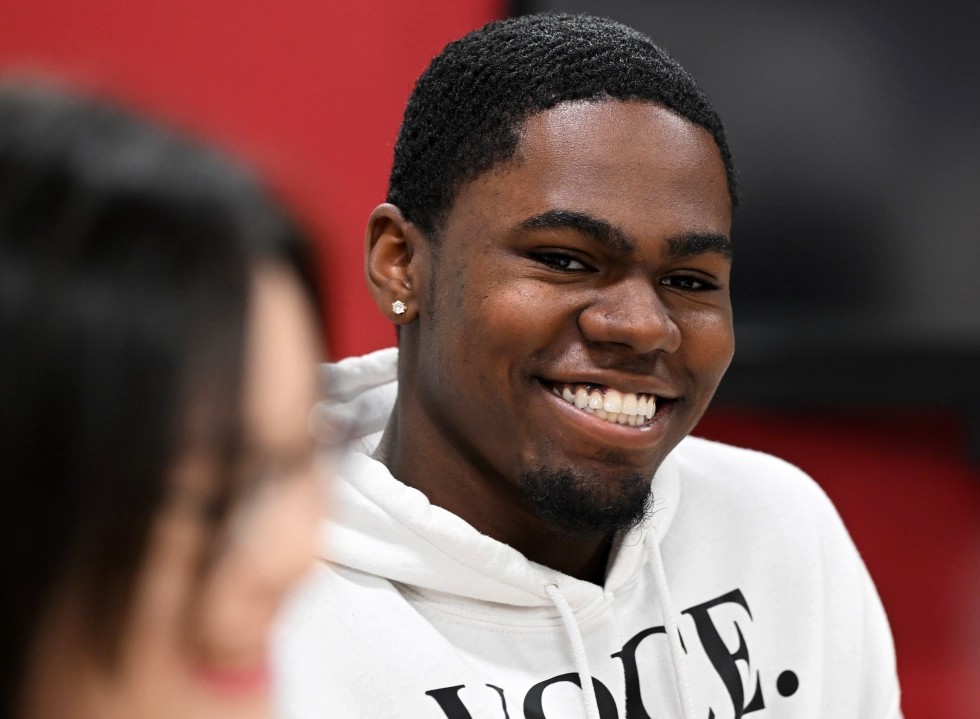 Senior Adonis Brooks will begin his career with Huron Consulting Group in Manhattan after he graduates in May. (Rick Kintzel/The Morning Call)
Adonis Brooks '23, Jialin Huang '24 and the Career Center's Executive Director Sean Schofield were the focus recently of The Morning Call article "The pandemic disrupted their freshman year. It may also have prepared the Class of 2023 for the job market."
The article begins:
Adonis Brooks is about to graduate from Muhlenberg College, and he has a job lined up. A dual-major in psychology and business, the Brooklyn, New York, native will be going home to New York City to work for a consulting firm.
"I have a job, I've accepted the offer, which is great," said Brooks, who has secured a position with Huron Consulting Group's office in Manhattan. "But while I was looking for the job, I was just super stressed with interviews and stuff like that. Overall, I can't really complain about the job hunt, it was just a lot of work."
For college seniors over the years, Brooks' story is a familiar one. But for the Class of 2023, the road to graduation day and the beginning of a career was one that included some unusual obstacles.
Midway through the first year, in the spring of 2020, the COVID pandemic hit, forcing a mass exodus away from campuses to virtual classes back home, then back to campus again with almost a whole year of the college experience wiped away.
Then there's the job market that's in flux, with companies looking to fill positions open as a result of retiring baby boomers and others who took part in the so-called great resignation, where workers left positions for better opportunities in the wake of the pandemic….
The article explains that while the job market looks good for new graduates — unemployment numbers are low and, according to the National Association of Colleges and Employers, employers plan to hire 14.7 percent more new college graduates from the Class of 2023 than they did from the Class of 2022 — it has its challenges.

Executive Director Sean Schofield said while the job market is growing, it can be "murky" for new grads. Job movement from retirements or mid-career resignations have opened up gaps for middle- and senior-level careers but new grads may not see the wealth of opportunities they were hoping for.
And, he added, "The career fields that they're going into are being drastically changed moment by moment."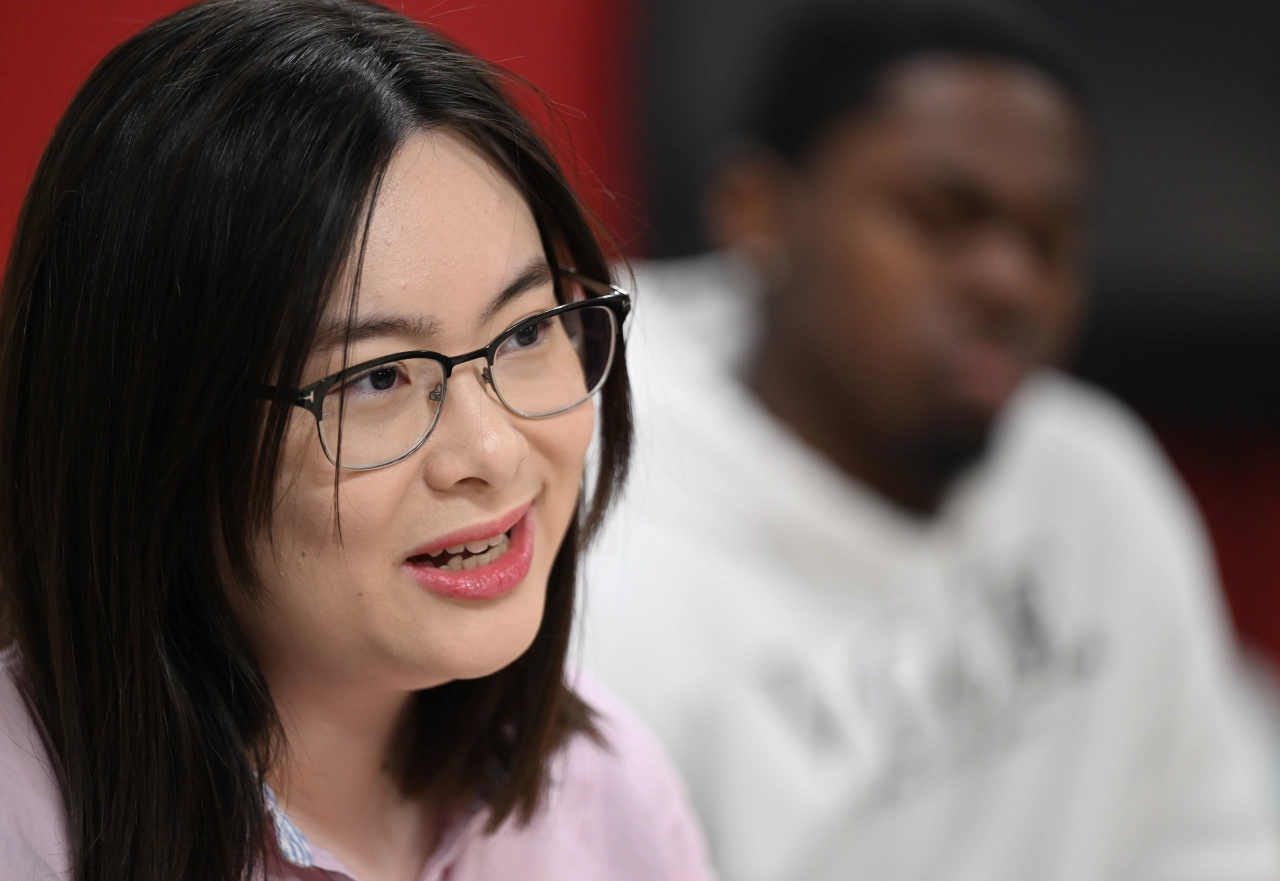 Junior Jialin Huang landed an international marketing internship with NARS Cosmetics this summer. (Rick Kintzel/The Morning Call)
The article continues:
Muhlenberg's Jialin Huang … also changed her career trajectory during COVID after initially majoring in history with the plan of attending law school.
"You kind of have to be more flexible, and adaptable in terms of what opportunities are available," she said.
Huang said her skills in research, analysis and writing go into such things as marketing and business. Taking remote classes allowed her to think things through and wonder how she could take advantage of the emerging digital landscape.
"With everything online, I decided to launch my own social media business that helps connect a lot of different cosmetic brands throughout the world with different Gen Z consumers," she said….Huang will be taking an international marketing internship with NARS Cosmetics, which she said "will help me get into that career field."
"It really aligns with my marketing concentration a lot," Huang said. "I fully see myself going down the marketing path, and especially something to do with international business."
Schofield said a flexible mindset is important because there are "great opportunities for graduates, but rapidly changing times can still bring anxiety."
"To help alleviate that fear, Schofield and his staff at Muhlenberg's Career Center guide students through all four years of their education, not just when graduation is looming. It's important, he said, that all options are examined, even if a student applies for jobs in totally different fields."
The pandemic has changed the way his team works with students, Schofield said, including engaging them in career conversations early on. But, most of all, he wants students to understand that their career is an ongoing journey, not just a destination, and his team can provide a roadmap.
Read the full article on The Morning Call site.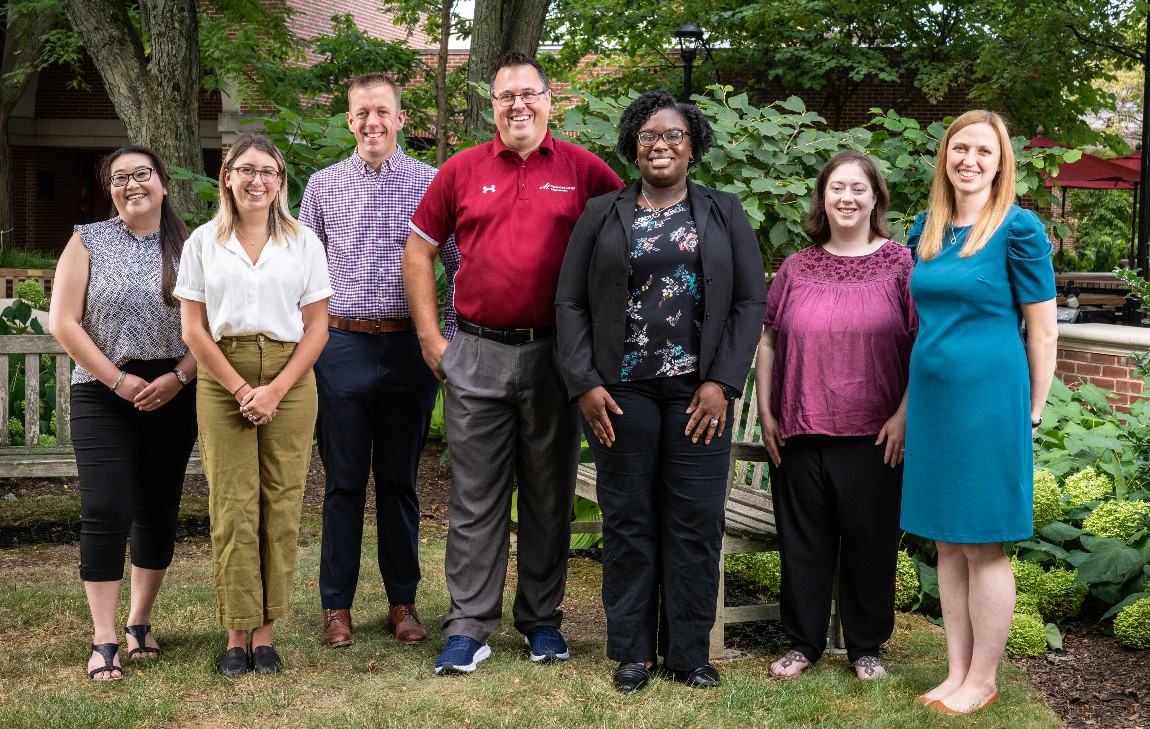 The Muhlenberg Career Center team includes, left to right, Sara Weidner, Jessica Deemer '21, Ryan Smolko, Sean Schofield, Chiquita Griffin, Rachel Santos and Caitlin Bach. (Ryan Hulvat/Muhlenberg College)
Schofield and the Career Center staff were also featured in a recent Inside Higher Ed article "Data-Based Decision Tip: Disaggregate Data to Spot Underserved Populations" that applauded how Muhlenberg's Career Center team uses participation and engagement data to better understand underserved student populations and reframe its services.
It ran in the Student Success news hub which offers ideas, advice and inspiration to higher ed professionals. Excerpts from the article are below:
Muhlenberg College's Career Center dug through the data to understand which of its students were not visiting the office or attending its programs and adjusted accordingly.
"Data is driving 100 percent of the decisions we're making, and it's really opening up our eyes to gaps that we didn't know … existed," says Sean Schofield, executive director of career services at Muhlenberg.
When Schofield began in his role in May 2021, he first turned to the data…. Muhlenberg's Career Center was reaching 62 to 72 percent of its student population annually at the end of the 2021 academic year.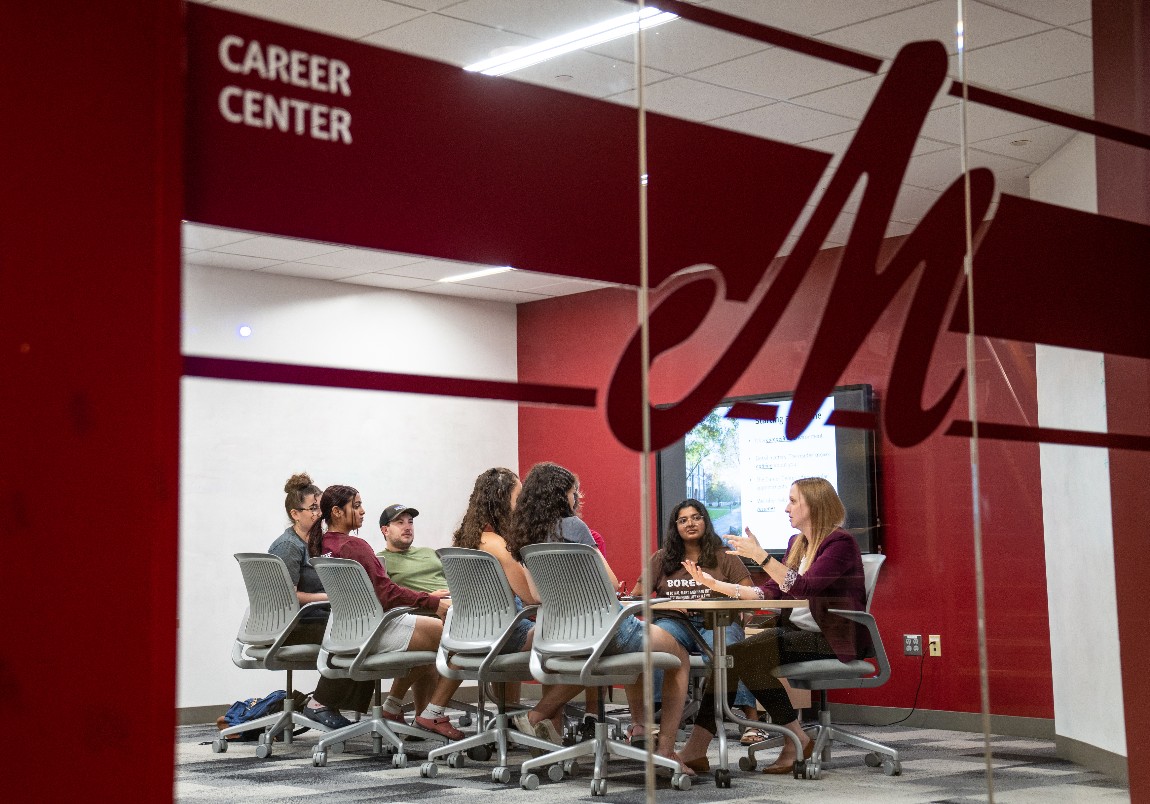 Caitlin Bach, right, talks with students in the Career Center meeting space. (Ryan Hulvat/Muhlenberg College)
"My first question I asked when the team told me that was, 'Wow, that's fantastic. Is it always the same, like 30 percent or so that we don't hit?'" Schofield says. He wanted to understand who was being missed and if there was any connection in who those students were….As a result, Muhlenberg's Career Center staff focused their attention on these groups and how they could enhance outreach and relationships.
Rather than evaluating participation or utilization, the Career Center re-established programs to target specific learning outcomes for every year a student is enrolled at the college, creating a phased approach to career development and readiness that it calls the Muhlenberg Action Plan, or MAP for short.
Read the full article on the Inside Higher Ed site.