Cecilia A. Conrad, Ph.D. Named Speaker for Muhlenberg's 175th Commencement
Conrad, the founder and CEO of Lever for Change and a senior advisor at the John D. and Catherine T. MacArthur Foundation, will receive an honorary degree alongside George Wheeler '72, renowned conservator and conservation scientist, at the ceremony on Sunday, May 21.
By: Kristine Yahna Todaro Thursday, April 20, 2023 03:30 PM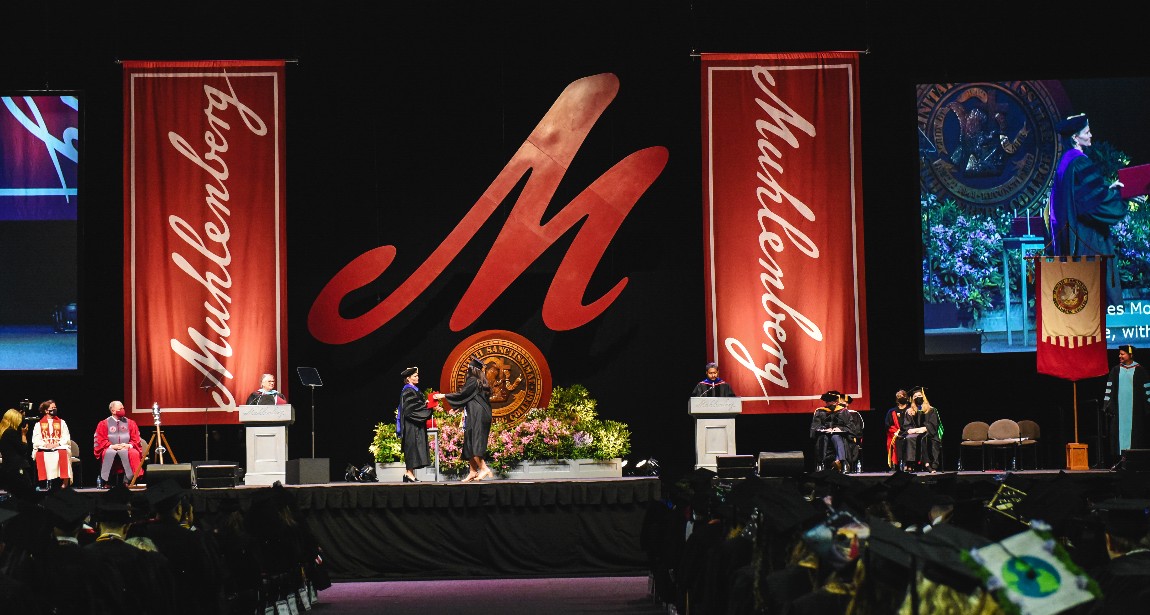 A student receives their diploma during Muhlenberg's 2022 Commencement.
Muhlenberg's 2023 Commencement Ceremony will be held Sunday, May 21 at 10 a.m. at the PPL Center in Allentown. Graduates will celebrate with their guests at the in-person event, and the ceremony will be streamed to the public and archived for later viewing.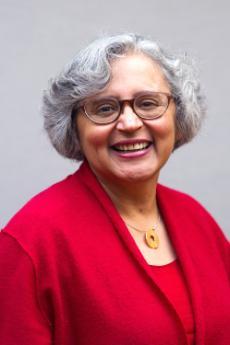 Cecilia Conrad heads up Lever for Change, a Chicago-based nonprofit organization, that helps donors find and fund bold solutions to the world's biggest problems and helps great nonprofits get the funding they need to scale their impact. In its first four years, Lever has exceeded its goal of driving $1 billion to notable social change, supporting over 145 organizations on issues ranging from economic opportunity in the U.S. to climate change to the global refugee crisis.
At MacArthur, Conrad steered the cross-foundation team that created 100&Change, a program that she continues to lead, which periodically makes a single $100 million grant to a project that promises measurable progress in solving a critical social problem. The first $100 million grant was awarded in 2017 to Sesame Workshop in collaboration with the International Rescue Committee (IRC) for an early childhood intervention in the Syrian refugee region. Among the accomplishments of this project is a new Arabic-language children's television program, Ahlan Simsim, now reaching over 16 million households. The second 100&Change grant was awarded in 2021 to community solutions to accelerate an end to homelessness in 75 U.S. cities.
Previously, Conrad worked as a managing director at the MacArthur Foundation, overseeing the MacArthur Fellows program, which currently provides $800,000 in funding to exceptionally creative individuals in all fields. Under her direction, the program saw its most diverse classes to date.
Before joining the MacArthur Foundation, Conrad was vice president for academic affairs and the Stedman Sumner Professor of Economics at Pomona College. She served as acting president during the 2012 academic year and in 2002 was recognized as California's Carnegie Professor of the Year.
In recognition of research and advocacy around racial and gender equity in higher education, Conrad received the National Economic Association's 2018 Samuel V. Westerfield Award, the 2018 American Economic Association Mentoring Program Impactful Mentor Award, and the National Urban League's 2008 Women of Power Award.
Her academic research on the effects of race and gender on economic status has appeared in academic journals and nonacademic publications, and her co-edited text, African Americans in the U.S. Economy, was named a CHOICE Outstanding Academic Title in 2005. A trustee emerita of Muhlenberg College, Conrad received her B.A. from Wellesley College and her Ph.D. in economics from Stanford University.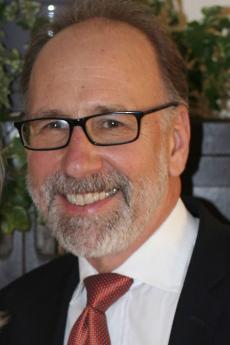 Honorary degree recipient George Wheeler is the former director of conservation in the graduate historic preservation program at Columbia University following a distinguished 25-year career in the department of scientific research at the Metropolitan Museum of Art in New York City.
A member of the Muhlenberg Class of 1972, he majored in physics and art history and was selected first team all-conference in football and twice second team all-conference in baseball. Wheeler subsequently earned a master's degree in art history from the City University of New York, and a master's degree in art conservation as well as a master's degree and Ph.D. in chemistry from New York University.
The author of more than 50 publications, Wheeler is a fellow of the American Academy in Rome, the American Institute for Conservation and the International Institute for Conservation and is the recipient of the Association for Preservation Technology's highest honor, the Harley J. McKee Award.
Some of the significant conservation and preservation projects he has been involved in include the concentration camp at Auschwitz-Birkenau, the outdoor sculpture at NYU's Villa La Pietra in Florence, the medieval cloister at the church of St. Trophime in Arles, the ancient Greek ruins at Selinunte in western Sicily, and, most recently, Tullio Lombardo's marble sculpture of Adam at the Metropolitan Museum of Art.
About Muhlenberg College
Founded in 1848, Muhlenberg is a highly selective, private liberal arts college offering baccalaureate and graduate programs. With an enrollment of nearly 2,000 students, Muhlenberg College is dedicated to shaping creative, compassionate, collaborative leaders through rigorous academic programs in the arts, humanities, natural sciences and social sciences; selected preprofessional programs, including accounting, business, education and public health; and progressive workforce-focused post-baccalaureate certificates and master's degrees. Located in Allentown, Pennsylvania, approximately 90 miles west of New York City, Muhlenberg is a member of the Centennial Conference, competing in 22 varsity sports. Muhlenberg is affiliated with the Evangelical Lutheran Church in America.