College Affirms Commitment to Diversity, Equity, Inclusion and Belonging; Adopts New Statement
The Board of Trustees voted to approve the new statement, which was drafted by Muhlenberg faculty, staff, students and alumni, at its January meeting.
Monday, February 20, 2023 04:13 PM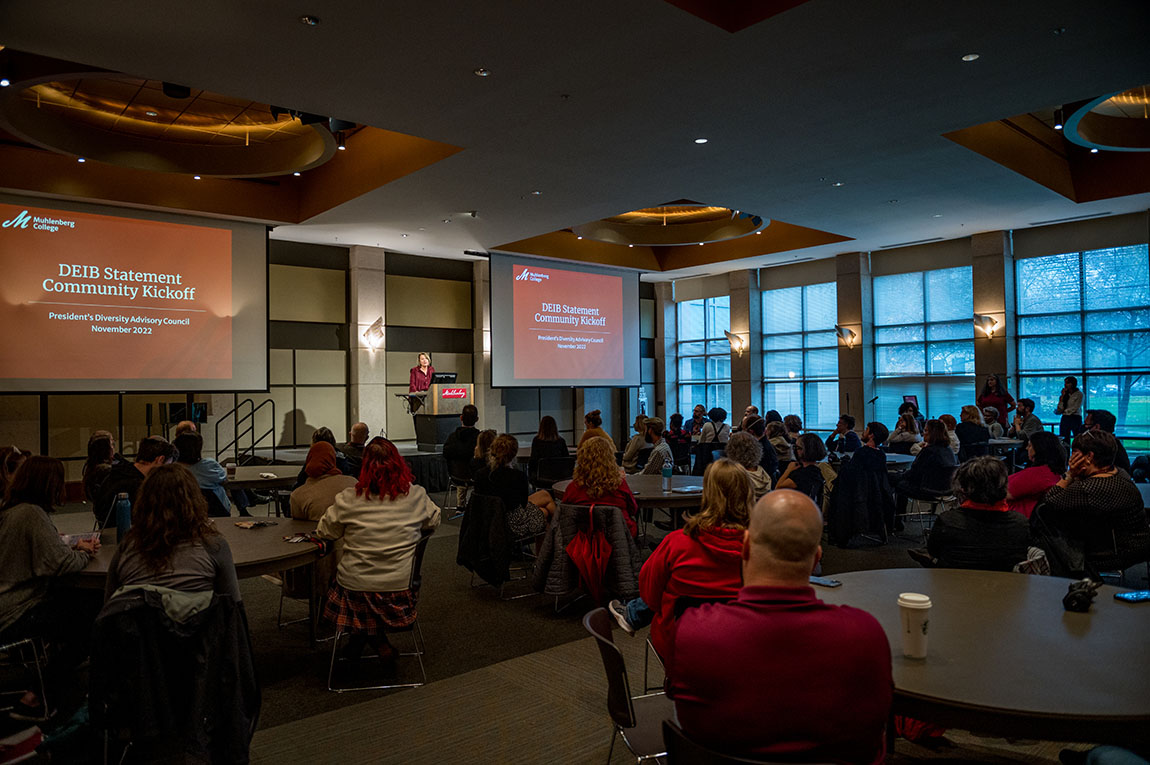 The campus community gathered in November to discuss the draft DEIB statement. Photo by Meg Keller
Muhlenberg's statement on diversity, equity, inclusion and belonging (DEIB) has been updated following a community effort that engaged students, faculty, staff, trustees and alumni. The Board of Trustees approved the new DEIB statement in January.
"Muhlenberg's commitment to diversity, equity, inclusion and belonging is a vital component of both the community we are and the community we strive to be," President Kathleen Harring says. "This revised statement reflects the knowledge and understanding we've gained in recent years, and charges each of us with being actively engaged in making Muhlenberg a place where everyone experiences a sense of belonging and connection."
Members of the campus community called for and contributed to the College's first diversity statement, which the Board approved in 2014.
Work on the new DEIB statement began in 2020 with a charge from Harring to reflect and include experiences from across Muhlenberg's diverse community. In 2021, the President's Diversity Advisory Council (PDAC) launched conversations with students, faculty and staff as well as with trustees and the College's Alumni Board about how to better represent Muhlenberg community members and their sense of inclusion, equity and belonging in the statement. In November, PDAC hosted an open forum to solicit community feedback on the draft statement.
"When we asked the community to share their experiences of inclusion at Muhlenberg, it was clear that everyone felt most included when they were authentically connected within the community and had a sense of being part of something bigger than themselves," Associate Provost, Chief Diversity Officer and PDAC Chair Brooke Vick says. "At their core, these were stories about relationships and belonging. We knew then that our revised institutional statement had to include a focus on broadening and deepening experiences of belonging for everyone."
"So much of what we understand about inclusion, equity, diversity and anti-racism and how to build and sustain inclusive, diverse communities has evolved since the College's previous statement on diversity was approved. It was important that the revision process was inclusive and that the content of the new statement aligned with our contemporary understanding of the work ahead," Vick adds. "I am so proud of the collaborative efforts of so many across the College that helped develop a statement we can be proud of. I'm also grateful to all members of the Muhlenberg community, past and present, who laid the foundation for this work by developing the first statement on diversity for the College and setting us on this path with the first Diversity Strategic Plan in 2014."