Feaster Parade
These three brothers, each of them an all-star player at a different position, helped elevate the Muhlenberg football program to national prominence.
By: Mike Falk Thursday, March 16, 2023 08:13 AM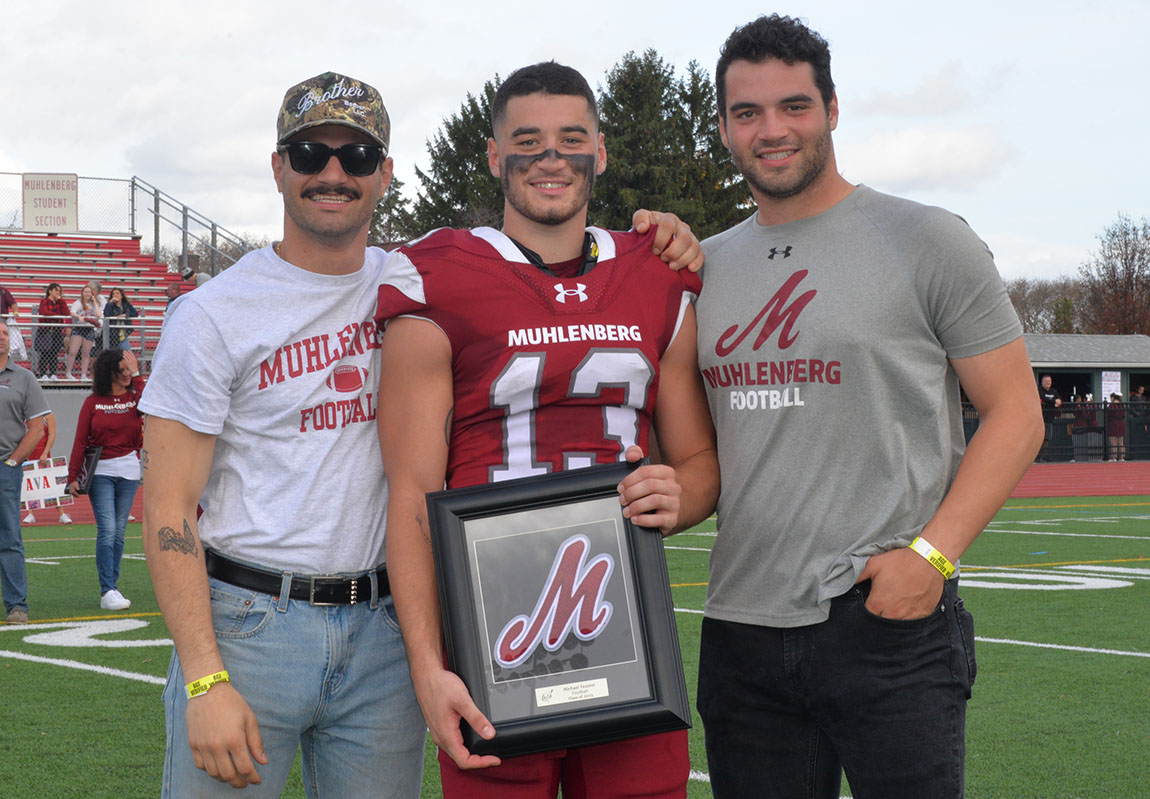 The Feaster brothers, John '17, Michael '22 and Frankie '20
Muhlenberg football players often refer to their team as a "brotherhood" because of the strong bonds and sense of togetherness team members enjoy. For three outstanding players in the last decade, it was an actual brotherhood.
When Michael Feaster '22 walked across the field to pick up his plaque as MVP of the Mules' bowl win against Lebanon Valley last November, it ended the "Feaster Era" of Muhlenberg football that began with John Feaster '17 and continued with Frankie Feaster '20.
The three Feaster brothers combined for 11 All-Centennial Conference selections and three All-America nods as Mules. More importantly, they led Muhlenberg to a sparkling 84-22 record, three Centennial Conference (CC) championships, nine postseason berths and nine postseason wins in nine seasons.
"The Feaster family impact has been immense on our program and College," says Mule head coach Nate Milne.
It all began in late 2012 when John was a senior at Bergen Catholic High School in northern New Jersey. College coaches cycled through the school regularly, and one day Tom Perkovich, then the Mules' offensive coordinator, stopped by and introduced John to Muhlenberg.
"The overnight visit was the key," recalls John, who currently works in the fashion industry. "After visiting a bunch of different campuses, Muhlenberg felt the most right. You know, you just get that gut feeling that this is the place that you're meant to go and meant to grow at."
John entered preseason camp as a wide receiver but on the second day was converted to cornerback, a position at which he flourished. A four-year starter, he is the only Mule football player ever named to the All-CC team four straight seasons, finishing his career in the top five in program history in both interceptions (15) and pass breakups (22).
When it came time for Frankie to select a college, his experience attending games to watch his brother play was a big factor. "The Muhlenberg atmosphere engulfed you when you were there," he says. "I fell in love with the culture, and it was the only school that I really visited."
The culture, and the opportunity to play two sports, were the big selling points for Frankie. He set numerous school records as a faceoff specialist in lacrosse and reached incredible heights in football after switching from tight end to defensive end late in his freshman season. A two-time All-American and two-time CC defensive player of the year, he set a school record with 34 sacks.
"I guess you can say I didn't have a choice, right?" jokes Michael about his college decision. "No, I always had the opportunity to go wherever I wanted, but at the end of the day, I really didn't have a choice just because of what I'd seen [attending his brothers' games] and what these two guys did for me."
Michael, who recently accepted a job in capital markets with Vitreous Loan Group, earned All-America honors as a wide receiver in 2021 and finished his career with 176 receptions, the third-most in program history, including a school-record 104 in one season.
Three brothers, three all-stars at three different positions.
Had COVID not canceled his senior season, Frankie — a physical education teacher and assistant football coach at Bergen Catholic and head boys lacrosse coach at Cedar Grove High School — would have played all four of his college years with a brother as a teammate.
"It's something I definitely don't take for granted," he says. "I cherish those moments every single day. I wish I could go back and play with both of them at the same time."
As much as the brothers enjoyed playing with each other, there was the inevitable sibling rivalry. When Frankie played tight end, he would on occasion be covered by John in practice.
"It was always a spectacle when it would happen, and everyone's eyes kind of gravitated there, especially if they knew that Frankie was going out for a pass," says John. "I'll be honest, he caught a few on me, but I also knocked most of them down."
And although Frankie, as a defensive end, never covered Michael downfield, there were times when Michael was in motion and had to try to block Frankie at the line of scrimmage. "It didn't end well for him, but he let me have it," says Frankie. "He definitely gave it his all."
But beyond the sibling rivalry is an incredible sense of pride the Feasters feel about each other, and about a Muhlenberg football program they helped elevate to national stature.
"If I had to do it all over again, I'd do it the exact same way because I truly think Muhlenberg shaped me to who I am today," says John. "Having my brothers follow in those footsteps is just a really cool experience to know that we share so many of those memories together and we will always have that to fall back on.
"But now I think I'm known as Frankie and Michael's brother instead of as John."