President Kathleen Harring Receives Honorary Degree
Franklin & Marshall College presented Muhlenberg's president with an honorary doctorate of humane letters at its May 13 commencement.
Monday, May 15, 2023 03:15 PM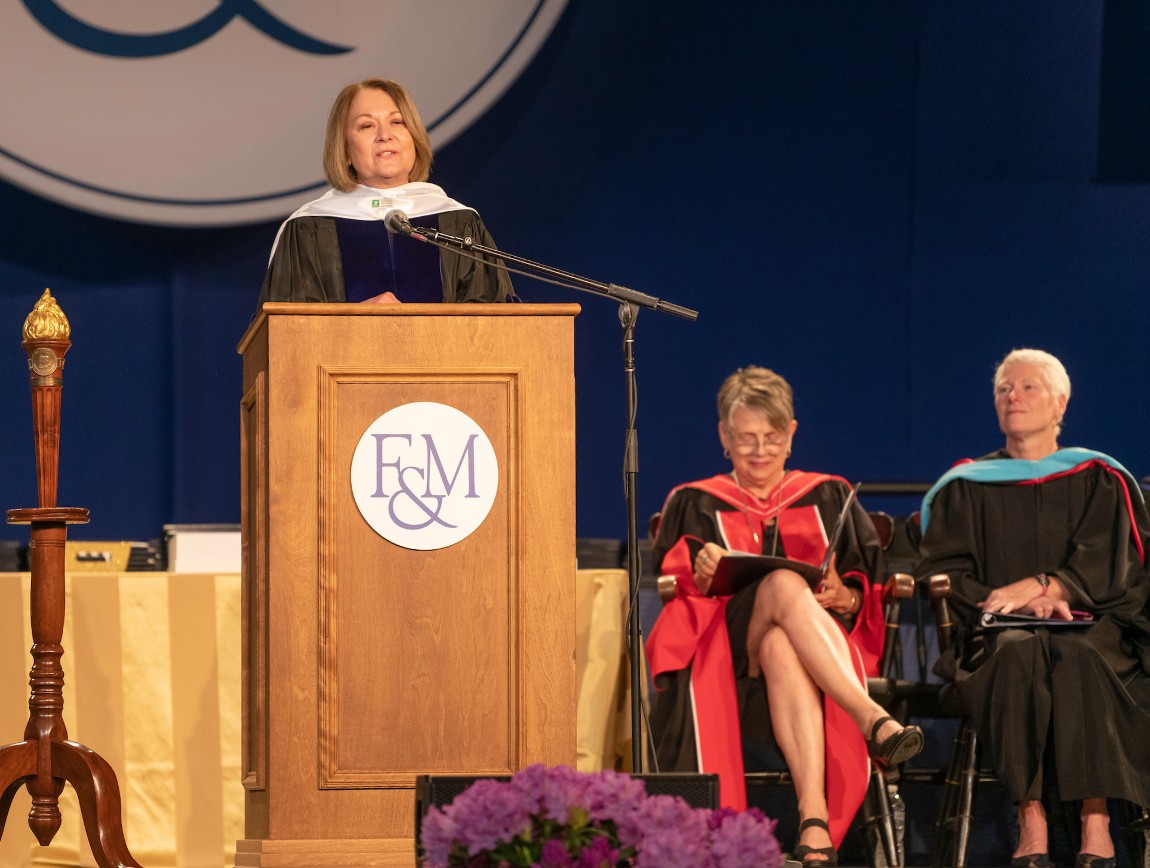 President Kathleen Harring received an honorary doctorate from Franklin & Marshall College at its 2023 Commencement. Photo: Eric Forberger/F&M College
Muhlenberg President Kathleen E. Harring received an honorary doctorate of humane letters from her alma mater, Franklin & Marshall College, at its commencement on Saturday, May 13.
"I am surprised and grateful for this honor," Harring says. "Both as an undergraduate at F&M and throughout my career at Muhlenberg, I have experienced the power of the liberal arts at these institutions. That power lies in our ability to address the complex societal problems we face, not from one discipline or another, but rather from the spaces in between, where multiple strengths and perspectives can be brought together to focus on solutions."
Harring was named president of Muhlenberg College in June 2020 after serving as interim president for a year. She is the College's 13th president and the first woman to lead the College.
Video: Franklin & Marshall College Office of Communications
A strong advocate for diversity, equity and inclusion, Harring is one of six college presidents who sit on the steering committee of the American Talent Initiative. That consortium, which also includes Franklin & Marshall, is committed to higher-education access for low- and moderate-income students.
Last month, hundreds of Muhlenberg alumni, parents and friends joined students, faculty and staff on campus and online to celebrate the College's 175-year history and plans for its vibrant future. At that time, Harring announced the largest-ever philanthropic gift of $15 million by an individual or family to the College. She also announced that the Boundless campaign goal, which launched in 2021, was increased to $125 million in order to generate more support for financial aid and the student experience. Nearly 80 percent of this new goal has been met.
Harring has led the growth and expansion of the College's graduate and continuing education degree programs serving young and mid-career professionals in the Lehigh Valley. She and her leadership team have also forged new partnerships with area community colleges to provide guaranteed pathways for students to a bachelor's degree at Muhlenberg.

Since joining the Muhlenberg Department of Psychology faculty in 1984, Harring has held several leadership positions, including provost, vice president and dean of institutional effectiveness and planning, and dean of institutional assessment and academic planning.
Harring majored in psychology at Franklin & Marshall, graduating in 1981. She earned both her master's and doctoral degrees in social psychology — with minors in quantitative psychology — from the University of North Carolina at Chapel Hill.