Why I Study the Management of Arts Nonprofits
Professor of Business Roland Kushner shares how he became interested in his field of research.
By: Roland Kushner, as told to Meghan Kita Tuesday, March 21, 2023 02:07 PM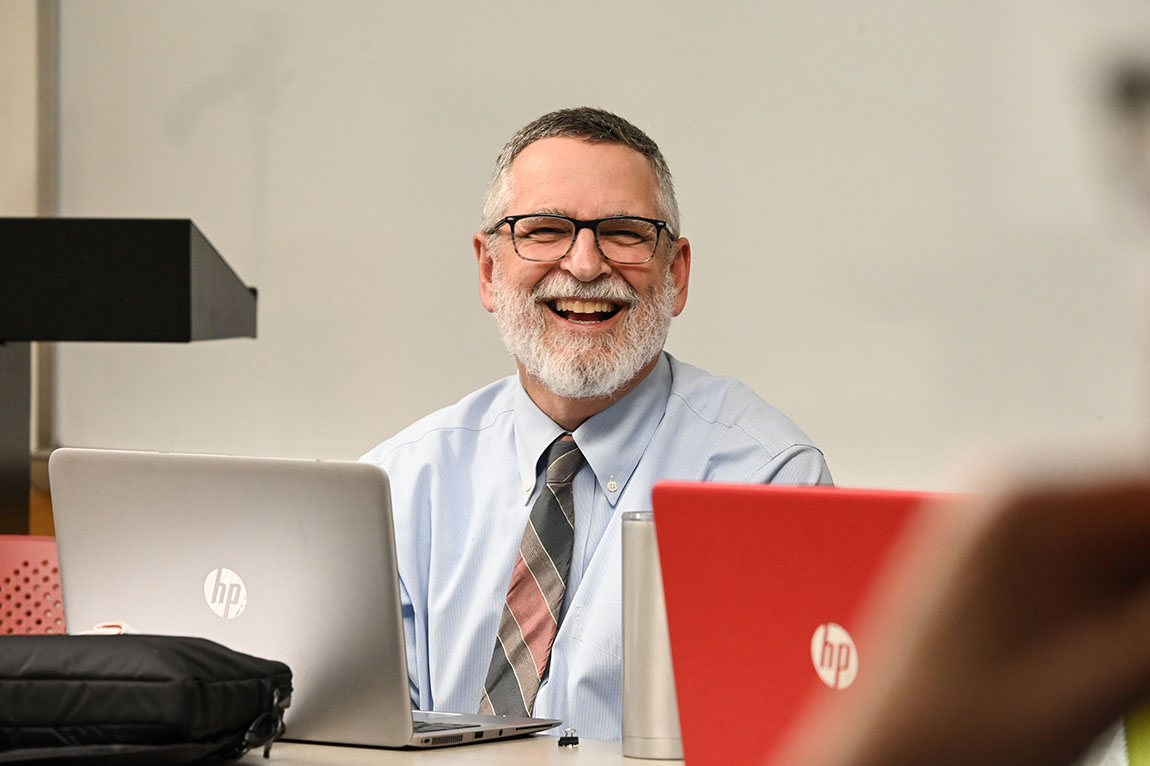 Professor of Business Roland Kushner. Photo by Tom Amico
When I was a kid, there was always music in my home. My father and older brother were violinists; I played guitar and sang (and still do). I had an interest in folk music. While I was dropping in and out of college at Carleton University in Ottawa, I had a show on the campus radio station. I started traveling to folk, bluegrass and old-time music festivals. The organizers were community nonprofits. I started to pay attention to them because that's where the music I was interested in was.
I moved to Bethlehem, my wife's hometown, in 1980, finished my bachelor's degree and immediately went on for an MBA at Lehigh University. As a student, I had the opportunity to work with dozens of local businesses through Lehigh's Small Business Development Center. Some of those were arts nonprofits I've stayed involved with to this day.
As I was finishing my MBA, somebody told me, "There's a lawyer in Bethlehem who's trying to start a music festival." That led to me being hired at Musikfest [now the country's largest free music festival] as its director for the first four years. Then, I felt the call of scholarship. I returned to Lehigh for a Ph.D. part-time while working as director of development for the Bach Choir of Bethlehem.
I focused my doctoral studies on nonprofit arts organizations, specifically on organizational effectiveness. One organization that I knew well did some things really well and some things that were just atrocious. I wondered, "How are both of these things happening at once?" I identified some characteristics that could be measured and did a deep dive into 19 organizations. The most effective organizations were structured really differently from one another, but the people working in the best organizations believed in the structure.
After earning my Ph.D., I worked in academia and had my own consulting practice. I had a steady relationship with the research office at the nonprofit Americans for the Arts. That led to us creating the National Arts Index, which tracked the performance of the arts alongside the economy over the course of a decade. When I came to Muhlenberg, I was able to get students engaged with that research.
When the pandemic hit, my research pivoted to its impact on the arts. Some effects were transient; some were permanent. For example, the digitization of artistic media: I'm a fan of the live performing arts, of the in-person experience. But some of the supply of the arts is being provided digitally, so more people are sitting on their couches instead of out in front of the performers. Now, I'm thinking about what's next.