Muhlenberg Action Plan Aims to Connect All Students to Career Services, Early
The framework has allowed the Class of 2026 to think through career exploration and make contact with Career Center staff who visited a required course for new students.
By: Meghan Kita Monday, February 20, 2023 10:01 AM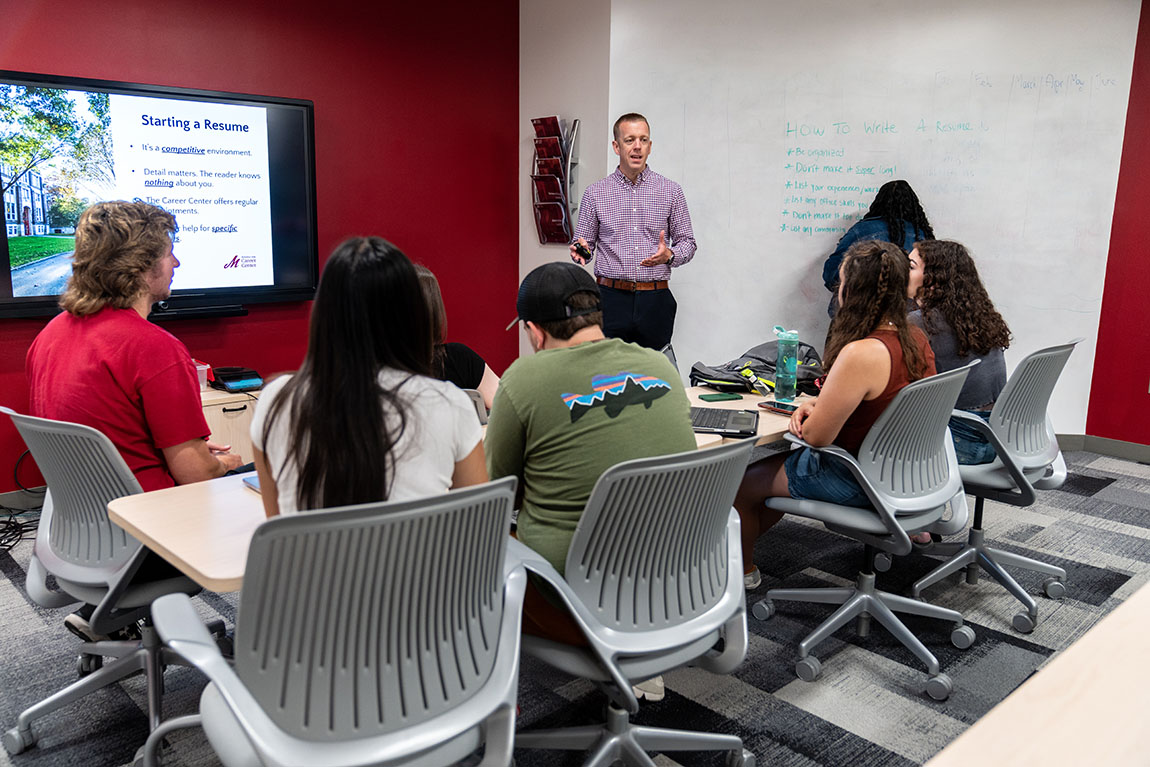 Director of Career Coaching & Education Ryan Smolko speaks to students. Photo by Ryan Hulvat
When Executive Director of Career Services Sean Schofield started at Muhlenberg in 2021, he was impressed to learn that the Career Center reached about 70 percent of students each year.
"That's a great number — we're not a mandated stop on a student's journey," he says. "But what I wondered was: Are we missing the same 30 percent each time?"
The Career Center team looked at the data and discovered that the answer was yes. Certain students, including those who intended to go on to grad school and those in the performing arts, were less likely to engage with the Career Center than, say, business students. Schofield asked his team: "How can we adjust our strategy, our style and our language so people can start seeing [the Career Center] as an inclusive resource, so that every student can say, 'The Career Center is for me'?"
One of the answers to that question is the Muhlenberg Action Plan, or MAP, a framework that's rolling out beginning with this year's first-year class. It sets the expectation that every student will go through four phases (explore careers, gain experience, demonstrate expertise and achieve excellence) during their Muhlenberg journey and that the Career Center will be a resource throughout, regardless of a student's areas of study or post-Muhlenberg goals.
The rollout began with members of the Career Center team visiting each section of Foundations for Student Success, a required course for new students, and helping students as they worked through a workbook of career exploration exercises: "MAP became the Career Center's physical commitment to supporting each individual student," Schofield says.
The Career Center has also been revising its website (to ensure that the language is broad enough for students from all disciplines to feel at home there) and collaborating with the Graduate School Preparatory Program (to reach students who aspire to continue their studies after Muhlenberg). The team is seeing results: Schofield says the Class of 2026 is making more appointments with career services staff than any previous first-year class.
"What we do with the Muhlenberg Action Plan in the first year is to help students understand that career is a process," he says. "A career is not a destination — far, far from what most people think. A career is the process of every single day, developing skills, and understanding a little bit more about myself so that I can make informed decisions when I have to."