Muhlenberg Announces Faculty Promotions
Five members of the faculty were recently awarded tenure and promoted to associate professor by the Board of Trustees on the recommendation of President Kathleen Harring and Provost Laura Lowe Furge.
By: Kristine Yahna Todaro Friday, February 10, 2023 07:54 AM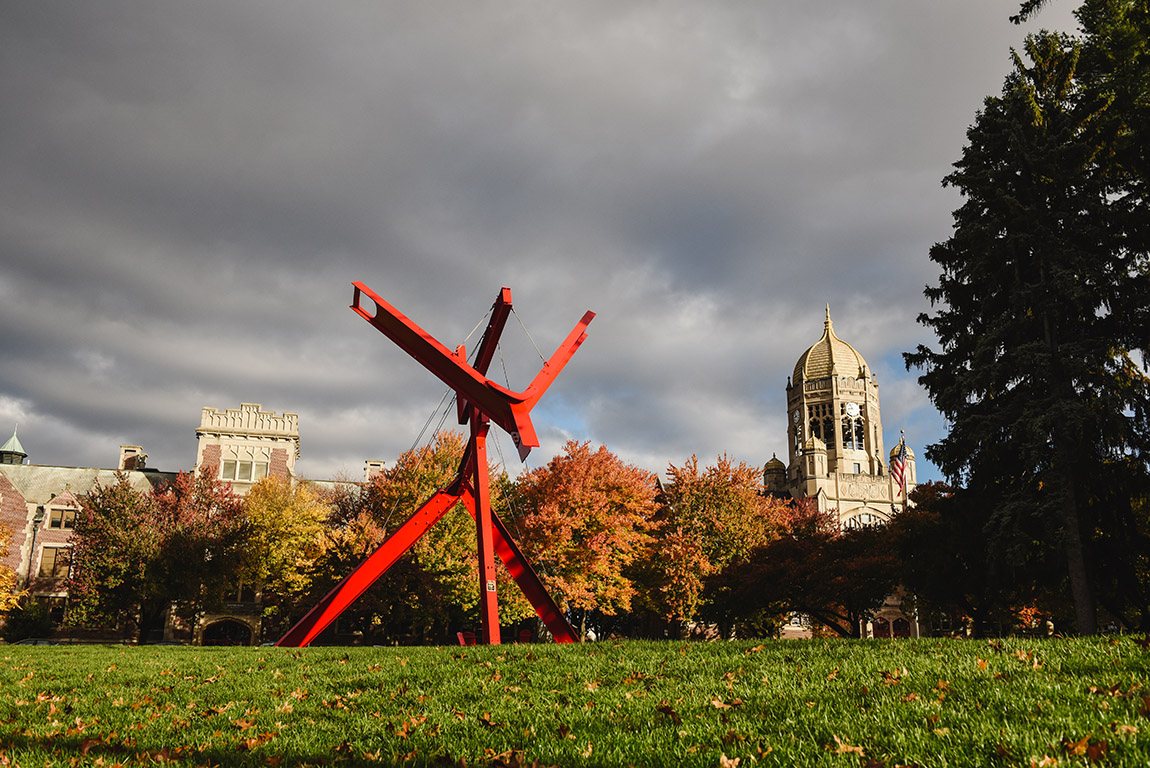 "I congratulate these outstanding faculty members on this important professional achievement," says Provost Laura Furge. "Their scholarship informs their teaching and brings the most relevant and rich learning and mentoring to our students."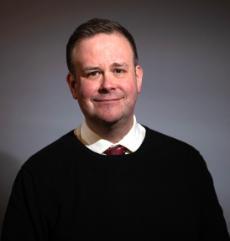 Andrew Ardizzoia, Associate Professor of Music
In teaching the craft of music composition, Ardizzoia helps young composers determine what they want to achieve, then provides the techniques, advice and models that move them toward that goal. He encourages his students to ask how and why they arrived at their musical decisions, and believes that critiques from classmates are vital as well.

Ardizzoia believes the study of music theory has the ability to transform students' engagement as creators, performers and listeners, helping them move past asking, "What is this?" to a more sophisticated stance of, "Why is this?" As a conductor, he thinks carefully about how best to expose ensembles and audiences to programming that is simultaneously accessible, thought-provoking and educational. As a composer he uses idioms ranging from Bach to Bernstein to Boulez, creating works that dialogue with the past but also reflect the present.
Ardizzoia earned his B.M. from the University of the Pacific, his M.M. from Arizona State University and his D.M.A. from The Hartt School at the University of Hartford.
---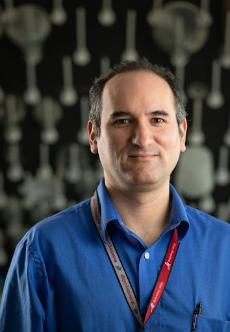 Giancarlo Cuadra, Associate Professor of Biology
Cuadra's teaching goals for his foundational biology courses include increasing retention of underrepresented groups in the sciences and making science as understandable and enjoyable as possible so that students move on to upper-level courses well prepared.
Teaching microbiology helps Cuadra change the reputation of bacteria away from "bad organisms" to a cool group of living things to learn about, and his immunology course allows him to share with students all the intricate ways in which the immune system takes care of, and also sometimes revolts against, our human body.
His current research focuses on the effects of electronic cigarettes (vaping) on the oral environment, including repercussions on microbial life and the immune response, as this may lead to disease, a topic with little research available to date.
Cuadra has received numerous teaching and research awards and grants including the Rising Scholars Award and multiple Bridge Builder Awards and Summer Research Grants. In addition, Cuadra envisioned and co-founded the Graduate School Preparatory Program for underrepresented students, along with Dr. Emanuela Kucik, Assistant Professor of English and Africana studies at Muhlenberg College.
He earned his B.A. in biology and Ph.D. in Microbiology from Binghamton University and his postdoctoral fellowship in host-bacteria interactions from the University of Florida.
---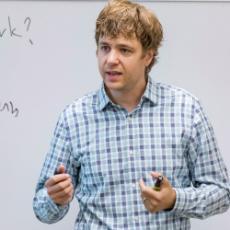 Matthieu de Wit, Associate Professor of Neuroscience
De Wit teaches cognitive neuroscience courses that commonly intersect with philosophical topics centering on fundamental questions about the relationship between the brain and cognition.
De Wit wants to help students become better thinkers, writers, speakers and researchers. To get there, he introduces students to new ideas and guides their exploration of these ideas in a variety of ways, often involving hands-on experiences. As rewarding as this process is, de Wit appreciates even more when students provide him with new insights, which happens more often than expected.
In de Wit's lab, he and his students ask questions about the role of the brain in the production of behavior and cognition in human beings. In the studies, research participants are actively engaging with naturalistic stimuli, while the researchers use functional near-infrared spectroscopy (fNIRS), a novel neuroimaging technique similar to fMRI, to study the accompanying brain activity. De Wit argues that this embodied, embedded approach is producing a more accurate and complete understanding of brain function than traditional "neurocentric" perspectives that downplay the role of the body and the natural environment in explanations of behavior and cognition.
He received his Drs. (M.S.) at the University of Amsterdam, his Ph.D. at The University of Hong Kong and did a postdoctoral fellowship at the Moss Rehabilitation Research Institute.
---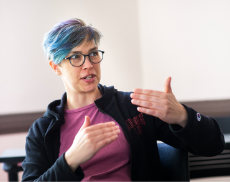 Tineke D'Haeseleer, Associate Professor of History
In her teaching, D'Haeseleer covers the history of modern and premodern China, Japan and Korea. In addition to survey courses tracing continuities and change in East Asia, she also teaches courses on cultural history, foreign relations, women and material culture. Students work intensively with primary source materials (in translation) and use discussion and group work, and a wide variety of digital tools to come to a better understanding of East Asia's varied culture and history.
D'Haeseleer is a historian of premodern China, with a particular interest in medieval China's foreign relations. Her current research project traces the development of the Sinosphere in the first millennium, when the foundations were laid for what we now know as "East Asia."
D'Haeseleer earned her Licentiate in Sinology from the KU Leuven in Belgium and her Ph.D. from the University of Cambridge, UK.
---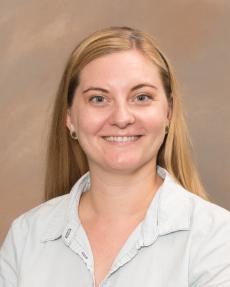 Alexandra Frazer, Associate Professor of Psychology
Frazer primarily teaches courses related to methodology and statistics as well as cognitive psychology and cognitive science.
Her research interests include psycholinguistics, sociolinguistics, the representation of conceptual knowledge, memory, attention and language use in society and by the media.

Frazer is currently pursuing three questions related to language production:
How recent use of certain grammatical structures influences later use of those same structures and alternatives (e.g., active/passive alternation).




Researching word form production by considering which components of words are the functional units of phonological encoding. Participants are given a group of words that share the initial sounds (e.g., bake, beach, bore) and asked to iteratively name them. Her lab is also looking at whether profanity is prepared to be spoken in the same way as non-taboo language using this paradigm.

Studying the combined effects of phonological form preparation, a facilitatory attentional process (described above), and semantic interference, which involves unconscious adaptation in memory, using blocked cyclic picture naming to understand how both sound and meaning contribute independently to word production.
Frazer received her B.A. and M.A. in psychology from Northern Arizona University and her Ph.D. in psychology from Lehigh University.