Personally Speaking: Nour Yousry '23
Nour Yousry '23 is a prehealth public health major, anthropology minor and Shankweiler Scholar from Watchung, New Jersey.
Monday, March 6, 2023 03:54 PM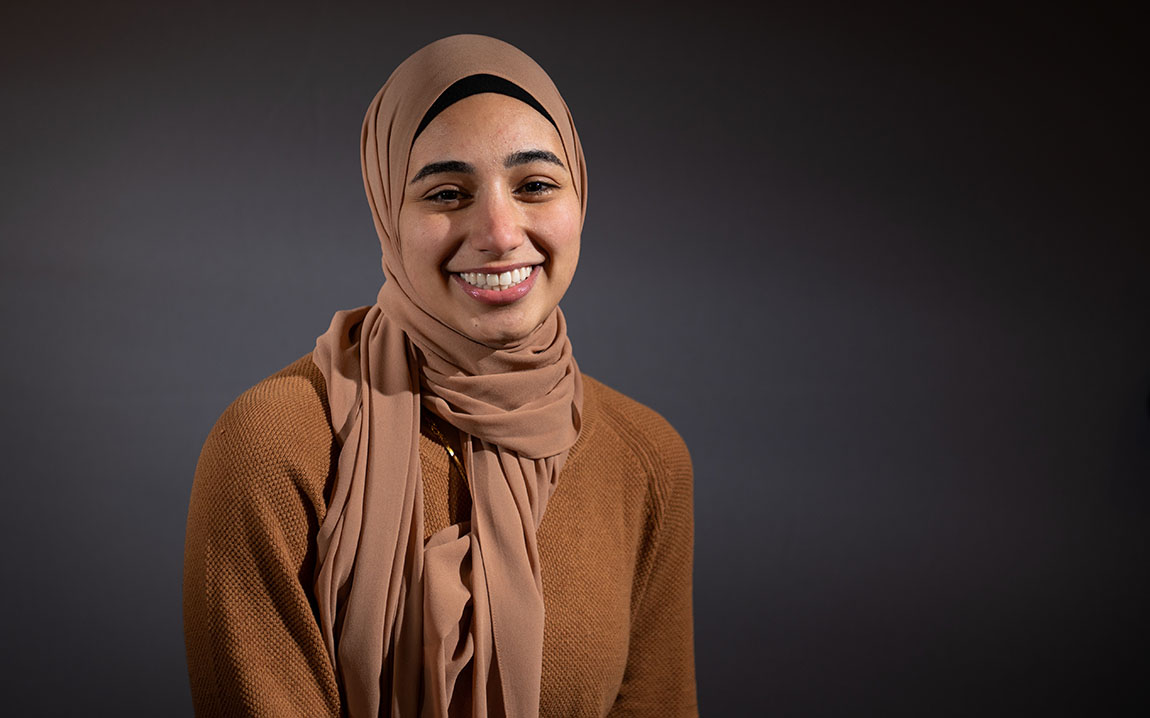 Nour Yousry '23
Personally Speaking is a feature of Muhlenberg Magazine in which our writers interview students and alumni about their own personal stories. This article was originally published in the Spring 2023 issue of Muhlenberg Magazine.
She was interested in public health before it was cool …
"I always like to say that I'm an 'OG' public health major. I knew throughout high school that I wanted to pursue public health in college, mainly because it's very interdisciplinary. I truly believe that public health is the study of life. It brings together aspects of medicine, epidemiology and biology, but also economics, anthropology and sociology, to tell the story of why we live the way we live and why health carries out in the way that it does in our communities. Obviously, the COVID-19 pandemic coming towards the end of my freshman year further solidified the importance of public health. The intersectionality of all of it just came to life."
… but she discovered anthropology as a Muhlenberg student.
"In the fall semester of my sophomore year, I was fulfilling a general academic requirement and I'd heard great things about a class called Cultural Anthropology. I took that course with [Assistant Professor of Anthropology Casey James] Miller online, when we were in Zoom University mode. It was phenomenal. It touched a lot on public health while also hosting conversations on the study of people and culture. I became very interested in anthropology. Shortly after, I took another course called Medicine and Culture. It gave me a deeper breadth of the importance of anthropology, so I decided to minor in it and pursue further courses."
She served as the Muhlenberg College Emergency Medical Services (MCEMS) captain in 2022.
"My journey with EMS began in the winter of 2017, when I wanted to give back to my home community and joined the Watchung Rescue Squad. At the time, I wasn't certified, but I was able to ride on an ambulance rig, get patient care experience and learn important skills. I later went on to get my certification as an emergency medical technician, an EMT. My first semester here, in the fall of 2019, I applied to join MCEMS and was accepted. I currently hold EMT licenses in New Jersey and Pennsylvania. With MCEMS, I was previously able to serve as treasurer and served as captain in 2022. As captain, I was able to get really close with my fellow executive board members and work to adopt more EMTs and trainees into the organization. I still also work shifts and serve as a crew chief. Being able to help students and staff at their most vulnerable times is a very, very rewarding experience."
She's a co-founder of HABIBI (Hebrew-Arabic Buddies Interfaith Berg Initiative) and a leader in the Interfaith Council.
"Throughout all my years of schooling prior to Muhlenberg, I was always in an Islamic school setting. When I became a student here, I felt a responsibility to share my experiences with people of other faiths. Through that, I came to learn a lot about other faiths and faith traditions as well. Last fall, with [Director of the Leffell Center for Jewish Student Life] Ira Blum '10 serving as our advisor, Hadas Seltzer '24, Eden Chanko '23 and I co-founded HABIBI. Habibi is an Arabic word that means 'beloved,' and it's also been adopted into the Hebrew language. The main mission of the club is to bridge-build between the Islamic and Judaic faiths, through linguistics as well as through cuisine and culture. Additionally, this past summer, Or-El Ankori '25, Aidan White '25 and I had the opportunity to attend Interfaith America, a national interfaith conference in Chicago, with our chaplain, Janelle Neubauer. We learned about how interfaith work can be carried out in a college setting. Through that experience, we formed the Interfaith Council. Interfaith work solidifies why I love my faith as much as I do, and it further strengthens my courage to speak about Islam, to wear a scarf on this campus more confidently and to be a representative for the Muslim community."
She's interested in pursuing a graduate degree in health policy after Muhlenberg.
"I came to really understand what health policy was and how it played out through taking different public health courses on campus. A lot of our health-care systems are designed to act a certain way based on various local, state and federal health policies. My thesis for my public health culminating undergraduate experience, Infectious Disease Epidemiology, is titled 'Microbes Moving Mountains: An Evaluation of How Politics Affected COVID-19 and Public Health.' There's no doubt in my mind that health care and medicine are becoming more politicized than they've ever been before. The field of health policy really gives me the opportunity to connect my passions for activism and social justice while also advocating for people's health at a broader community level. I see a lot of potential for impactful change in that field and am very excited to pursue public health policy in my graduate studies."