Why My Love for Dance Has Grown Exponentially at Muhlenberg
The courses, faculty and performance opportunities here have helped me overcome my belief that dance at the college level was only for those who grew up dancing in studios.
By: Keanna Peña '25 Wednesday, April 12, 2023 04:05 PM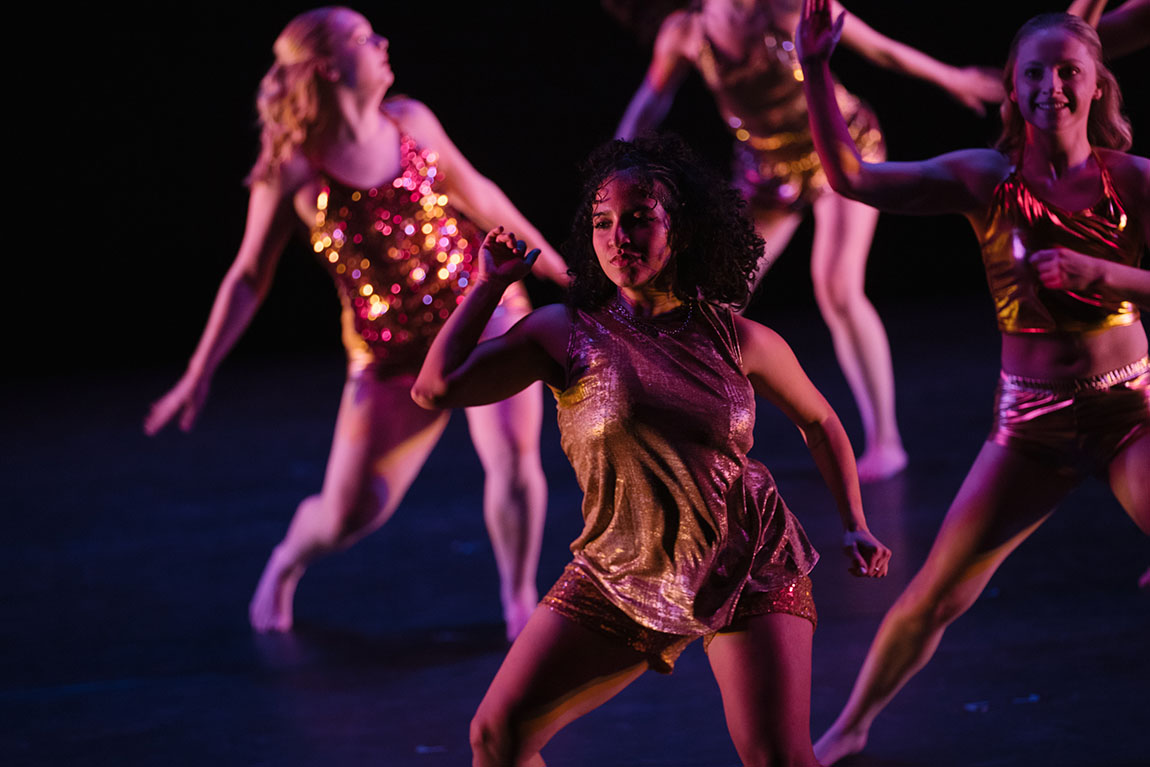 The author, Keanna Peña '25, performing in "In Motion." Photos by Marco Calderon
Keanna Peña '25, a first generation Dominican-American from Brooklyn, New York, made her Muhlenberg debut with this year's In Motion. In Motion, previously called Master Choreographers, is an annual dance show choreographed by the Dance Program's faculty and staff. Auditions are at the beginning of the fall semester and rehearsals begin immediately afterward. Rehearsals for each piece last two hours and take place twice a week until the show premieres in late March. In Motion runs for an entire weekend with four shows in total.
For most of my life, I didn't consider myself a dancer. I didn't grow up doing ballet like many of my Muhlenberg classmates did. I never even stepped inside a dance studio before college. Yet, despite my nontraditional background in dance, dance has always been in my life.
I grew up doing worship dances in church as a kid, and then for a year in high school, I did step, an African style of dance that incorporates footsteps, claps and spoken word. I also did cheerleading until COVID hit, which involved cheering at games and dancing at school talent shows. However, I never considered myself a dancer until I came to Muhlenberg.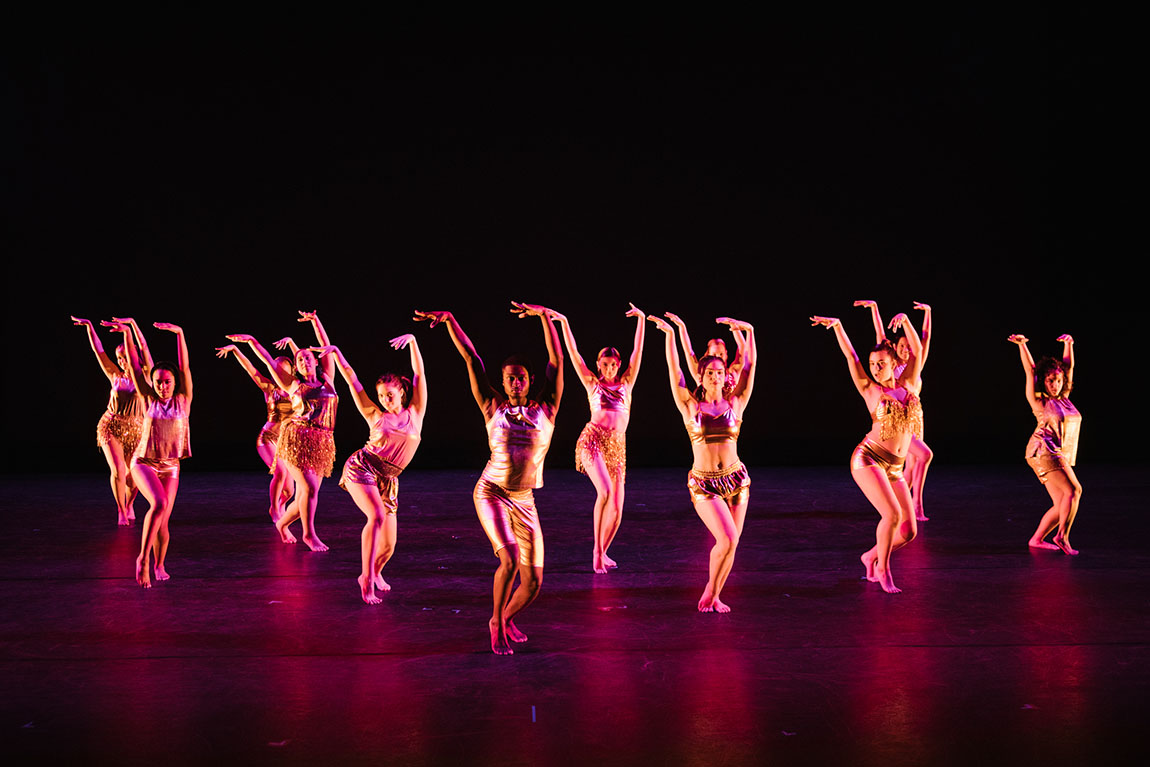 The author, far right, during In Motion
During the fall of my freshman year, I became a part of the Mayhem Step Team, and my love for performing was reawakened. Then, in the spring, I took Hip Hop Culture with Adjunct Professor of Dance Sammy Reyes, and I absolutely loved the class. I took the course with fellow Mayhem stepper Bryson Brunson '25 and my confidence and excitement for dance grew exponentially. Bryson convinced me to take Dance Practice I, a foundations course intended for dance majors and minors.
I was extremely hesitant to take the class. I thought that you needed to have years of dance experience to take it, but I'm so glad I took it anyway. This school year, the course underwent a change where, instead of just teaching ballet and modern dance, the course taught jazz and tap as well in order to become more diverse and inclusive. I'm so thankful that I took this class when this change was implemented, because I was able to meet Visiting Assistant Professor of Dance Anito Gavino.
Instead of teaching Westernized commercial jazz, Gavino teaches vernacular jazz, which is very African and Latin-based. As a Dominican-American, I found that I was able to recognize my culture and my identity in this dance style. I felt seen and at home in Gavino's jazz class. Thus, I was extremely excited to audition for their jazz and contemporary Black piece, "Channels," for In Motion.
I saw In Motion last year, and I was in awe. All of the pieces were incredible. One piece, "R.A.I.N.B.O.W.," by former Associate Professor of Dance Randall Smith stood out to me the most, as it was so vibrant and unlike anything I had ever seen before. It was also the piece with the most people of color. I think seeing so many people in one piece who looked like me helped deconstruct in my mind that dance at the college level was only for white people and those who grew up dancing in studios.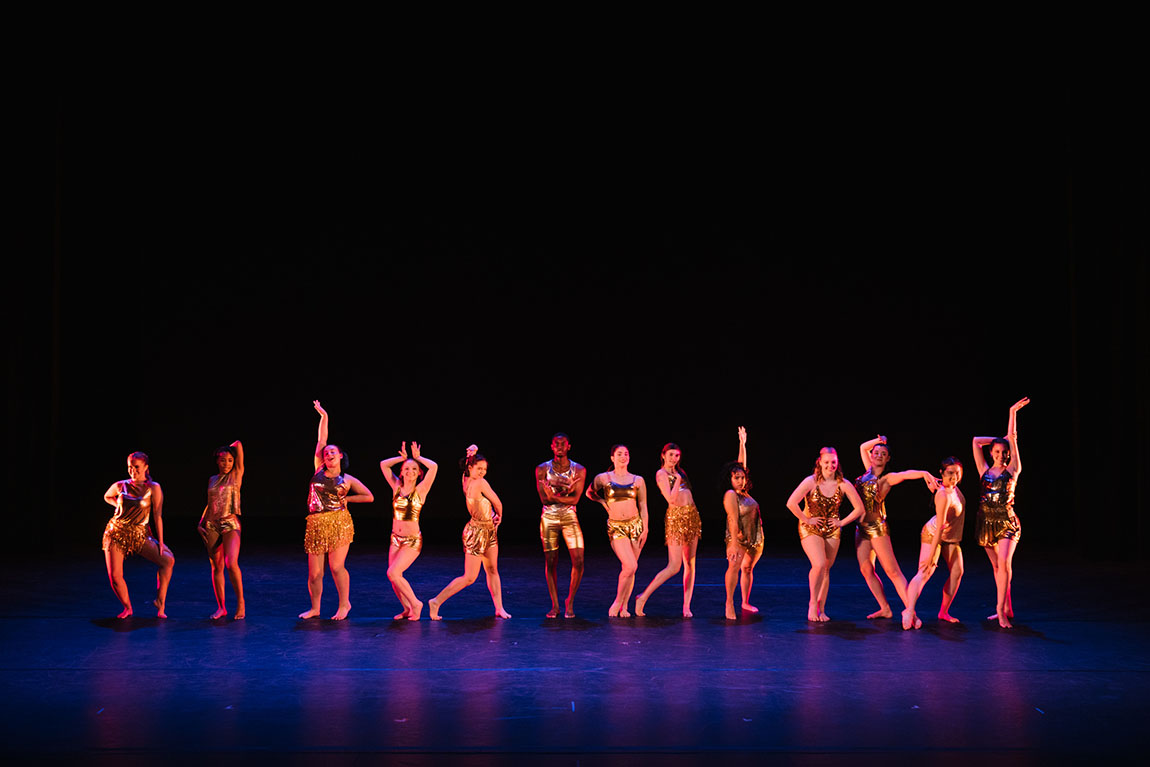 The author, fifth from right, in In Motion
I really enjoyed being a part of Gavino's piece. At the heart of it, Gavino's piece told the important story of minorities surviving in America. As explained in the show's playbill, "The piece flips through channels of fragmented histories: a frenzied bebop post-war pseudo renaissance, a cool sedated '60s amidst racial divides and a multicultural freedom-loving America."
Being a part of this piece helped me see the value of using dance as resistance and a means of social justice. For every performance, I became ever more committed to telling this story and to dancing as hard as I could. Working with Gavino, and the fact that Muhlenberg is diversifying their dance curriculum, has allowed my love for dance to grow exponentially and allowed me to disregard my nontraditional background in dance.
My experiences up to and including In Motion inspired me to audition for Dance Emerge, a student-choreographed show I'll be performing in starting April 28, and to declare a dance minor. I plan to continue dancing with the Mayhem Step Team and in departmental shows while also finishing my degree in English & creative writing. Inspired by all that I've learned about African dance, I'll also be studying abroad in South Africa next spring and will be taking African dance classes.