Staging What's Human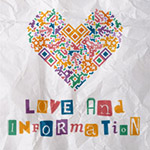 An unconventional approach to theater creates new experiences in "Love and Information," a collaborative performance coming February 23-26.
By: Evelyn Carlin '24 Wednesday, February 8, 2023 02:26 PM

Members of the cast of Love and Information, coming in February to Muhlenberg College Theatre & Dance, say that Caryl Churchill's play is unlike any they've ever worked on.
"Audiences should not expect the kind of theater they're used to seeing," says actor Piper Woods. "They should expect an experience and be fulfilled in the kind of cut-offness and incompleteness of it all."
What's so unusual?
"The script is remarkably open-ended," says Jessie Dean, the play's director and a visiting professor at Muhlenberg. "No character names are given; the scenes have no context; it doesn't indicate who says what. It almost reads like free verse."
The play comprises 78 short scenes — some of them very short — ranging from a couple lines to a couple pages. Within the play's seven sections, these scenes can be performed in any order. Dean says that she and the show's 18-member ensemble have had to dig to discover the performance within the play.
"We're working with Churchill's words — with an established text," Dean says. "But in a lot of ways, it's really like devising a new work — finding the beats, finding the intentions."
"Sometimes they're really silly, sometimes they're heartfelt, sometimes they make you think," says assistant director Amanda Berkson. "It's all about the random moments that make us human."
Love and Information runs from February 23-26, in the Dorothy Hess Baker Theatre, in Muhlenberg's Trexler Pavilion for Theatre & Dance.
"Love and Information is about people who are overwhelmed and underwhelmed and completely obsessed with and in the middle of so much access to information, and how that impacts their lives," Dean says. "What we're asking of the audience is to assess their own relationship with information. What do you gain when you have all that information at your fingertips? And what do you lose?"
Dramaturg Emily Lang has been focusing on making sure each of the play's 78 scenes has a clear and specific context — an objective that has required extensive research on her part, as well as continuous collaboration among the design team, actors, and directing team.
"It is so cool to see the design team do what they're doing so quickly and so effectively," Lang says. "Most production teams have months to plan. Our design team has been working on the fly as the actors and directing team make new discoveries in rehearsal."
Cast member Arden McHugh says going into rehearsal is like "a shot of espresso." The free flow of ideas and large cast — one of the biggest at Muhlenberg since the Covid pandemic — have led to a lively and energizing rehearsal process, she says.
"I've never had a director who was so open to the actor's ideas," McHugh says. "So it's really interesting to be invited to share them."
This sort of collaborative spirit is exactly what Dean has in mind.
"I think when you can include everyone in the process, when you can develop that kind of community with people that you trust and play with in that way, ultimately you uncover layers and layers of things that you never thought possible," she says.
Dean encourages cast members to add their own experiences and passions to the piece. She says the production is starting to look like a "full breadth of human experience, and its own theatrical form unique to this moment, space, and community."
So what should audiences expect?
"The show really doesn't work like a traditional theatre piece," Dean says. "I hope they leave their expectations at the door."
"Don't ask too many questions about the endings of things," Woods adds. "The endings don't matter; it's the way you get there."
Love and Information runs February 23-26: Thursday at 8 p.m., Friday at 8 p.m., Saturday at 8 p.m., and Sunday at 2 p.m. Performances are in the Baker Theatre, in Muhlenberg's Trexler Pavilion for Theatre & Dance, Muhlenberg College. Tickets are $15 regular admission; $8 for youth tickets and campus & LVAIC tickets. Tickets are available online at muhlenberg.edu/seeashow or by phone at 484-664-3333.
Content Advisory: This production includes adult themes; discussions of sexuality, mental illness and drug use; and a reference to torture.
About the Muhlenberg College Theatre & Dance Department
Muhlenberg offers Bachelor of Arts degrees in theatre and dance. The Princeton Review ranked Muhlenberg's theatre program in the top twelve in the nation for eight years in a row, and Fiske Guide to Colleges lists both the theatre and dance programs among the top small college programs in the United States. Muhlenberg is one of only eight colleges to be listed in Fiske for both theatre and dance.
About Muhlenberg College
Founded in 1848, Muhlenberg is a highly selective, private liberal arts college offering baccalaureate and graduate programs. With an enrollment of nearly 2,000 students, Muhlenberg College is dedicated to shaping creative, compassionate, collaborative leaders through rigorous academic programs in the arts, humanities, natural sciences and social sciences; selected preprofessional programs, including accounting, business, education and public health; and progressive workforce-focused post-baccalaureate certificates and master's degrees. Located in Allentown, Pennsylvania, approximately 90 miles west of New York City, Muhlenberg is a member of the Centennial Conference, competing in 23 varsity sports. Muhlenberg is affiliated with the Evangelical Lutheran Church in America.