When Jason Met Medea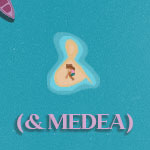 An ancient myth gets a modern rewrite in '(&Medea),' a new script in development this January at Muhlenberg College
By: Sarah Wedeking '24 Monday, January 23, 2023 05:03 PM

A group of 16 Muhlenberg College students will have a rare opportunity this January: working with an established playwright as they hone and develop a new script.
Jess Shoemaker will be in residence this January at Muhlenberg, workshopping a new version of her play "(&Medea)" with director Jamie McKittrick and a company of 16 actors. The process will culminate in a public staged reading of the new work, Jan. 27-29.
McKittrick, a visiting assistant professor with Muhlenberg's Theatre & Dance Department, says the play is a sort of prequel to Euripides' ancient Greek tragedy — one of the most frequently produced plays of the ancient dramatic repertoire, and one not typically characterized as a love story.
In Euripides' version, first produced in 431 BCE, the sorceress Medea helps the hero Jason on his quest to recover the Golden Fleece, then marries him and bears their two sons. When he betrays her to marry a princess, Medea takes revenge by killing their children.
---
"It's about those big firsts and how they shift our molecules …"
— Jamie McKittrick, director
---
Shoemaker's play depicts what happens before the tragedy strikes: the love story between her and Jason.
"It's about deep longing — deep desire — and what is lost in exchange for the object of the longing or desire," McKittrick says. "Jess sent me the script and I fell in love with the text and the story Jess was trying to uncover."
Based on an idea by director Arlo Howard, the play has been in development for more than a decade. An earlier version, titled "Jason and (Medea)," was performed in 2013 at Chicago's (re)discover theatre, and in 2015 at the Hollywood Fringe Festival, where it was nominated for an award for Best Ensemble Theatre Production. Shoemaker felt it was time to revisit the piece, and when McKittrick started putting out feelers for a new-play development project, Shoemaker jumped at the opportunity.
"I was first drawn to the project because I've never gotten a chance to work on a play in a workshop phase," says Shira Holtz '24, who plays Medea's sister Heller — a character original to "(&Medea)." "I feel so much joy and youth from Heller. I was drawn to her from my very first reading."
Holtz and the rest of the cast will come back early from winter break for a week of day-long workshop sessions, rehearsing and revising the current draft of the script so Shoemaker and McKittrick can see what works and what doesn't. After some intense rewrites, the cast will come back together to rehearse for the public reading.
"New play development is an important aspect of our field," McKittrick says. "I want the students to come out of this project confident in how to engage with this essential process."
Shoemaker's goal in "(&Medea)" is redemption – she wants to humanize one of literary history's most notorious villainesses. At its core, says McKittrick, it's a play about a young woman who is still trying to figure out who she is.
"It's about those big firsts and how they shift our molecules," McKittrick says. "Many college students are in the throes of first loves, first romances, first losses of friendship, first breakups – I figured this material would really resonate with them."
Shoemaker brings a distinctly modern sensibility to this ancient tale, using colloquial language and quick-witted humor. Pop songs underscore the characters' sense of longing.
"When I first read the script, I thought it was a modern romantic comedy," says Max Rose '23, who plays Jason opposite Desiree Oliver '25 as Medea. "I didn't realize the mythological connection. I'm excited to play a character that people can relate to — and ultimately loathe."
Performances of "(&Medea)" are Jan 27-29, 2023: Friday at 8 p.m., Saturday at 8 p.m., and Sunday at 2 p.m. A talkback with the playwright and director will follow each performance. Performances are in the Empie Theater, in the Baker Center for the Arts, Muhlenberg College. All tickets are $5, and are available online at muhlenberg.edu/seeashow or by phone at 484-664-3333.
About the Muhlenberg College Theatre & Dance Department
Muhlenberg offers Bachelor of Arts degrees in theatre and dance. The Princeton Review ranked Muhlenberg's theatre program in the top twelve in the nation for eight years in a row, and Fiske Guide to Colleges lists both the theatre and dance programs among the top small college programs in the United States. Muhlenberg is one of only eight colleges to be listed in Fiske for both theatre and dance.
About Muhlenberg College
Founded in 1848, Muhlenberg is a highly selective, private, four-year residential, liberal arts college offering baccalaureate and graduate programs. With an enrollment of approximately 2,200 students, Muhlenberg College is dedicated to shaping creative, compassionate, collaborative leaders through rigorous academic programs in the arts, humanities, natural sciences and social sciences; selected preprofessional programs, including accounting, business, education and public health; and progressive workforce-focused post-baccalaureate certificates and master's degrees. Located in Allentown, Pennsylvania, approximately 90 miles west of New York City, Muhlenberg is a member of the Centennial Conference, competing in 22 varsity sports. Muhlenberg is affiliated with the Evangelical Lutheran Church in America.