Working in Harmony
At Muhlenberg, I majored in computer science and music. Now, I'm a senior web developer at Carnegie Hall.
By: Zachary Schur '19, as told to Meghan Kita Friday, March 10, 2023 07:17 AM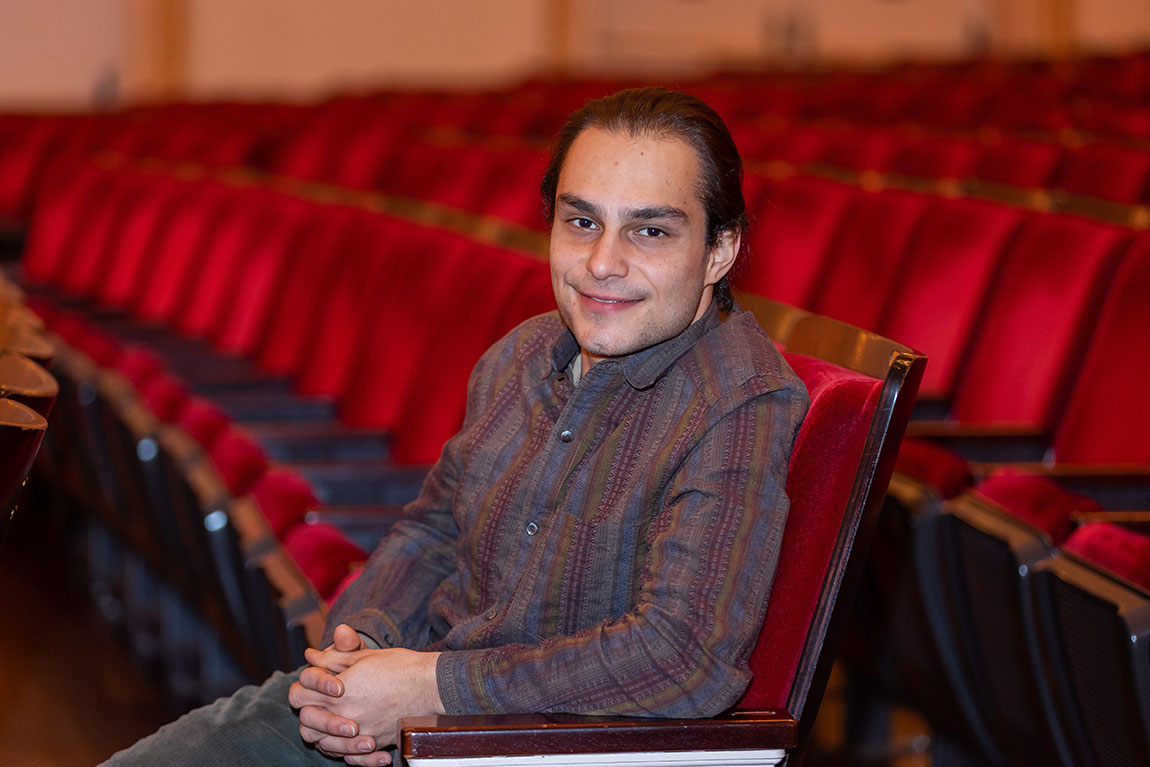 Zachary Schur '19 inside Carnegie Hall. Photos by Brooke Slezak
I grew up listening to music and playing music. When I was very little, I took piano lessons. In third or fourth grade, I started playing stand-up bass; for a while, it was way bigger than I was. In middle school, I was given a small electric bass. My younger brother played guitar and we started a band that we had throughout high school. My parents don't play instruments, but music is one of their passions. There was always music on in my house. I truly think music is the most important thing in the world. It's an amazing force.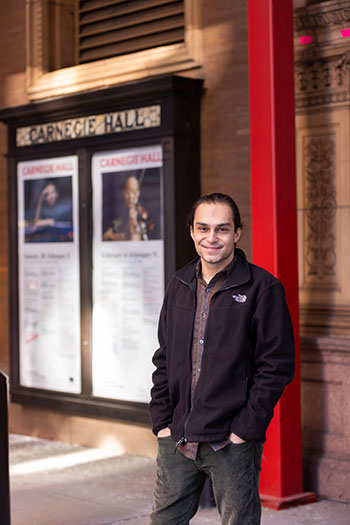 Coming to Muhlenberg, I knew I wanted to study music, but I never wanted to feel like I was forced to make money from it. I'd always loved computers, too, so I took an intro level class in computer science and enjoyed it. The double major was a challenging mix, but it felt good for my brain to have the split. After playing music for a while and being in that kind of floaty space, being able to sit down and find the enjoyment out of solving an analytical problem was a great balance.
After graduation, I worked on a playground repair company's website and on an administrative application for financial services. A recruiter reached out on LinkedIn last year, and I knew I didn't want to make a change to the same type of job. I told him not to reach out until he found something to do with music, and that's how I ended up at Carnegie Hall.
One thing I was missing at my previous job was care for what I was doing. The product was only seen by a few people in the back offices of charities. It feels good to be making changes to a public-facing website, not to mention the fact that it also has to do with my other passion, music.
Carnegie Hall is the best-sounding room in our country, arguably, and some of the most important musicians from all different types of genres play there. The benefits there are incredible — they really value their employees. On top of that, I can request tickets to concerts. I saw the Philadelphia Orchestra there with a friend. My jaw was on the floor for the entire performance.
This is definitely not my final resting point in my career. Working in computer science at a music company is the best way to move laterally to be doing more and more with music, whatever that looks like. But for now, the fact that the stuff I'm working on is music-related and all of my coworkers have similar passions is really important to me.