Featured Story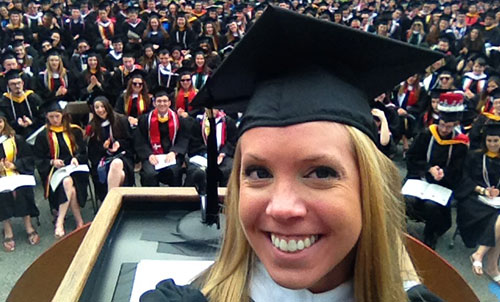 Muhlenberg College Celebrates 2014 Commencement
Muhlenberg awards degrees to 540 recipients in the 166th Commencement Ceremony.
Wednesday, May 14, 2014 11:15 AM
On Saturday, May 17 and Sunday, May 18, Muhlenberg College welcomed family, friends and members of the community in celebration of the College's 166th Commencement weekend.
Muhlenberg awarded the degrees of Bachelor of Arts, Bachelor of Sciences and Bachelor of Arts & Sciences to 540 degree recipients. Erin Laney '14, who earned her B.A. in American Studies and Spanish and is certified to teach grades 4-8, served as student speaker. Saturday night, during the Baccalaureate ceremony, seniors Benji Kornbluth, Avni Mittal and Matthew Bocchese provided reflections on their four year experiences.
Ron Chernow, American Historian Laureate and Pulitzer Prize-winning author of Washington: A Life, served as Commencement Speaker. Chernow was awarded an honorary doctor of letters degree. Henry David Abraham, M.D. '63, noted psychiatrist whose research contributed to the development Diagnostics and Statistical Manuals of the American Psychiatric Association, was awarded an honorary doctor of human letters degree. Donald Holder, recipient of two Tony awards and lighting designer of more than 40 Broadway productions, was awarded an honorary doctor of arts degree. Dr. Carson D. Schneck, M.D., Ph.D. '55, renowned professor of anatomy and diagnostic imaging at Temple Medical School, was awarded an honorary doctor of science degree. Dr. Amy Hark, associate professor of biology and co-director of the biochemistry program, was honored with The Paul C. Empie '29 Memorial Award for Excellence In Teaching. This award, honoring inspirational teaching, is given in memory of the Rev. Paul C. Empie '29, D.D., a Muhlenberg Trustee and Chairman of the Board from 1972.