Featured Story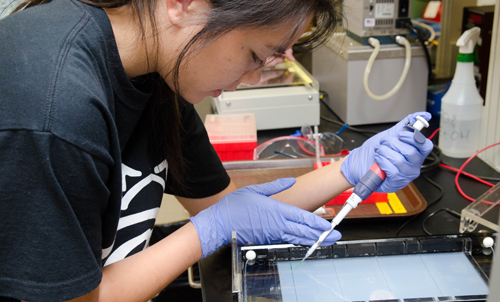 Muhlenberg Students Embark on Summer of Research
Over 50 students are working with faculty mentors both on and off campus to complete research projects in the sciences, humanities and the arts.
Tuesday, June 24, 2014 04:29 PM
This summer, students are working closely with faculty to conduct guided research across a large variety of academic disciplines.
Students are awarded a stipend and no-cost on-campus housing for the duration of their research. Funding sources include the Faculty-Student Collaborative Research Grant from the Provost's Office, academic departments, the National Science Foundation and generous scholarships founded by Muhlenberg alumni.
Research topics include projects to investigate how music triggers autobiographical memories; the chemical ecology of plant-insect interactions; research on the prison industrial complex; synthesia and art; and visual neuroscience. At the conclusion of the summer research session, students present their findings to the College community through individual presentations and group poster sessions.
In addition to research conducted on Muhlenberg College's campus, students will be on location for Research Experience for Undergraduates at Texas A&M and Cornell University; Imperial College, London, U.K.; the University of Toledo; Carnegie Mellon University; and in Indian Head, Md. working with Naval Surface Warfare Center.